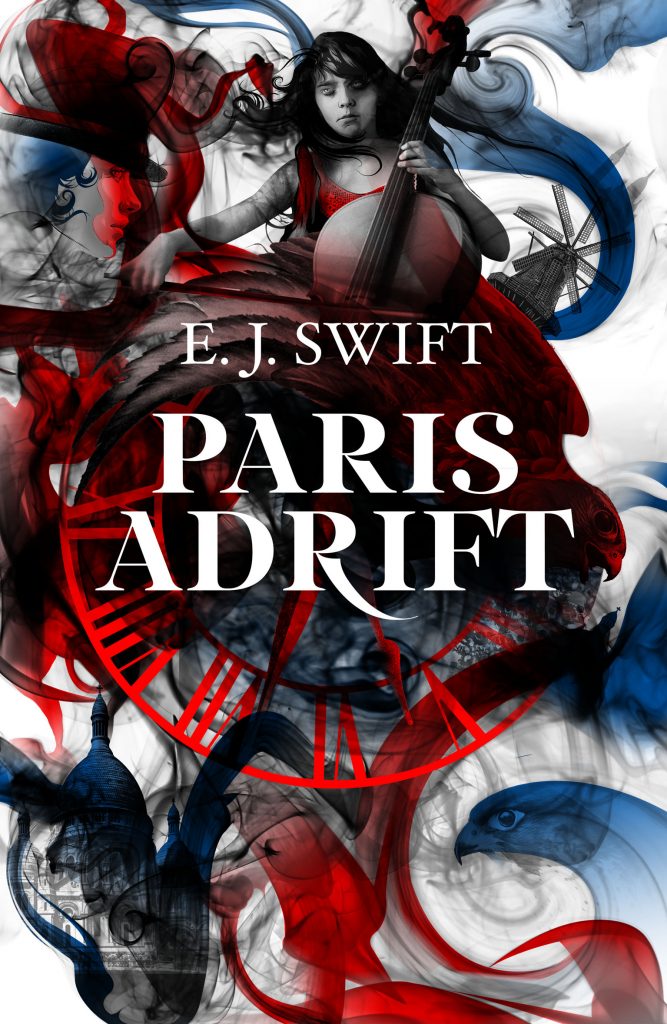 The wait is nearly over: tomorrow, E.J. Swift's fantastic new novel PARIS ADRIFT is out this week! Published by Solaris in the UK and North America, here's the synopsis…
Paris Was Supposed to Save Hallie. Now… Well, Let's Just Say Paris Has Other Ideas. 
There's a strange woman called The Chronometrist who will not leave her alone. Garbled warnings from bizarre creatures keep her up at night. And there's a time portal in the keg room of the bar where she works. 
Soon, Hallie is tumbling through the turbulent past and future Paris, making friends, changing the world — and falling in love. 
But with every trip, Hallie loses a little of herself, and every infinitesimal change she makes ripples through time, until the future she's trying to save suddenly looks nothing like what she hoped for…
Already, the novel has been racking up pre-publication praise, and was selected by Kirkus, Amazon and Barnes & Noble as a best of February SF/fantasy! Here are just a few of the reviews…
'E.J. Swift's PARIS ADRIFT is her best novel yet: a time-travelling adventure that, despite the cosmic stakes, is bravely and beautifully intimate. Despite the apocalyptic backdrop, PARIS is also wistfully hopeful – a novel of ordinary, extraordinary heroism… PARIS ADRIFT uses science fiction's largest and most unwieldy mechanic for its smallest and most intimate stakes: this isn't about the world, it is about Hallie. PARIS is a story about significance at every level, individually and collectively; ultimately, whether that's in time, life, or simply one's outlook – this is a poetic demonstration of how little changes make big differences. Despite being a novel that's – literally! – timeless, you couldn't find a work more wonderfully fitting for 2018.' — Pornokitsch
'A great time travel story, inventive and at times overwhelming. Hallie is a compelling character to read, as she is not all-knowing and manages to keep her sense of disbelief for as long as possible. Hallie through the book comes to find an inner strength that she didn't know existed as she faces challenges without a lot of resources. I can't really express how much I enjoyed this story and look forward to reading more from E.J. Swift soon.' — Fantasy Book Review (9/10)
'A great protagonist in a fascinating plot, with some refreshingly original takes on the mechanics and mechanisms of time travel, this was a very enjoyable read… This is a great book. Fantastic characters in an interesting story, excellently paced.' — Strange Currencies
'Swift (the Osiris Project series) delivers both an unusual take on time travel and solid characters, including a fantastic protagonist… Swift keeps things moving briskly, throwing out innocuous tidbits while scene setting that lead to surprising later payoffs.' — Publishers Weekly
'[A] really gripping book that was also really thought provoking and moving… [The novel] deals with many themes which are very relevant right now and Hallie's time travel to a bleak 2042 felt too plausible… [I] loved reading about Hallie's expeditions to 1875. Paris really came alive for me and I just loved all the sub stories going on, particularly Millie's. PARIS ADRIFT also touches on what it's like to feel adrift and alone in this big world, whether we're living the best versions of ourselves. This story is about getting lost in order to find yourself. There's a good message in this book, that doing small deeds to help strangers can have huge effects later on and the future is something we should all be thinking about.' — British Fantasy Society
Starting today, there is also a week-long blog tour to celebrate the release of the novel. Here are the details…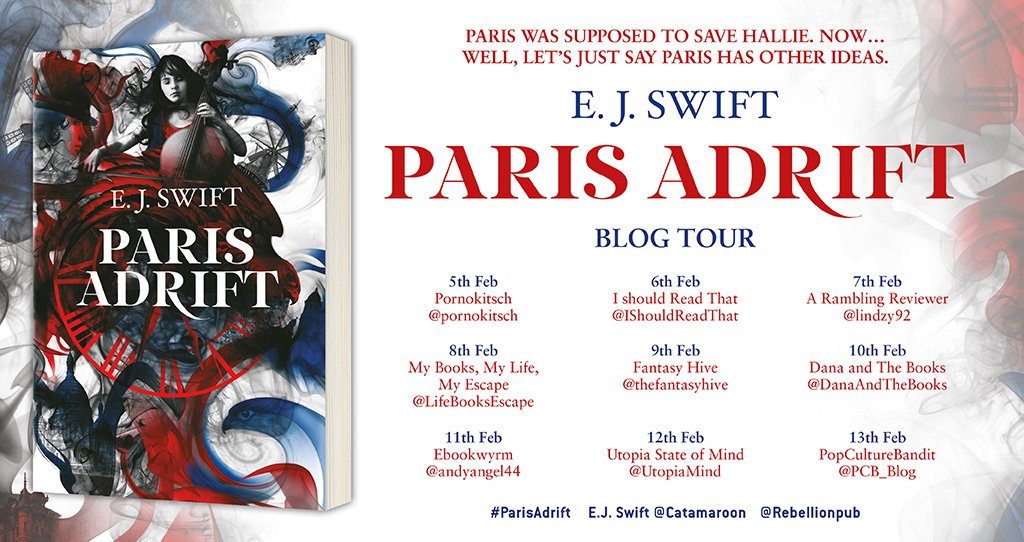 E.J. Swift is also the author of the critically-acclaimed Osiris Project trilogy, published in the UK by Del Rey, and available in eBook via the JABberwocky eBook Program.