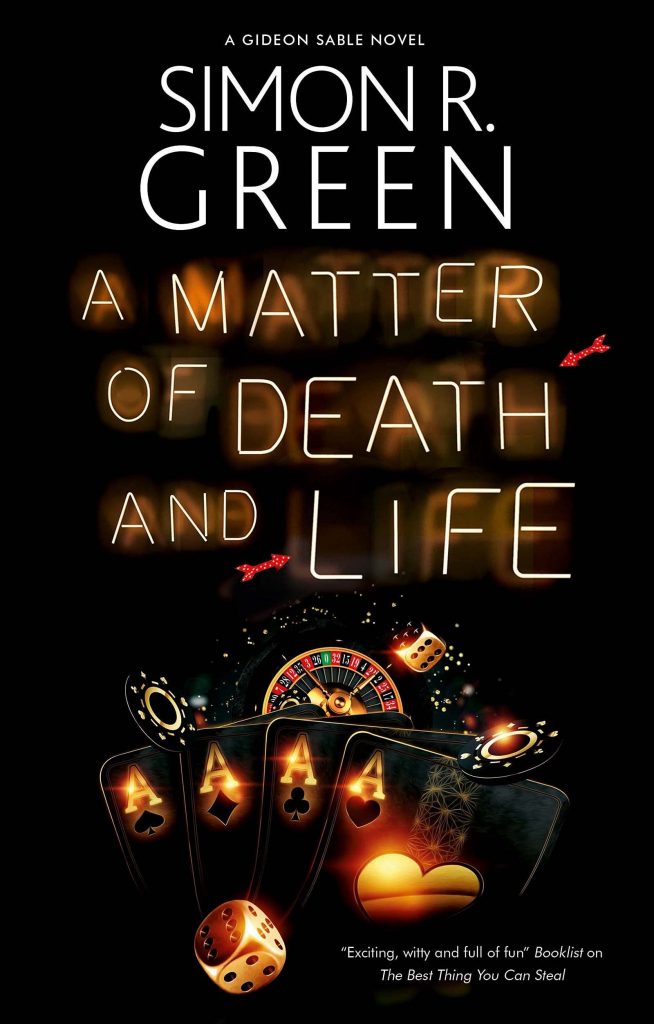 A new North American paperback edition of Simon R. Green's second Gideon Sable novel, A MATTER OF DEATH AND LIFE is out today! Published by Severn House, here's the synopsis…
Master thief, rogue and chancer Gideon Sable is back for another fast-paced supernatural heist – and this time he has the vault of a Las Vegas casino in his sights.
Judi Rifkin is one of the world's most successful collectors of the weird and unnatural. In a London underworld filled with criminals with very special talents, Judi is a force to be reckoned with.
And Gideon Sable – thief, rogue and chancer – owes her a very large favour.
Judi makes him an offer he can't refuse: steal her the legendary Masque of Ra, kept safe in a Las Vegas casino, and she'll wipe the slate clean.
This isn't Gideon's first heist by a long shot. But with old grudges threatening to cloud his judgment, an unpredictable crew who don't entirely trust each other and a formidable supernatural security team guarding his target, this job might be a gamble too far…
Severn House also publishes the three other novels in the series — THE BEST THING YOU CAN STEAL (#1) and WHAT SONG THE SIRENS SANG (#3) — and are due to publish the fourth book, NOT OF THIS WORLD, in April 2023.

Here are just a few of the reviews the novel has received so far…
'It's a wonderfully imagined setting, which will be no surprise for those familiar with Green's oeuvre. The Sable novels make perfect fare for fans of urban fantasy, thrillers, or caper novels (or, especially, blends of all three).' — Booklist
'I had a cracking good time with Gideon Sable and his more-misfit-than-usual crew as they took on Las Vegas. Calling this book a fantastic, slightly supernatural version of Ocean's Eleven – complete with ALL the wisecracks – would be more accurate, and more fun, than anyone might have expected.' — Reading Reality
'This adventure is a delightful escapist read, providing plenty of surprises along with the humour.' — Brainfluff
Zeno represents Simon R Green in the UK and Commonwealth, on behalf of the JABberwocky Literary Agency in New York.