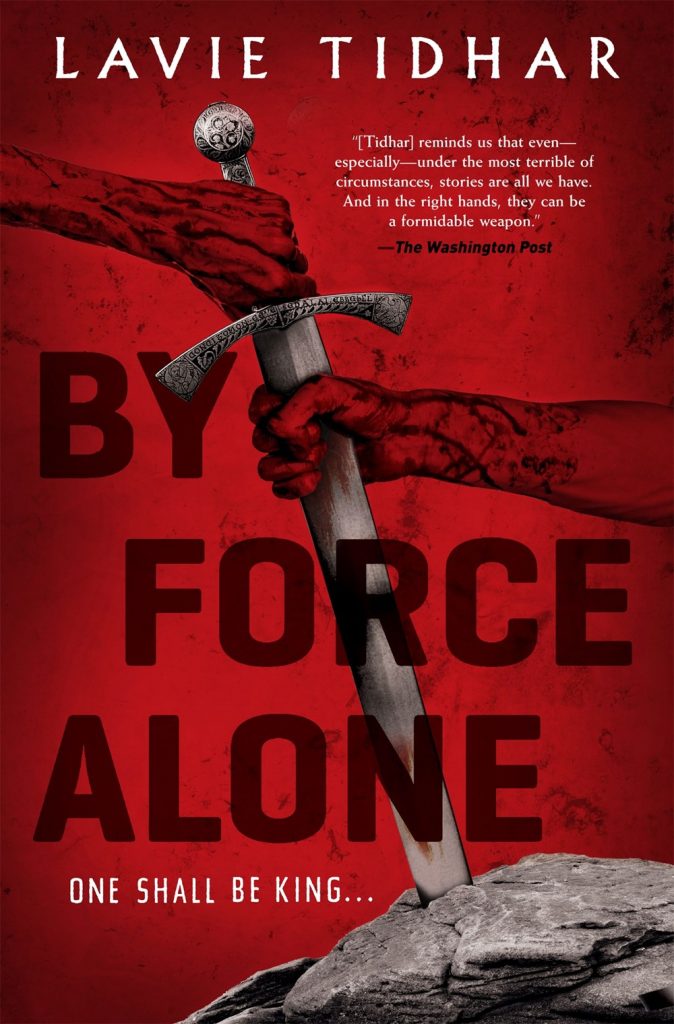 We've already shared the cover for the UK edition of Lavie Tidhar's upcoming next novel, BY FORCE ALONE. Above, you can see the equally striking North American cover — we've shared it a couple of times on Twitter already, but we thought you might like more details!
Due to be published by Tor Books on June 16th, 2020, here's the synopsis…
A retelling of Arthurian myth for the age of Brexit and Trump…
Everyone thinks they know the story of King Arthur and his knights of the Round Table.
The fact is they don't know sh*t.
Arthur? An over-promoted gangster.
Merlin? An eldritch parasite.
Excalibur? A shady deal with a watery arms dealer.
Britain? A clogged sewer that Rome abandoned just as soon as it could.
A savage and cutting epic fantasy, equally poetic and profane, By Force Alone is at once a timely political satire, a magical adventure, and a subversive masterwork.
Here's the UK cover again…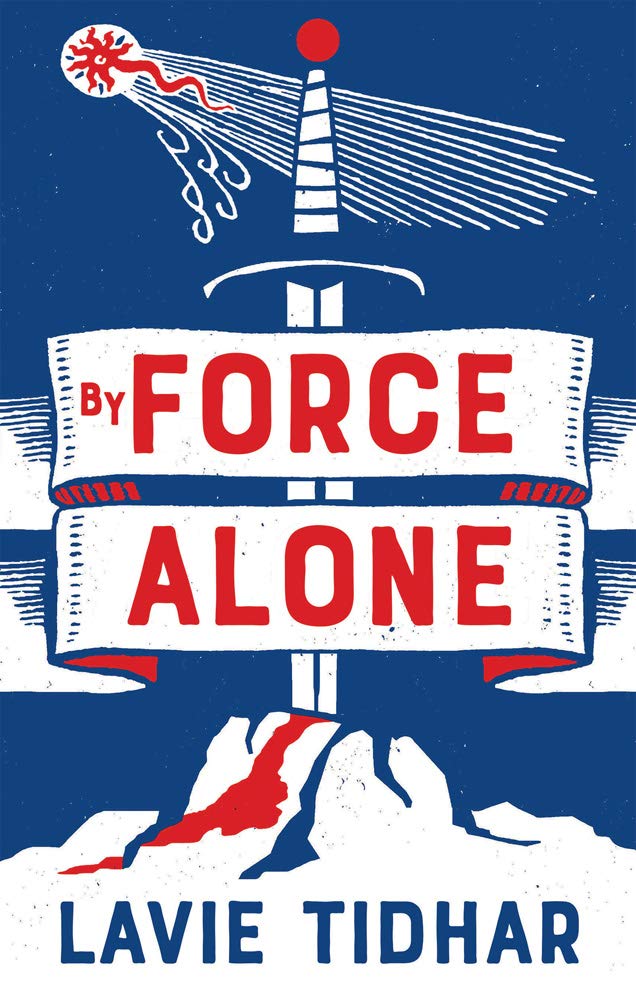 Lavie is the multi-award-winning author of a host of critically-acclaimed novels and short fiction, including UNHOLY GHOST, CENTRAL STATION (both published by Tachyon Publications), THE VIOLENT CENTURY (Tachyon), A MAN LIES DREAMING, CANDY (Scholastic), and many more.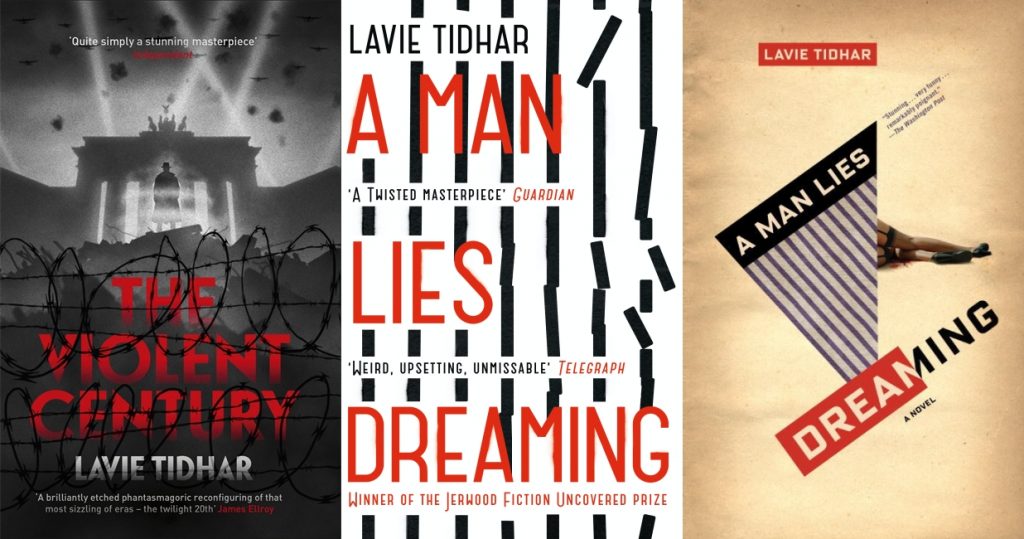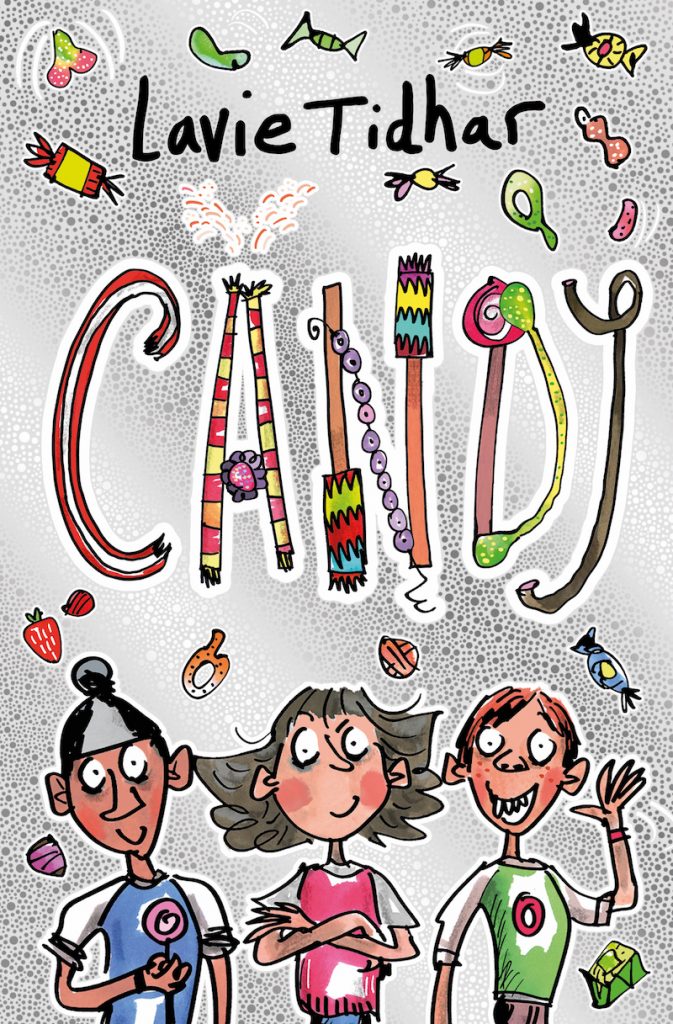 Here's just a small selection of the aforementioned critical acclaim that Lavie's novels have received so far…
'[O]ne of those lovely books that starts out presenting itself as one thing, and mutates into another almost without you seeing it… a game-player of a writer who uses the spectrum of science fiction canon for his pieces… a grand game of alternate worlds cast like jewels on the sand. The long second act is all dust and blood and madness and glory, and the fast third act comes down on you like a sharpened spade… Lavie Tidhar is a clever bastard, and this book is a box of little miracles.' — Warren Ellis on UNHOLY LAND
'The stories include some of Tidhar's most beautiful prose, and his future Tel Aviv is among the most evocative settings in recent SF… Somehow, CENTRAL STATION combines a cultural sensibility too long invisible in SF with a sensibility which is nothing but classic SF, and the result is a rather elegant suite of tales.' — Locus 
'…savagely funny… A MAN LIES DREAMING, by the Israeli-born novelist Lavie Tidhar, has not been published with the fanfare bestowed on Martin Amis's The Zone of Interest or Howard Jacobson's J, but it is their equal for savage humour… Those who enjoy laughter in the dark will relish Tidhar's parade of mordant ironies… This novel is weird, upsetting, unmissable.' 5* — Telegraph
'Vintage Lavie, and also I think his most fully accomplished novel yet. Nobody rides that fast-rolling wave separating schlocky pulp and serious literary sensibilities so deftly as Tidhar. He manages to make serious points about the benighted twentieth-century and its obsession with 'supermen' without ever letting the narrative slacken or the adventure pale. If Nietzche had written an X-Men storyline whilst high on mescaline, it might have read something like THE VIOLENT CENTURY.' — Adam Roberts, author of Jack Glass
'OSAMA has ushered Tidhar into the limelight… OSAMA is the narrative symphony Philip K. Dick wished he could have composed. Not only is it beautifully written, it is expertly crafted… OSAMA is a work of art. And Tidhar is a word-painter, constructing vibrant and poetic landscapes of narrative in spite of the novel's dark and brooding subject matter. Too often, I am surprised by works that win the World Fantasy Award, among others in the speculative genres (none more so than the Bram Stoker Award). Sometimes the quality of winners doesn't hold up and their nominations seem to be a matter of sheer star power or nepotism. In this case, I'm happy to say, the judges got it dead right.' — Los Angeles Review of Books
'Delicious pastiche of "noir" fiction from SF author Lavie Tidhar, set in a city where everything sweet and sugary is banned. Private eye Nelle searches for a lost teddy bear and uncovers a Chinatown-style conspiracy. You could think of it as The Malteser Falcon, or perhaps Double Inde-mint-y.' — Financial Times (Summer Books of 2018) on CANDY