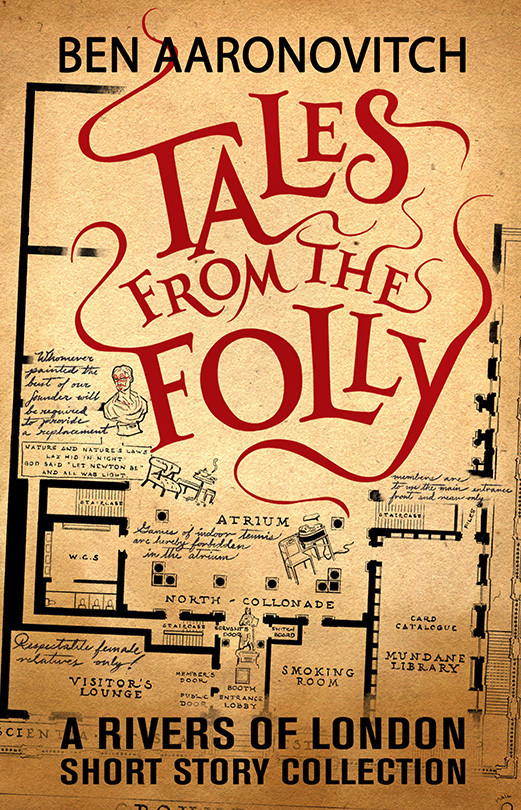 Next month, the highly-anticipated limited edition of TALES FROM THE FOLLY will be published by Subterranean Press. (The publisher recently announced that it's been sent to the printers, and pre-orders are still open.) A collection of stories set in Ben Aaronovitch's Rivers of London universe, it'll be available in two edition:
Limited: 1000 signed numbered hardcover copies
Lettered: 26 signed leather-bound copies, housed in a custom tray-case
Here's the synopsis…
Return to the world of Rivers of London in this first short story collection from #1 Sunday Times best-selling author, Ben Aaronovitch. Tales from the Folly is a carefully curated collection that gathers together previously published stories and brand new tales in the same place for the first time.
Each tale features a new introduction from the author, filled with insight and anecdote offering the reader a deeper exploration into this absorbing fictional world. This is a must read for any Rivers of London fan.
Join Peter, Nightingale, Abigail, Agent Reynolds and Tobias Winter for a series of perfectly portioned tales. Discover what's haunting a lonely motorway service station, who still wanders the shelves of a popular London bookshop, and what exactly happened to the River Lugg…
With an introduction from internationally bestselling author of the Sookie Stackhouse series, Charlaine Harris.
Table of Contents
Charlaine Harris on Rivers of London
Introduction to the Introduction by Ben Aaronovitch
Peter Grant
Introduction
The Home Crowd Advantage
The Domestic
The Cockpit
The Loneliness of the Long-Distance Granny
King of The Rats
A Rare Book of Cunning Device
The Others
Introduction
A Dedicated Follower of Fashion
Favourite Uncle
Vanessa Sommer's Other Christmas List
Three Rivers, Two Husbands and a Baby
Moments 1—Nightingale, September 1966.
Moments 2—Reynolds—Florence, Az. 2014
Moments 3—Tobias Winter—Meckenheim 2012
The collection is also available as an eBook, published by JABberwocky; and as an audiobook, published by Tantor Media (North America) and Orion (UK).