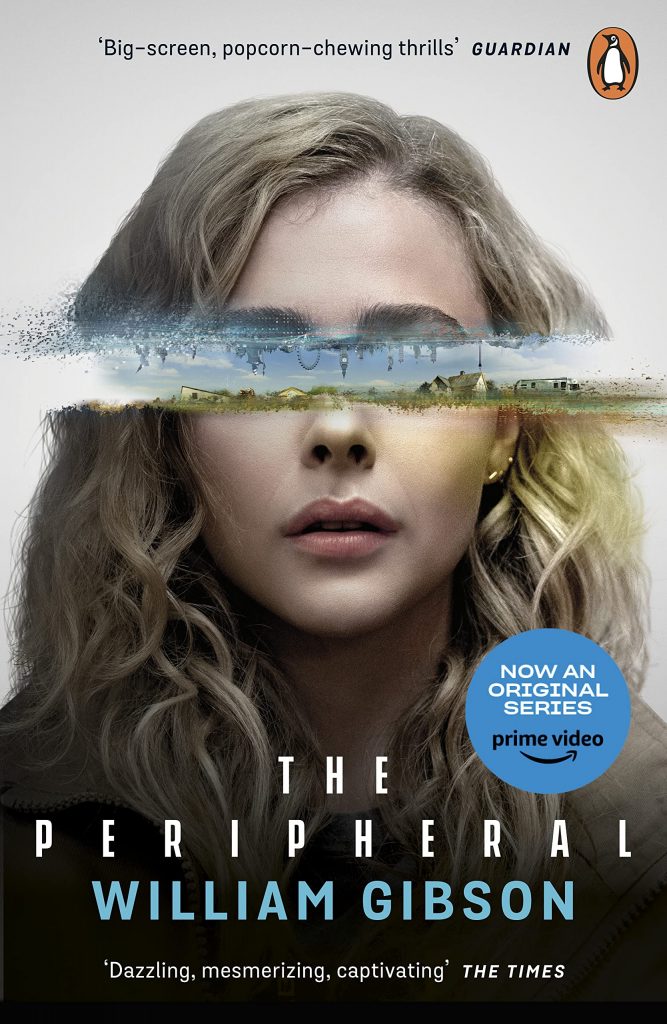 The new, tie-in edition of William Gibson's acclaimed novel THE PERIPHERAL is out tomorrow! Published by Penguin, here's the synopsis…
Flynne Fisher lives in the rural American South, working at the local 3D printing shop, while earning much needed extra money playing VR games for rich people. One night she dons a headset and finds herself in futuristic London-a sleek and mysterious world, alluringly different from her own hardscrabble existence. But this isn't like any game she's ever played before: Flynne begins to realize it isn't virtual reality… it's real.
Someone in London, seventy years in the future, has found a way to open a door to Flynne's world. And as utterly beguiling as London is… it's also dangerous. As Flynne searches to discover who has connected their worlds, and for what purpose, her presence here sets dangerous forces into motion… forces intent on destroying Flynne and her family in her own world.
The Peripheral is master storyteller William Gibson's dazzling, hallucinatory glimpse into the fate of mankind — and what lies beyond.
THE PERIPHERAL is on sale in the UK for all of October, in eBook — Amazon, Kobo.
The TV show launched on Amazon Prime, on October 21st. You can check out the trailer, below…
Here are just a few of the great reviews the novel has received so far…
'His writing has been refined over the years, but Gibson still maintains that sparse, edgy style that has been a characteristic of his work from the very beginning… Gibson remains as unnervingly prophetic as ever, making his futures feel like they're just around the corner, products of humankind's inability to act when necessary, transforming a sci-fi whodunit into a work of fiction that feels both ahead of its time and frighteningly relevant to today's world.' 9/10*  —  Starburst
'Seminal cyberpunk author Gibson, who has spent the last several years writing the more-or-less present-day Zero History series of novels, returns to the future with this slow-burning thriller, ambitiously structured on either side of an economic and ecological collapse… All of Gibson's characters are intensely real, and Flynne is a clever, compelling, stereotype-defying, unhesitating protagonist who makes this novel a standout.'  —  Publishers Weekly
'In THE PERIPHERAL, William Gibson's first futuristic novel since 1999's ALL TOMORROW'S PARTIES, we experience the fantastic synthesis of a 20th century writer — the Gibson of NEUROMANCER, eyeball-kicks of flash and noir; and the Gibson of PATTERN RECOGNITION, arch and sly and dry and keen… A perfect fusion of Gibson's pulp heritage with his fine-tuned design and social sensibilities… From the microscale word choices to the macroscale plot, structure and themes, the book is strange and contemporary in a perfectly futuristic way.'  —  Boing Boing
'Dramatic, scary, creepy,violent, and finally satisfying… like any really well-designed thrill ride or mystery tour (or sonnet or string quartet), as soon as you get off, you want to get right on for another go-round.'  —  Locus
'A smart, nuanced twist on time travel… THE PERIPHERAL is a fast-paced murder investigation and political thriller… pithy, poetic prose. THE PERIPHERAL also feels more accessible than his last several books.'  —  The Verge
'While placed firmly in the sci-fi genre of his earlier works, Gibson's latest retains the social commentary from his more recent novels… This is quintessential Gibson: gonzo yet cool, sharp-edged, sophisticated…'  —  Kirkus
'William Gibson is one of the smartest writers around… THE PERIPHERAL starts off by throwing the reader into the deep end of a complex story set in a future world rich in highly-advanced technology. Or, actually, two future worlds. Only gradually do the pieces fall into place and you begin to understand what is going on… Gibson is not a difficult writer but he is demanding, and here those demands are well rewarded. THE PERIPHERAL is intellectual entertainment of the first order, a pop SF thriller that will make you think.'  —  Toronto Star
THE PERIPHERAL is the first in a series, too: the second novel, AGENCY is out now, published by Penguin in the UK.