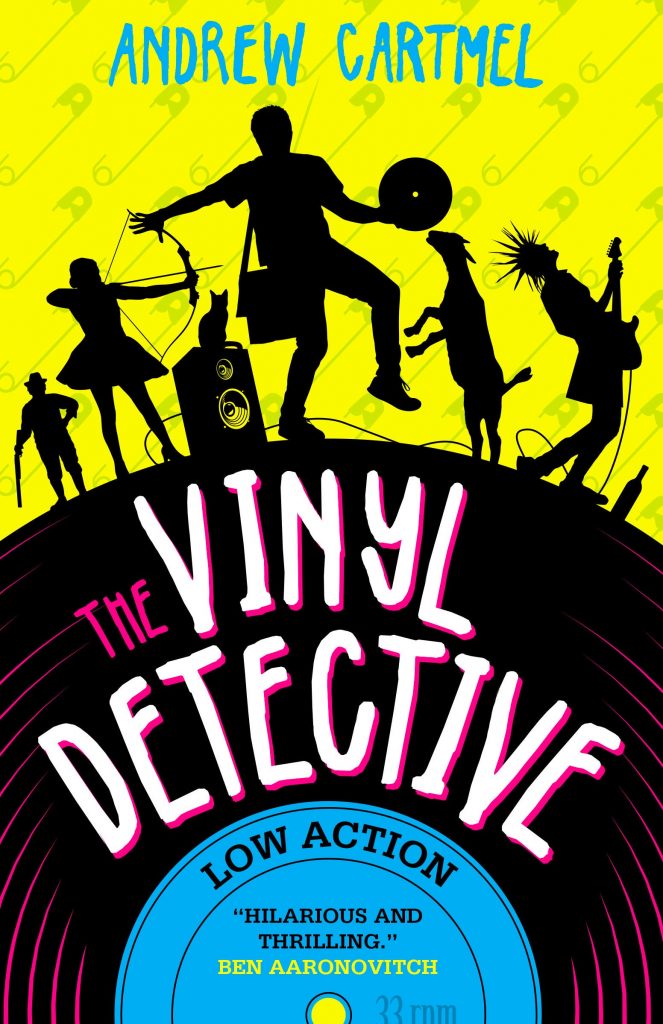 On May 12th, Titan Books are due to publish LOW ACTION, the highly-anticipated fifth novel in Andrew Cartmel's acclaimed Vinyl Detective series! Here's the synopsis…
Semi-retired god of rock guitar and local poseur Erik Make Loud has got himself a new girlfriend. Helene Hilditch – formerly known as Howlin' Hellbitch – of all-girl punk outfit Blue Tits is a mean guitarist, someone is trying to kill her.
With a rare pressing of their first album to find, the Vinyl Detective and Nevada are soon called into to help but this time the question is who isn't a suspect. With a trail of grudges behind her, the list of people who could want Helene dead includes her ex-bandmates, their former producer turned record label mogul, the TV presenter that Helene got fired – even their old roadie could be in on it. The only person who isn't a suspect is Delia Lispector, the Blue Tit's bass player who has already been murdered…
Titan has published all four of the previous novels in the series, in the UK and North America: WRITTEN IN DEAD WAX, THE RUN-OUT GROOVE, VICTORY DISC, and FLIP BACK.

Here are just a few of the reviews the series has received so far…
'This charming mystery feels as companionable as a leisurely afternoon trawling the vintage shops with a good friend.' — Kirkus on WRITTEN IN DEAD WAX
'… fast-paced, lighthearted adventure… marvelously inventive and endlessly fascinating…' — Publishers Weekly on WRITTEN IN DEAD WAX
'Part of the fun of the series is the obsessiveness of record collectors, the contradictions between the mundane places in which they hunt their treasures — charity shops, church bazaars — and the sophisticated sound systems they have set up to play what they find… the Vinyl Detective is proving to be a very amenable companion to have on a treasure hunt. This is one vinyl nerd you won't mind spending time with.' — Kirkus on THE RUN-OUT GROOVE
'… entertaining second record-spinning mystery… Cartmel treats music and records seriously, plays his strange characters for laughs, and provides a bit of danger and some unexpected twists in this affectionate nod to the vagaries of rock stardom.' — Publishers Weekly on THE RUN-OUT GROOVE
'… effectively integrates the lead's unusual specialty of searching out rare records into an intricately constructed plot… the clever resolution of the story lines is impressive. Fair-play fans, even those without an interest in music, will be pleased.' — Publishers Weekly on VICTORY DISC
'VICTORY DISC works beautifully both as a sequel and as a standalone novel… The story is splendid, continuing the fine tradition of the series to date of weaving fascinating fact with thrilling fiction… Andrew Cartmel is a fine mystery (and comedy) writer, keeping his readers smiling while never letting the elements of humour obfuscate the more serious moments… if you enjoyed the first two books, you'll undoubtedly enjoy this one too. The unsolved murder mystery is highly intriguing, the characters introduced throughout are fully formed and a delight to uncover more about, and the chemistry between the Vinyl Detective and his friends is absolutely spot on. In short, VICTORY DISC is beautifully orchestrated and well worth taking for a spin this summer.' — Alternative Magazine Online