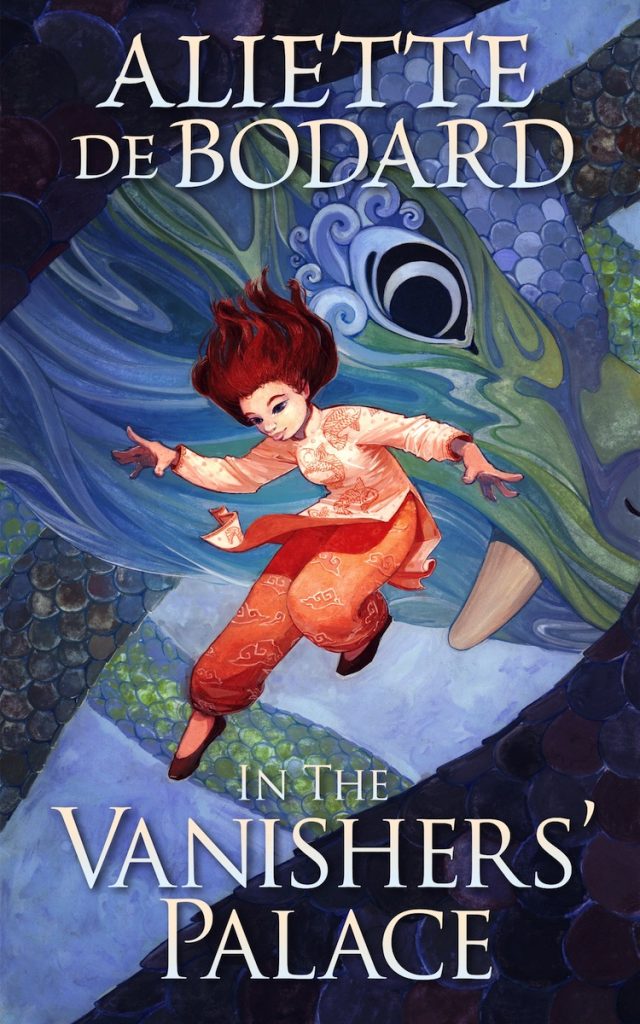 Aliette de Bodard's latest book, IN THE VANISHERS' PALACE is out today! A dark retelling of Beauty and the Beast, the book is published by the JABberwocky eBook Program in the UK, US and France. Here's the synopsis…
In a ruined, devastated world, where the earth is poisoned and beings of nightmares roam the land…
A woman, betrayed, terrified, sold into indenture to pay her village's debts and struggling to survive in a spirit world.
A dragon, among the last of her kind, cold and aloof but desperately trying to make a difference. 
When failed scholar Yên is sold to Vu Côn, one of the last dragons walking the earth, she expects to be tortured or killed for Vu Côn's amusement.
But Vu Côn, it turns out, has a use for Yên: she needs a scholar to tutor her two unruly children. She takes Yên back to her home, a vast, vertiginous palace-prison where every door can lead to death. Vu Côn seems stern and unbending, but as the days pass Yên comes to see her kinder and caring side. She finds herself dangerously attracted to the dragon who is her master and jailer. In the end, Yên will have to decide where her own happiness lies — and whether it will survive the revelation of Vu Côn's dark, unspeakable secrets…
You can read an excerpt from the novel, here.
The book has already received some advance praise, too…
'This intriguing, Sapphic, Vietnamese take on Beauty and the Beast is recommended for fans of De Bodard's previous works or readers who enjoy diverse, lushly described fantasy.' — Library Journal
'Another stellar offering by Bodard. Her signature intensity is on display in this tale of people (and dragons) struggling to survive in the ruins of an alien conquest. Emotionally complex relationships interweave with richly drawn and deftly nuanced world-building.' — Kate Elliott, Author of the Court of Fives series
'A transformative experience. With dragons.' — Fran Wilde, Hugo and Nebula nominated author of The Bone Universe and The Gemworld series
The book is available from Amazon UK, US and France, and also Kobo.
Aliette is also the award-winning author of the Dominion of the Fallen series, published by Gollancz in the UK and Roc Books in North America; the critically-acclaimed THE TEA MASTER AND THE DETECTIVE, published by Subterranean Press and the JABberwocky eBook Program; and also the Obsidian & Blood trilogy, also published as eBooks through the JABberwocky eBook Program.