EL CAFÉ DE LAS LEYENDAS, the Spanish edition of Travis Baldree's acclaimed and best-selling cozy fantasy novel LEGENDS & LATTES is out tomorrow! Published by Roca Libros, here's the synopsis…
LA NOVELA COZY FANTASY QUE ARRASA EN TODO EL MUNDO.
Agotada después de pasar décadas luchando en batallas sangrientas, Viv, una orco bárbara, decide que es hora de colgar su espada y comenzar una nueva vida, una que le brinde alegría a ella misma y felicidad a los otros. Su nuevo objetivo la lleva a dirigirse hacia las calles de Thune, donde planea abrir la primera cafetería que haya visto la ciudad, sirviendo una bebida que ninguno de los ciudadanos ha probado antes.
Pero emprender un nuevo negocio nunca es fácil, especialmente cuando arrastras un pasado complicado y los viejos enemigos pueden alterar tus planes de futuro. Para construir algo que permanezca en el tiempo, Viv necesitará rodearse de un maravilloso grupo de personajes que no sólo la ayudarán a poner en marcha su cafetería, sino que también le enseñaran mucho acerca de la amistad y de cómo lidiar con los problemas de forma civilizada.
Viv está decidida a alcanzar una nueva vida sin recurrir a la violencia. Y, quién sabe, puede que incluso encuentre el amor por el camino…
The novel out now in English, published by Tor Books in  North America and in the UK. Here's the English-language synopsis…
After a lifetime of bounties and bloodshed, Viv is hanging up her sword for the last time.
The battle-weary orc aims to start fresh, opening the first ever coffee shop in the city of Thune. But old and new rivals stand in the way of success — not to mention the fact that no one has the faintest idea what coffee actually is.
If Viv wants to put the blade behind her and make her plans a reality, she won't be able to go it alone.
But the true rewards of the uncharted path are the travelers you meet along the way. And whether drawn together by ancient magic, flaky pastry, or a freshly brewed cup, they may become partners, family, and something deeper than she ever could have dreamed.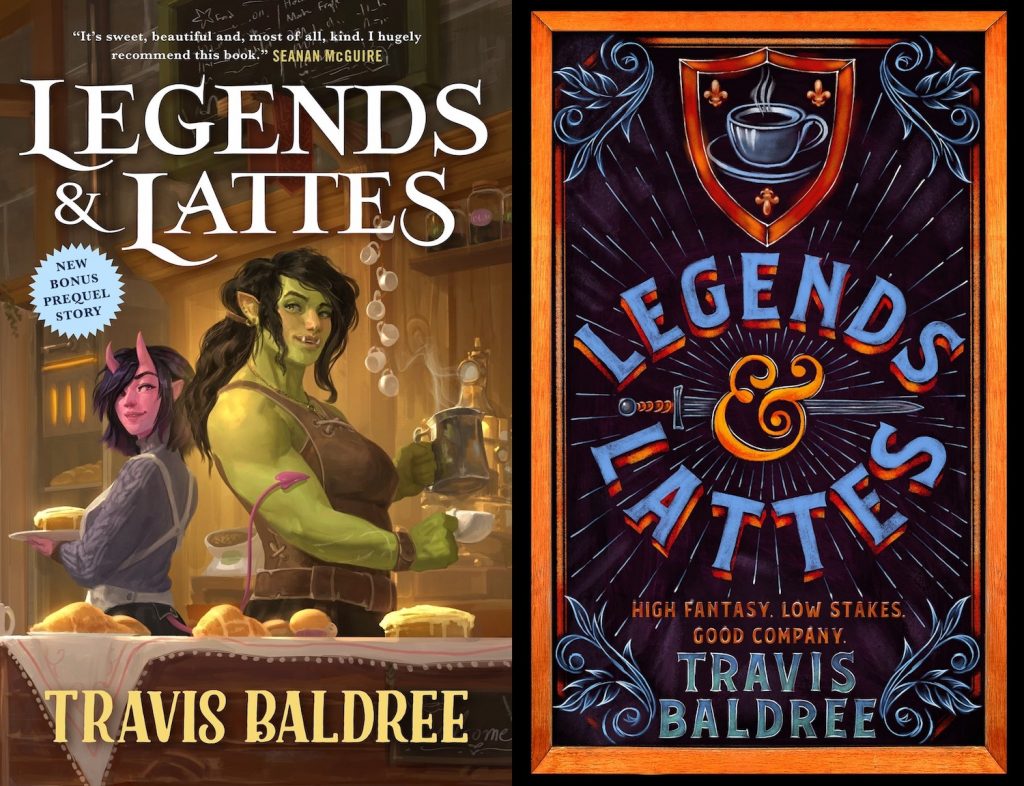 Here are just a few of the many amazing reviews the novel has received so far…
'This is a story about following your dreams, even when they take you away from who you thought you had to be. It's sweet, beautiful and, most of all, kind. I hugely recommend this book.' — Seanan McGuire, New York Times bestselling author of Every Heart A Doorway
'The most fun I've ever had in a coffee shop.' — Ben Aaronovitch, bestselling author of Rivers of London
'This slice-of-life cozy fantasy novel has everything you've been searching for.' — Buzzfeed
'An orc retires from adventuring to start a fantasy city's very first coffee shop. This setup combined with the positive messages of defying societal stereotypes, letting go of violence to build peace, and trusting in your friends feels like a premise from Terry Pratchett's Discworld… LEGENDS & LATTES is a novel, and shop, that will delight anyone who enjoys coffee-shop alternate universes, slow-burn romances, and the vindication of friendship.' — Booklist, starred review
'A gentle little cozy set against an epic fantasy backdrop…. This charming outing will please anyone who's ever wished to spend time in a fantasy world without all the quests and battles.' — Publishers Weekly
'A stunningly-well done story at every level' — Fantasy Faction
'If you like fantasy but you're tired of reading about wars and general intensity, this is the book for you… Cozy fantasy at its best.' — Literary Hub
'LEGENDS & LATTES isn't just a cosy, slice-of-life fantasy, it is a hug after a long day, it's that first bite of chocolate you've been desperately craving or that first sip of coffee, it's pyjamas and blankets and everything else which brings comfort and warmth. This is a tale so simple yet so wholesome and adorable, it has made me see just how versatile the fantasy genre can be… Believe the hype… this book deserves all the praise… Baldree delivers a tale to soothe the soul, a tale which had me smiling and crying with happiness from beginning to end.' — Fantasy Hive