We're delighted to share the news that Aliette de Bodard has been nominated for two Hugo Awards this year!
Let's start with her latest novel, THE TEA MASTER AND THE DETECTIVE, which is up for Best Novella! Published by Subterranean Press in the US and JABberwocky (Worldwide English), here's the synopsis for the critically-acclaimed book…
Once, the mindship known as The Shadow's Child was a military transport, carrying troops and crew for a war that tore the Empire apart. Until an ambush killed her crew and left her wounded and broken. Now the war is over, and The Shadow's Child, surviving against all odds, has run away. Discharged and struggling to make a living, she has no plans to go back into space. Until the abrasive and arrogant scholar Long Chau comes to see her. Long Chau wants to retrieve a corpse for her scientific studies: a simple enough, well-paid assignment. But when the corpse they find turns out to have been murdered, the simple assignment becomes a vast and tangled investigation, inexorably leading back to the past–and, once again, to that unbearable void where The Shadow's Child almost lost both sanity and life…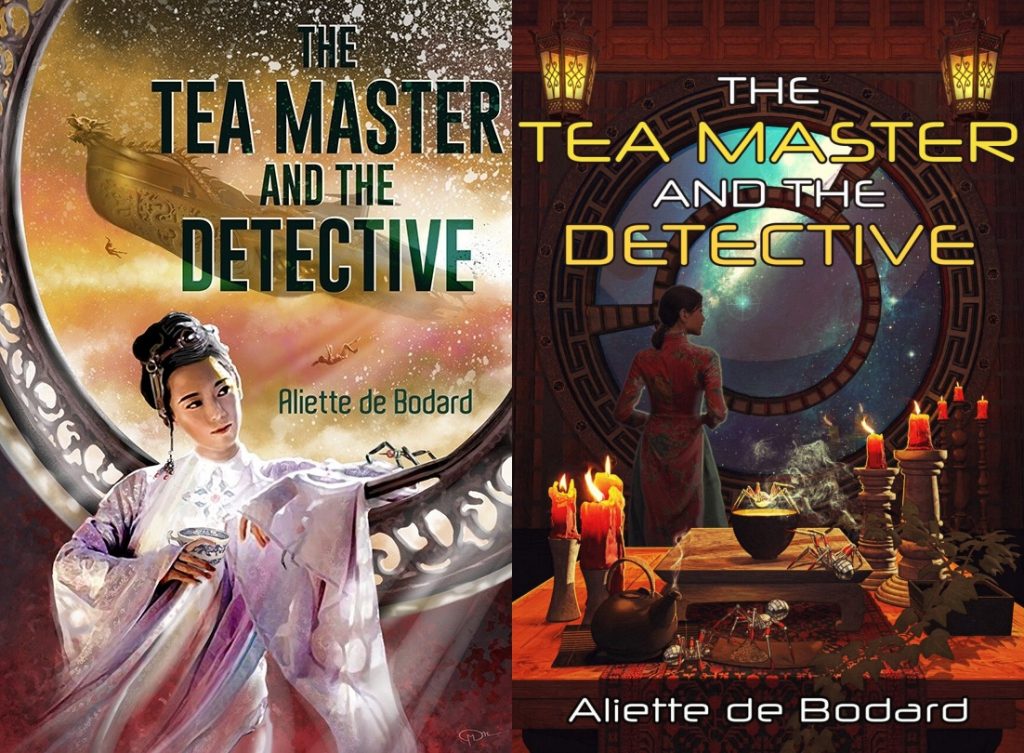 Here are just a few of the reviews that the novella has received since it was published…
'A science-fictional ode to Arthur Conan Doyle's Sherlock Holmes, where the Holmes figure is a sharp and biting disgraced aristocratic scholar with a solid core of empathy, and the Watson-figure is a mindship with post-traumatic stress disorder from her war experiences… This is a measured, almost stately story, right up until a conclusion that explodes in fast-paced tension. It preserves the empathy and the intensity of the original Sherlockian stories, while being told in de Bodard's sharp prose and modern style. The worldbuilding… sparkles. The characters have presence: they're individual and compelling. And it ends it a way that recalls the original Holmes and Watson, while being perfectly appropriate to itself.' — Tor.com
'De Bodard revisits her far-future Xuya universe setting with this gripping novella about damaged characters driven to search for the truth… De Bodard constructs a convincingly gritty setting and a pair of unique characters with provocative histories and compelling motivations. The story works as well as both science fiction and murder mystery, exploring a future where pride, guilt, and mercy are not solely the province of humans.' — Publishers Weekly
'As a classical blend of far-future SF and traditional murder mystery, THE TEA MASTER AND THE DETECTIVE should satisfy readers unfamiliar with the Xuya universe, but at the same time it's an intriguing introduction to that universe, much of which seems to lie just outside the borders of this entertaining tale.' — Locus (Gary K. Wolfe)
'[A] delicate, gender-bent recasting of Sherlock Holmes and Doctor Watson in the far future of her Xuya universe, the gorgeously mannered space opera setting of celebrated novellas… a window onto a beautifully developed world that widens the meaning of space opera, one that centers on Chinese and Vietnamese cultures and customs instead of Western military conventions, and is all the more welcome for it.' — New York Times
'This slim volume packs a visceral punch. Absorbing prose pulls readers into the dark, frigid space between stars, where ships can fail, physically and emotionally, as easily as people… this novella offers sf fans an imaginative read.' — Library Journal (Starred Review)
de Bodard's second nomination is for the Xuya Series as a whole, which is up for Best Series. This series contains a number of short stories and novellas, including THE TEA MASTER AND THE DETECTIVE and THE CITADEL OF WEEPING PEARLS — both of which are available as eBooks via the JABberwocky eBook Program — and ON A RED STATION, DRIFTING.
Many congratulations again, Aliette, on these very well-deserved nominations!