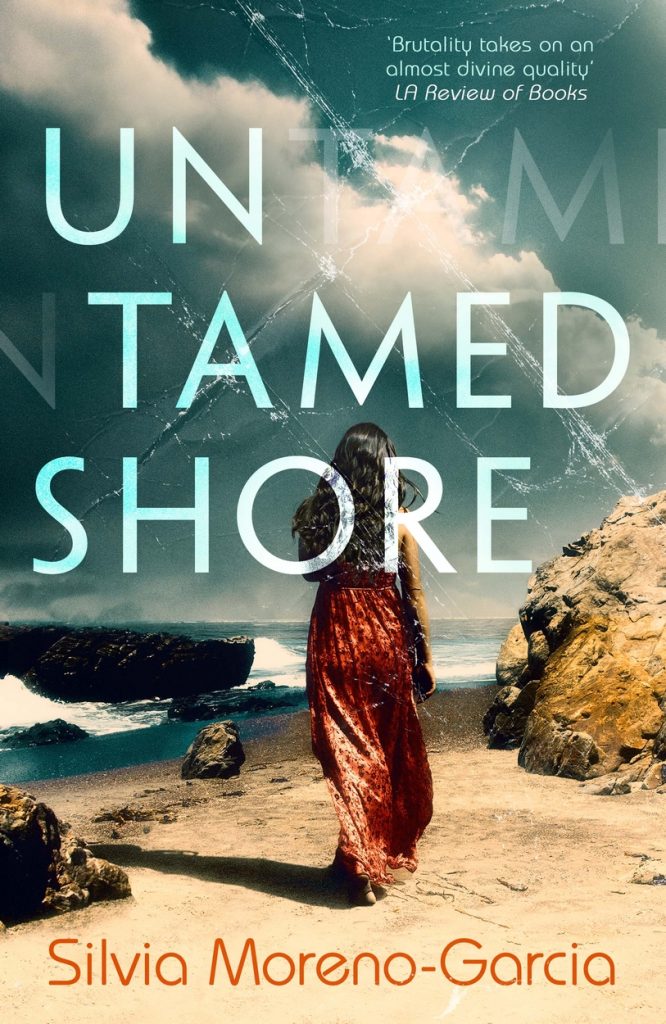 We're very happy to report that the UK edition of Silvia Moreno-Garcia's UNTAMED SHORE is out in two weeks! Due to be published by Jo Fletcher Books on February 16th, here's the synopsis for the author's 'dark cocktail mixing a nuanced coming-of-age story with a classical noir'…
Baja California, 1979: Viridiana spends her days under the harsh sun, watching the fishermen pulling in their nets and the dead sharks piled beside the seashore. Her head is filled with dreams of romance, travel and of a future beyond this drab town where her only option is to marry and have children.
When a wealthy American writer arrives with his wife and brother-in-law, Viridiana jumps at the offer of a job as his assistant, and she's soon entangled in the glamorous foreigners' lives. They offer excitement, and perhaps an escape from her humdrum life. When one of them dies, eager to protect her new friends, Viridiana lies – but soon enough, someone's asking questions. It's not long before Viridiana has some of her own questions about the identities of her new acquaintances.
Sharks may be dangerous, but there are worse predators nearby, ready to devour a naïve young woman unwittingly entangled in a web of deceit.
The novel was first published North America in 2020, and here are just a few of the reviews the novel has received…
'This thriller sets a quiet tone before building slowly and evenly, showing how a meek teenager trapped by circumstance grows into a strong woman who takes control of her future…' — Library Journal (Starred Review)
'The descriptions of Baja are uncommonly evocative of gritty reality, with poverty and desperation made plain on the page, as well as the lengths people are willing to go to in order to escape… (an) insightful look at criminal life from the viewpoint of a sardonic yet lonely soul seems destined for more plaudits.' — Booklist, Starred Review
'Silvia Moreno-Garcia's UNTAMED SHORE is an engrossing book […] astounding in both its maturity and its cynicism.' — Mystery Scene
'[This] compelling crime debut […] is a small masterpiece and presages well for Moreno-Garcia if she continues on a criminal path.' — Crime Time
'This is a really good slow-burn suspense novel […] if you like character driven suspense, and are looking for an interesting setting you've probably never read before, definitely pick this one up!' — Book Riot
'A sense of inevitable dread builds from seemingly innocuous events in this masterful crime debut from Silvia Moreno-Garcia. The period detail is fantastic, the Mexican setting vibrant and fresh, and the noir is as murky as seawater after a shark-feeding frenzy. I loved it!' — Lavie Tidhar
'Silvia Moreno-Garcia's UNTAMED SHORE is a treat: the first thriller from a seasoned writer. This is a superb hybrid that's part classic whodunit, part sad love story, and part smart, pulpy noir packed with smiling snakes, a touch of mythology, and a strong female lead who's caught between her immediate reality and her dreams of escape, all inside the hermetic, oppressive hell of small-town gossip and old-fangled morality. This is a novel about greed, murder, and snowballing peccadilloes that moves forward with the power and grace of a shark. Don't miss it.' — Gabino Iglesias, author of Coyote Songs and Zero Saints
Jo Fletcher Books also publishes Moreno-Garcia's latest, highly-acclaimed novel THE DAUGHTER OF DOCTOR MOREAU, and others.
Zeno represents Silvia Moreno-Garcia in the UK and Commonwealth, on behalf of the JABberwocky Literary Agency in New York.