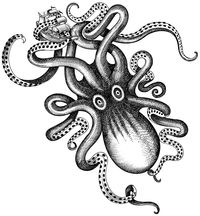 Will you be in London in late October? Then we strongly recommend you pre-book your tickets to an upcoming event featuring two Zeno clients.
The event in question, The Kitschies Present… Secret Histories, features Zeno clients Tim Powers and Lavie Tidhar, and also Kate Griffin, discussing the sub-genre of Secret Histories. As the organisers state, 'The past holds many mysteries… Three of the most intriguing voices in fantastic fiction join forces for one night to discuss their work, the boundaries between truth and fiction and our world – just not as we know it…'
The event will be held at Blackwell's Charing Cross branch, on Monday, October 28, 2013 (6:30-8:00pm). Space is limited, as are the secretive goodie bags that will be handed out, so please book quickly! Your ticket is also good for a £2 discount on selected books bought on the night.
A little bit more about the authors taking part:
Tim Powers is the author of THE ANUBIS GATES, DECLARE, HIDE ME AMONG THE GRAVES, and many more.
Lavie Tidhar is the World Fantasy Award-winning author of OSAMA, The Bookman Histories, and the upcoming THE VIOLENT CENTURY
Kate Griffin is the author of A Madness of Angels, Stray Souls, The Glass God)
Anne C. Perry will act as Moderator and Ringmaster.