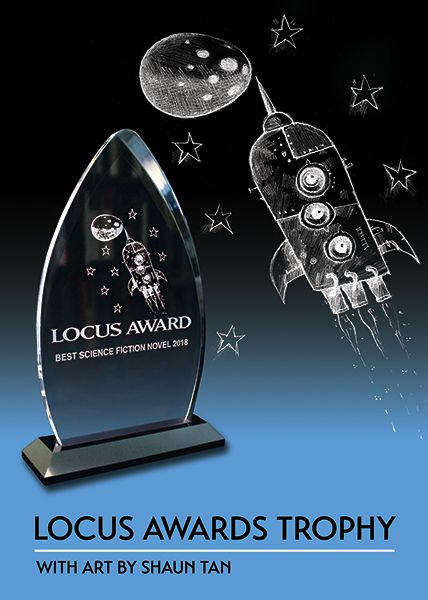 We are delighted to share the news — in case you missed it — that Ian McDonald, Aliette de Bodard and R.A. Lafferty are all finalists in this year's Locus Awards! Congratulations for these very well deserved nominations! Winners of the awards will be announced on June 27th.
Read on for some more details.
Ian's third Luna novel, MOON RISING, is nominated for Best Science Fiction novel. Published in the UK by Gollancz, in North America by Tor Books, and widely in translation, here's the synopsis…
The continuing saga of the Five Dragons, Ian McDonald's fast-paced, intricately plotted space opera pitched as Game of Thrones meets The Expanse
A hundred years in the future, a war wages between the Five Dragons — five families that control the Moon's leading industrial companies. Each clan does everything in their power to claw their way to the top of the food chain — marriages of convenience, corporate espionage, kidnapping, and mass assassinations.
Through ingenious political manipulation and sheer force of will, Lucas Cortas rises from the ashes of corporate defeat and seizes control of the Moon. The only person who can stop him is a brilliant lunar lawyer, his sister, Ariel.
Witness the Dragons' final battle for absolute sovereignty in Ian McDonald's heart-stopping finale to the Luna trilogy.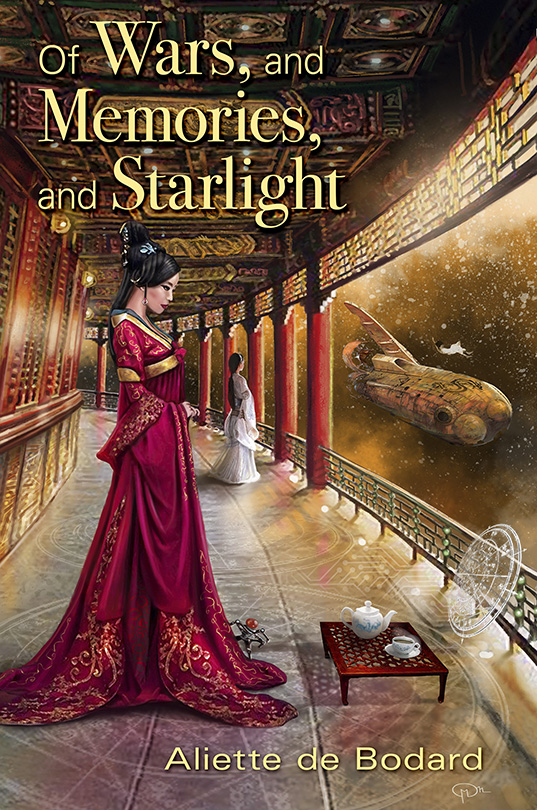 Aliette's Xuya acclaimed collection OF WARS, AND MEMORIES, AND STARLIGHT is nominated for Best Collection. Published by Subterranean Press, here's the synopsis…
A major first collection from a writer fast becoming one of the stars of the genre… Aliette de Bodard, multiple award winner and author of The Tea Master and the Detective, now brings readers fourteen dazzling tales that showcase the richly textured worldbuilding and beloved characters that have brought her so much acclaim.
Come discover the breadth and endless invention of her universes, ranging from a dark Gothic Paris devastated by a magical war; to the multiple award-winning Xuya, a far-future space opera inspired by Vietnamese culture where scholars administrate planets and sentient spaceships are part of families.
In the Nebula award and Locus award winning "Immersion", a young girl working in a restaurant on a colonized space station crosses paths with an older woman who has cast off her own identity. In the novelette "Children of Thorns, Children of Water", a shapeshifting dragon infiltrating a ruined mansion finds more than he's bargained for when his partner is snatched by eerie, child-like creatures. And in the award-winning "Three Cups of Grief, by Starlight", three very different people — a scholar, an engineer, and a spaceship — all must deal with the loss of a woman who was the cornerstone of their world.   
This collection includes a never-before seen 20,000-word novella, "Of Birthdays, and Fungus, and Kindness", set in Bodard's alternative dark Paris.
R.A. Lafferty is also up for Best Collection, for THE BEST OF R.A. LAFFERTY, which is published by Gollancz and contains a number of Lafferty's award-winning fiction. Through their SF Gateway imprint, Gollancz publishes a whole host of Lafferty's work. Here's the synopsis for the nominated collection…
Acclaimed as one of the most original voices in modern literature, Raphael Aloysius Lafferty has been awarded and nominated for a multitude of accolades over the span of his career, including the World Fantasy Award for Lifetime Achievement.
This collection contains 22 unique tall tales, including:
Hugo Award-winning
'Eurema's Dam' — introduced by Robert Silverberg
Hugo Award-nominated
'Continued on the Next Rock' — introduced by Nancy Kress
'Sky' — introduced by Gwenda Bond
Nebula Award-nominated
'In Our Block' — introduced by Neil Gaiman
And more stories introduced by other modern masters of SF who acknowledge.
R.A. Lafferty as a major influence and force in the field.
Zeno represents R.A. Lafferty in the UK and Commonwealth, on behalf of the JABberwocky Literary Agency in New York.