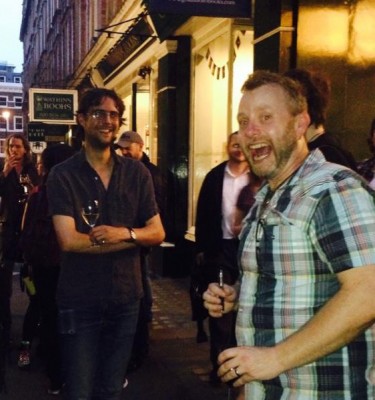 THE RELIC GUILD Editor Marcus Gipps (left) and Edward Cox
On September 18th, Gollancz published Edward Cox's superb debut fantasy novel, THE RELIC GUILD. To mark the occasion, the publisher and Goldsboro Books hosted Edward for a great book launch event.
In addition, Gollancz organised an extensive blog tour to mark the publication of the novel…
15th September
– Interview on Geek Planet Online
– Guest Post: 'Lies of the Father' on Falcata Times – 'how he smashed the ice when moving from a busy city to the country and how a lie can sometimes make a huge difference'
16th September
– Guest Post: 'A Deal's Not a Deal Until the Deal is Done' on Sci-Fi London – 'I've been asked a few times about how I got signed by a major publisher. My answer always makes me sound flippant: I got an agent, and he got me a book deal. It's a little more complicated than that, but it's the truth. What's also true is that it took me longer to convince my agent to represent my book than it took my agent to get the book signed by Gollancz.'
17th September
– THE RELIC GUILD Audio Clip on The Cult Den
– Guest Post: 'The Feeling' on Reader Dad – 'The great question: why do I write? I've been asked this a number of times, and my answers have been varied. I've taken the pretentious route, proclaiming that no one chooses to be a writer, writing chooses you. I've tried to brush it off by saying that writing is the only thing I know how to do. The truth is, I definitely do know why I write, but it is difficult for me explain simply. It comes from an experience, a visceral reaction that I now call the Feeling.'
18th September
– Guest Post: 'Writing and Teaching' on Wondrous Reads – 'During the 2012-2013 academic year, I lectured in creating writing at the University of Bedfordshire. It was my privilege to spend many hours in the company of keen-minded individuals, each of whom was eager to get better at what they did. Their passion fuelled my passion. They inspired me as I tried to inspire them… I'm very proud of the work I did there. However, I've known a lot of people who don't trust writing courses of any kind, and their misgivings are not without some justification.'
– Interview with Alastair Stuart
19th September
– Guest Post: 'Known Things' on Fantasy Book Critic – 'A certain kind of vindication, a validation, comes with signing a book deal. Someone like Gollancz doesn't buy your novel unless they believe it is good enough to publish. Knowing this will patch up the shaky confidence of any writer, at least for a time. However, writing a novel good enough for Gollancz is only the beginning, because when you've signed up for a trilogy, you sort of have to do it again…'
– THE RELIC GUILD Audio Clip on Geek Native
20th September
– Interview on Fantasy Book Review (and review)
– Guest Post: 'Writes & Wrongs' on Civilian Reader – 'I might have taken the longest route possible to getting an agent. I'm something of a blunderer by nature, and learning the hard way is the theme of my life. So much so that I sometimes wonder how I managed to get an agent at all…'
And, finally – THE RELIC GUILD, out now in Hardcover and Audiobook, is also available in eBook at just £1.99 until 25th September.