Travis Baldree's conquest of the book world continues: there is now a Bulgarian edition of his best-selling, highly-acclaimed debut novel, LEGENDS & LATTES! Published by Artline Studios as Легенди и лате, here's the synopsis…
Легендите разказват за камък, пропит с древна магия, който ще донесе истинско щастие на притежателя си.
В тази надежда се вкопчва и Вив – неустрашим орк, прекарал живота си в битки и кръвопролития. Сега тя е решена да загърби миналото и да отвори кафене на някое ново и спокойно място – като например град Тун. За целта обаче може да разчита единствено на двете си ръце… е, и на щипка магия.
Ала мечтата на Вив далеч не е толкова достижима, колкото е смятала, защото на пътя й застават стари и нови съперници. Да не говорим, че никой в града дори не е вкусвал кафе.
Макар да е грижливо пазен, камъкът бързо привлича врагове, готови на всичко да се доберат до него. И ето че един ден неизбежното се случва – той изчезва. Сега на Вив й предстои да се сблъска със страховитите последици от липсата му и да се пребори за собственото си щастие…
LEGENDS & LATTES is published by Tor Books in the UK and North America. The author's second novel, a prequel — BOOKSHOPS & BONEDUST — is also out now.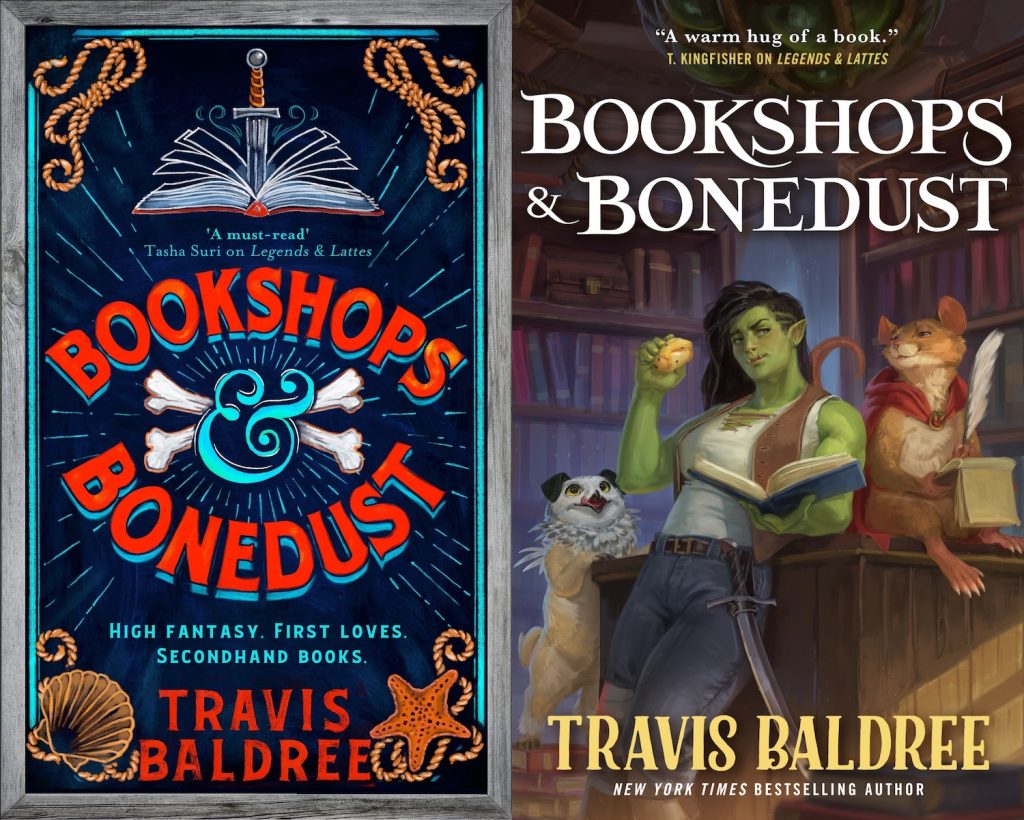 Here's the English-language synopsis for LEGENDS & LATTES…
High fantasy, low stakes – with a double-shot of coffee.
After decades of adventuring, Viv the orc barbarian is finally hanging up her sword for good. Now she sets her sights on a new dream – for she plans to open the first coffee shop in the city of Thune. Even though no one there knows what coffee actually is.
If Viv wants to put the past behind her, she can't go it alone. And help might arrive from unexpected quarters. Yet old rivals and new stand in the way of success. And Thune's shady underbelly could make it all too easy for Viv to take up the blade once more.
But the true reward of the uncharted path is the travellers you meet along the way. Whether bound by ancient magic, delicious pastries or a freshly brewed cup, they may become something deeper than Viv ever could have imagined…
Here are just a few of the many great reviews LEGENDS & LATTES has received so far…
'This is a story about following your dreams, even when they take you away from who you thought you had to be. It's sweet, beautiful and, most of all, kind. I hugely recommend this book.' — Seanan McGuire, New York Times bestselling author of Every Heart A Doorway
'The most fun I've ever had in a coffee shop.' — Ben Aaronovitch, bestselling author of Rivers of London
'A gentle little cozy set against an epic fantasy backdrop… This charming outing will please anyone who's ever wished to spend time in a fantasy world without all the quests and battles.' — Publishers Weekly
'This slice-of-life cozy fantasy novel has everything you've been searching for.' — Buzzfeed
'A stunningly-well done story at every level' — Fantasy Faction
'If you like fantasy but you're tired of reading about wars and general intensity, this is the book for you… Cozy fantasy at its best.' — Literary Hub
'LEGENDS & LATTES isn't just a cosy, slice-of-life fantasy, it is a hug after a long day, it's that first bite of chocolate you've been desperately craving or that first sip of coffee, it's pyjamas and blankets and everything else which brings comfort and warmth. This is a tale so simple yet so wholesome and adorable, it has made me see just how versatile the fantasy genre can be… Believe the hype… this book deserves all the praise… Baldree delivers a tale to soothe the soul, a tale which had me smiling and crying with happiness from beginning to end.' — Fantasy Hive