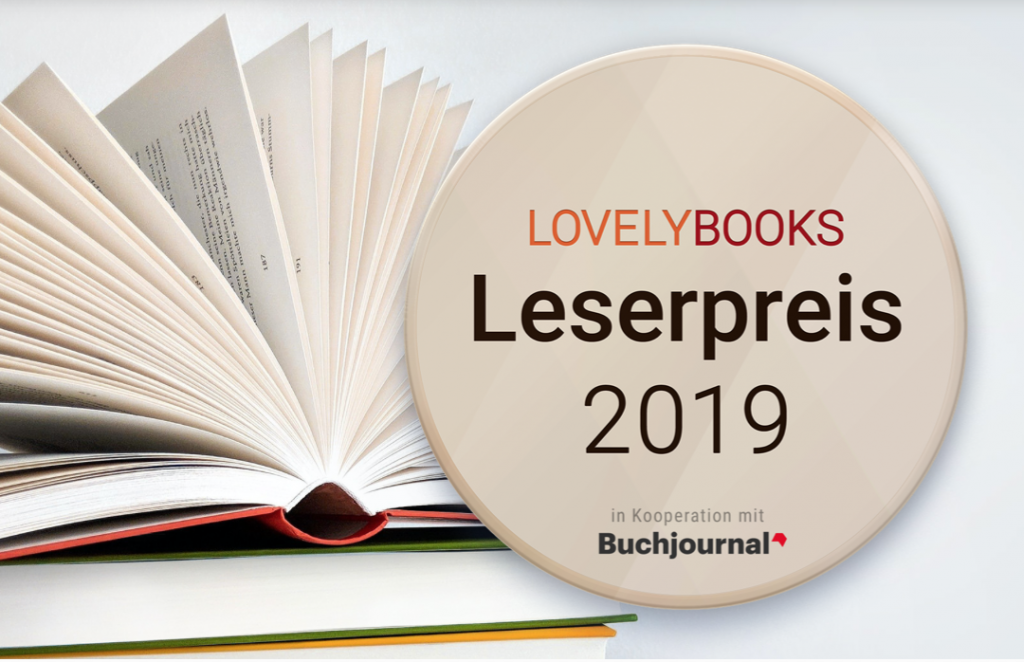 Further to the news on Friday that Ben Aaronovitch's WHISPERS UNDER GROUND has been adapted into a full-cast audio drama, we are very happy to share more news out of Germany: two of Ben's critically-acclaimed, best-selling books have been nominated for Der Leserpreis 2019!
To be awarded tomorrow by LovelyBooks, Germany's premier online book community, both DIE GLOCKE VON WHITECHAPEL and DER OKTOBERMANN are nominated in the Fantasy & Science Fiction category!
Both are published in Germany by DTV, and are of course available now. Read on for more details…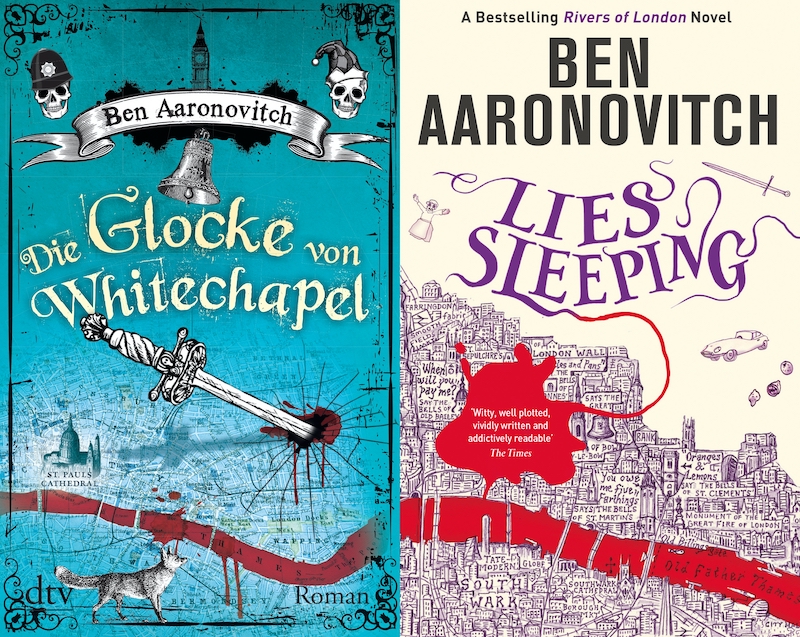 DIE GLOCKE VON WHITECHAPEL is published in English as LIES SLEEPING by Gollancz in the UK and DAW Books in North America. Here's the German synopsis…
Constable und Zauberlehrling Peter Grant steht vor seiner größten Herausforderung: Das Schicksal Londons steht auf dem Spiel. Der gesichtslose Magier, verantwortlich für grauenvolle übernatürliche Verbrechen, ist zwar endlich demaskiert und auf der Flucht. Doch er verfolgt einen perfiden Plan, der ganz London in den Abgrund stürzen könnte. Um den Gesichtslosen zu stoppen, muss Peter all seine magischen Kräfte aufbieten – und einen bösen alten Bekannten kontaktieren: Mr. Punch, den mörderischen Geist des Aufruhrs und der Rebellion.
… and the English synopsis…
A deadly history.
A dangerous mystery.
And a dark plan coming to light.
IN LONDON, THE PAST IS NEVER DEAD.
IT ONLY… LIES SLEEPING
Martin Chorley – aka the Faceless Man – wanted for multiple counts of murder, fraud and crimes against humanity, has been unmasked and is on the run. Peter Grant, Detective Constable and apprentice wizard, now plays a key role in an unprecedented joint operation to bring Chorley to justice.
But even as the unwieldy might of the Metropolitan Police bears down on its foe, Peter uncovers clues that Chorley, far from being finished, is executing the final stages of a long term plan. A plan that has its roots in London's two thousand bloody years of history, and could literally bring the city to its knees.
To save his beloved city Peter's going to need help from his former best friend and colleague – Lesley May – who brutally betrayed him and everything he thought she believed in. And, far worse, he might even have to come to terms with the malevolent supernatural killer and agent of chaos known as Mr Punch…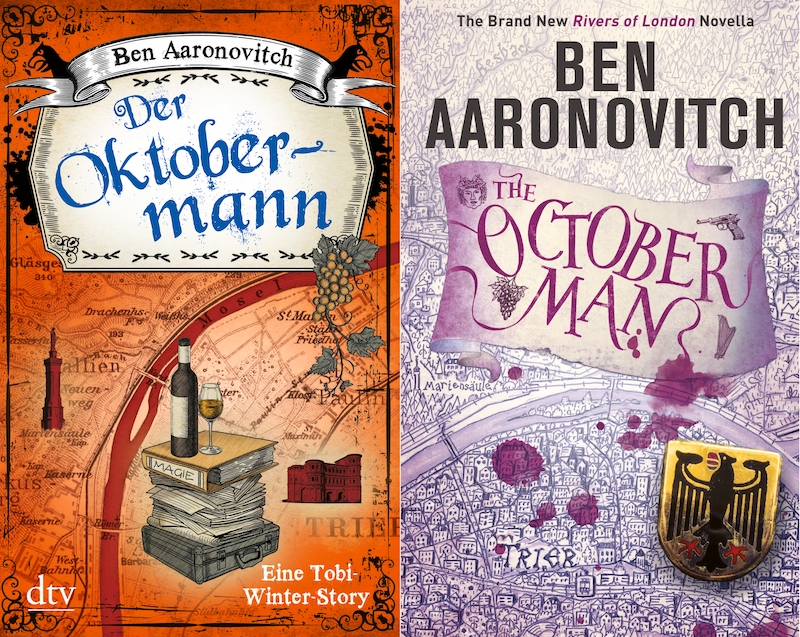 DER OKTOBERMANN is THE OCTOBER MAN, a novella introducing a new protagonist — Tobias Winter — published by Gollancz in the UK and Subterranean Press in North America. Here's the German synopsis…
›Die Flüsse von London‹ fließen nach Deutschland …
… denn auch hierzulande gibt es magische Vorkommnisse! Das deutsche Pendant zu Peter Grant heißt Tobi Winter und arbeitet beim BKA (Abteilung für komplexe und diffuse Angelegenheiten, sprich: Magie). Tobi bekommt es mit seltsamen Bräuchen in den Weinbergen rund um Trier zu tun – und mit einem übernatürlichen Rätsel, das schon Hunderte von Jahren alt ist. Selbstverständlich hat in dieser Gegend auch die Mosel ein Wörtchen mitzureden, wenn es magisch wird.
… and the English-language synopsis…
Trier is famous for wine, Romans and for being Germany's oldest city. So when a man is found dead with, his body impossibly covered in a fungal rot, the local authorities know they are out of their depth.
Fortunately this is Germany, where there are procedures for everything.
Enter Investigator Tobias Winter, whose aim is to get in, deal with the problem, and get out with the minimum of fuss, personal danger and paperwork. With the help of frighteningly enthusiastic local cop, Vanessa Sommer, he's quick to link the first victim to a group of ordinary middle aged men – and to realise they may have accidentally reawakened a bloody conflict from a previous century. But the rot is still spreading, literally and with the suspect list extending to people born before Frederick the Great solving the case may mean unearthing the city's secret magical history.
. . . so long as that history doesn't kill them first.