Ian McDonald is a Guest of Honour at this year's WorldCon, to be held in Dublin from August 15-19. We thought this would be a great time, therefore, to highlight some of his amazing, critically-acclaimed and award-winning novels. His most recent series, Luna, has been getting a lot of attention as new translation editions are released. (Ian's conquest of the world continues at quite the impressive pace!)
Given how substantial his backlist is, we're going to split this into two posts (the second will go up next Friday). Today, we'll take a look at Ian's other series.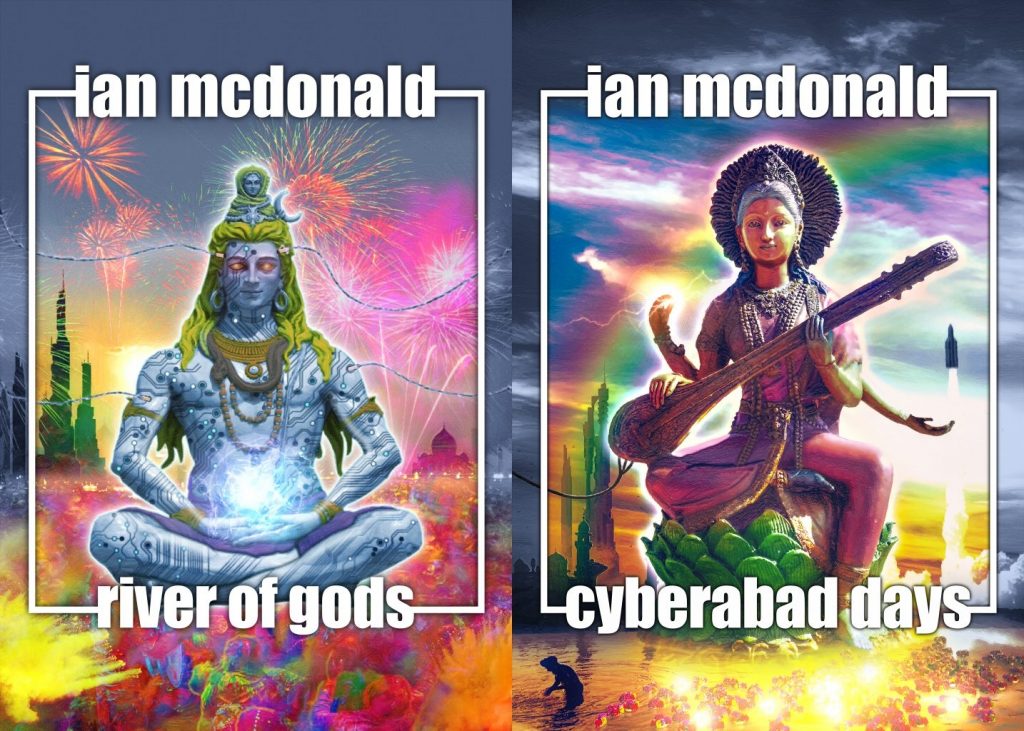 One of Ian's most critically-acclaimed series is India 2047, which includes RIVER OF GODS and CYBERABAD DAYS. Published in the UK by Gollancz, the novels are also available as eBook in the US (via JABberwocky's eBook Program). Here's the synopsis for RIVER OF GODS…
August 15th, 2047. Happy Hundredth Birthday, India … On the eve of Mother India's hundredth birthday, ten people are doing ten very different things. In the next few weeks, all these people will be swept together to decide the fate of the nation. From gangsters to government advisors, from superstitious street-boys to scientists to computer-generated soap stars, River of Gods shows a civilization in flux – a river of gods.
RIVER OF GODS is an epic SF novel as sprawling, vibrant and colourful as the sub-continent it describes. This is an SF novel that blew apart the narrow anglo and US-centric concerns of the genre and ushered in a new global consciousness for the genre.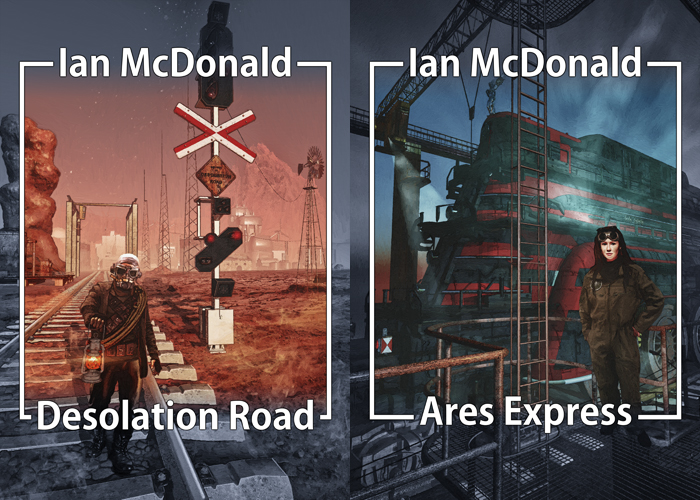 Ian has two novels set on a future Mars: DESOLATION ROAD and ARES EXPRESS. Available now, published by the JABberwocky eBook Program.
It all began thirty years ago on Mars, with a greenperson. But by the time it all finished, the town of Desolation Road had experienced every conceivable abnormality from Adam Black's Wonderful Travelling Chautauqua and Educational 'Stravaganza (complete with its very own captive angel) to the Astounding Tatterdemalion Air Bazaar. Its inhabitants ranged from Dr. Alimantando, the town's founder and resident genius, to the Babooshka, a barren grandmother who just wants her own child—grown in a fruit jar; from Rajendra Das, mechanical hobo who has a mystical way with machines to the Gallacelli brothers, identical triplets who fell in love with—and married—the same woman.
Ian's first series was Chaga, which includes CHAGA/EVOLUTION'S ROAD, KIRINYA, and TENDELEO'S STORY. The trilogy is now available as eBooks, published by JABberwocky. The first two books have also been published in Germany, by Heyne.
On the trail of the mystery of Saturn's disappearing moons, network journalist Gaby McAslan finds herself in Africa researching the Kilimanjaro Event: a meteor-strike in Kenya which caused the stunning African landscape to give way to something equally beautiful – and indescribably alien. Dubbed the 'Chaga', the alien flora destroys all man-made materials, and moulds human flesh, bone and spirit to its own designs. But when Gaby finds the first man to survive the Chaga's changes, she realizes it has its own plans for humankind… Against the backdrop of Mount Kilimanjaro, McDonald weaves a staggering tale of keen human observation and speculation, as the Kilimanjaro Event changes the course of the human race by exposure to something beyond its imagination.
Everness is Ian's YA sci-fi trilogy: PLANESRUNNER, BE MY ENEMY, and EMPRESS OF THE SUN. First published by Jo Fletcher Books in the UK and Pyr Books in North America, the series has now been reissued through the JABberwocky eBook program (UK and US). The series offers younger readers a perfect entry point into McDonald's work — sci-fi that is both intelligent and action-packed, this series is also accessible and thoroughly entertaining. Here's the synopsis for the first book…
There is not one you. There are many yous. There is not one world. There are many worlds. Ours is one among billions of parallel earths.
When Everett Singh's scientist father is kidnapped from the streets of London, he leaves young Everett a mysterious app on his computer: the Infundibulum, the map of all the parallel earths, the most valuable object in the multiverse. There are dark forces in the Plenitude of Known Worlds who will stop at nothing to get it. They've got power, authority, the might of ten planets—some of them more technologically advanced than our Earth—at their fingertips. He's got wits, intelligence, and a knack for Indian cooking.
Everett must trick his way through the Heisenberg Gate that his dad helped build and go on the run in a parallel Earth. But to rescue his dad from Charlotte Villiers and the sinister Order, this Planesrunner's going to need friends. Friends like Captain Anastasia Sixsmyth, her adopted daughter, Sen, and the crew of the airship Everness.
Can they rescue Everett's father and get the Infundibulum to safety? The game is afoot!
The Everness series has also been published in a number of foreign territories.