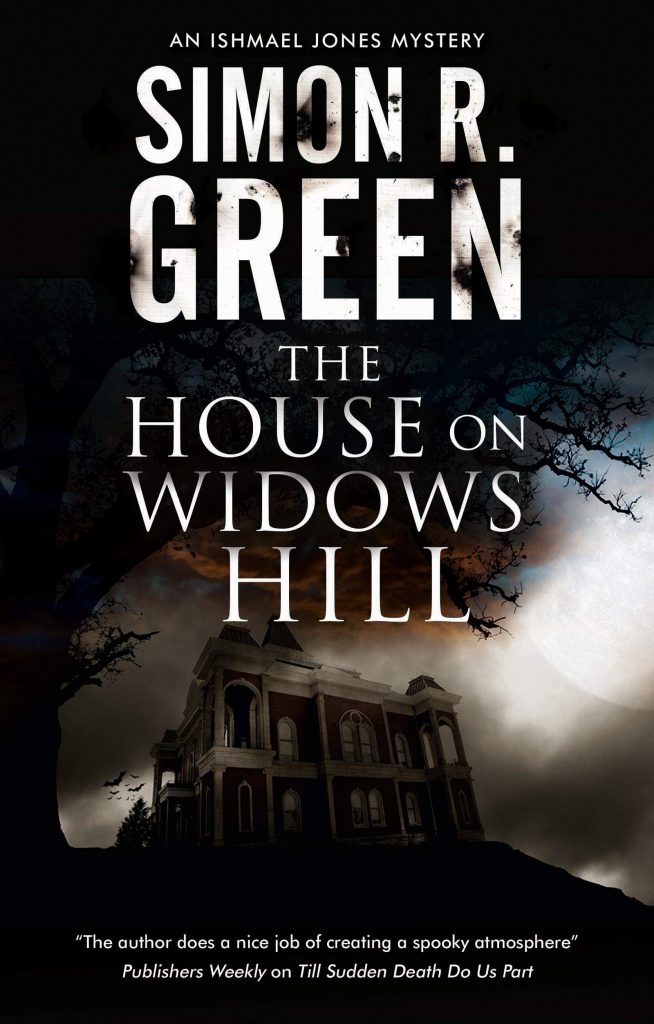 Simon R. Green's ninth Ishmael Jones novel is out today in North America! Published by Severn House, here's the synopsis for THE HOUSE ON WIDOWS HILL…
Ishmael Jones investigates a haunted house… but is haunted by his own past in the latest of this quirky paranormal mystery series.
Harrow House has remained empty for years. Now, on behalf of an anonymous prospective buyer, Ishmael and Penny are spending a night there in order to investigate the rumours of strange lights, mysterious voices, unexplained disappearances, and establish whether the house is really haunted. What really happened at Harrow House all those years ago?
(The novel was published in the UK back in June.)
Severn House publishes all of Green's acclaimed Ishmael Jones novels in the North America and in the UK: THE DARK SIDE OF THE ROAD, DEAD MAN WALKING, VERY IMPORTANT CORPSES, DEATH SHALL COME, INTO THE THINNEST OF AIR, MURDER IN THE DARK, TILL SUDDEN DEATH DO US PART, and NIGHT TRAIN TO MURDER.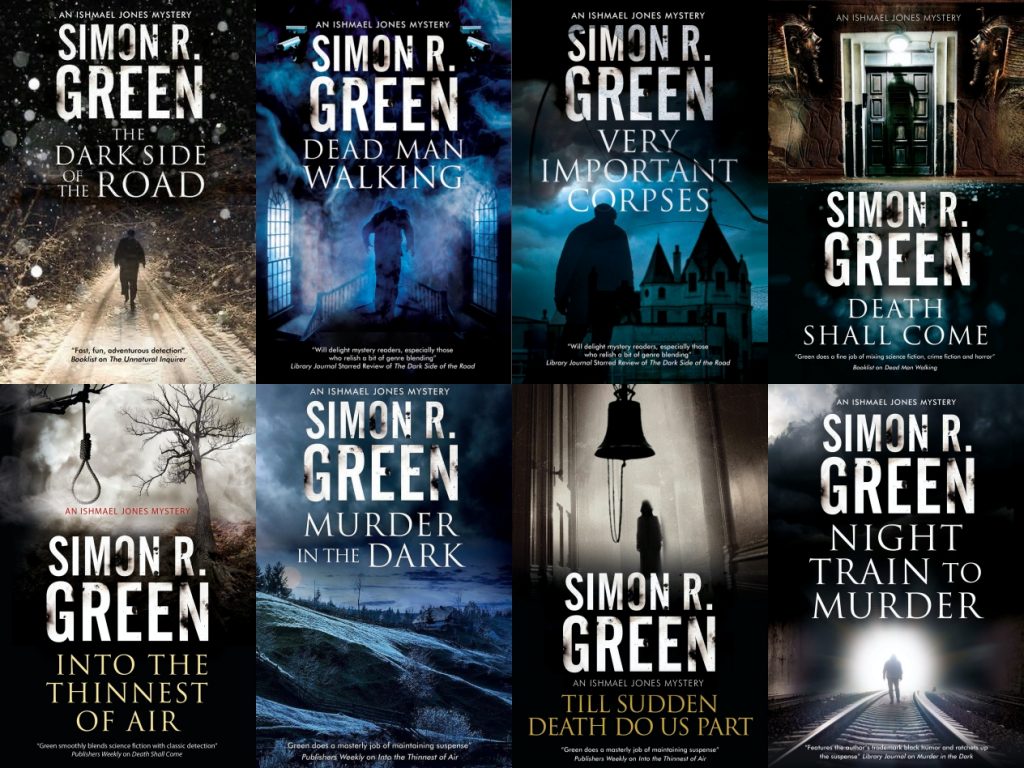 Here are just a few of the great reviews the series has received so far…
'[A] brisk, breezy first in a new mystery series… Convincing supernatural twists [and] witty chapter titles… readers will be anxious for a sequel.' — Publishers Weekly on THE DARK SIDE OF THE ROAD
'I really enjoyed the book. If anything it was over too soon. The author captures the English Country Manor Murder Mystery feel very well, as he sets up pretty much everybody as a suspect…I look forward to finding out more in future volumes.' — British Fantasy Society on THE DARK SIDE OF THE ROAD
'Genre-blending author Green introduces another wisecracking protagonist, Ishmael Jones…Fans of the British TV series Torchwood will enjoy the irreverent, otherworldly protagonist.' — Booklist on THE DARK SIDE OF THE ROAD
'Not to be taken too seriously, this meld of SF and traditional hard-boiled spy fiction hints at plenty of further adventures.' — Publishers Weekly on DEAD MAN WALKING
'This sequel to the wonderful THE DARK SIDE OF THE ROAD takes the basic structure of a traditional English country house mystery and mixes it with a bit of supernatural horror and suspense. Richard Kadrey and E.E. Knight fans will particularly relish Green's genre-blending novel.' — Library Journal on DEAD MAN WALKING
'Ishmael is a wonderful character, an extraterrestrial living among humans, and the series (this is the third installment) is a clever mixture of thriller and SF-horror genres. Green is best known for the Deathstalker space operas, but give this one a few more installments to develop, and it could well become Green's masterwork.' — Booklist (Starred Review) on VERY IMPORTANT CORPSES
'I recommend VERY IMPORTANT CORPSES if you are looking for a fun, scary, and entertaining read before bedtime.' — Fantasy Book Review
'Fans of the series will be delighted to reconnect with the quick-witted detective and to learn a little bit more about his early days on the planet.' — Booklist on TILL SUDDEN DEATH DO US PART
'Fun, fast-paced, light fare that passes almost as quickly as that fatal train ride.' — Kirkus on NIGHT TRAIN TO MURDER
'[An] entertaining romp.' — Publishers Weekly on NIGHT TRAIN TO MURDER
Zeno represents Simon R. Green in the UK and Commonwealth, on behalf of the JABberwocky Literary Agency in New York.