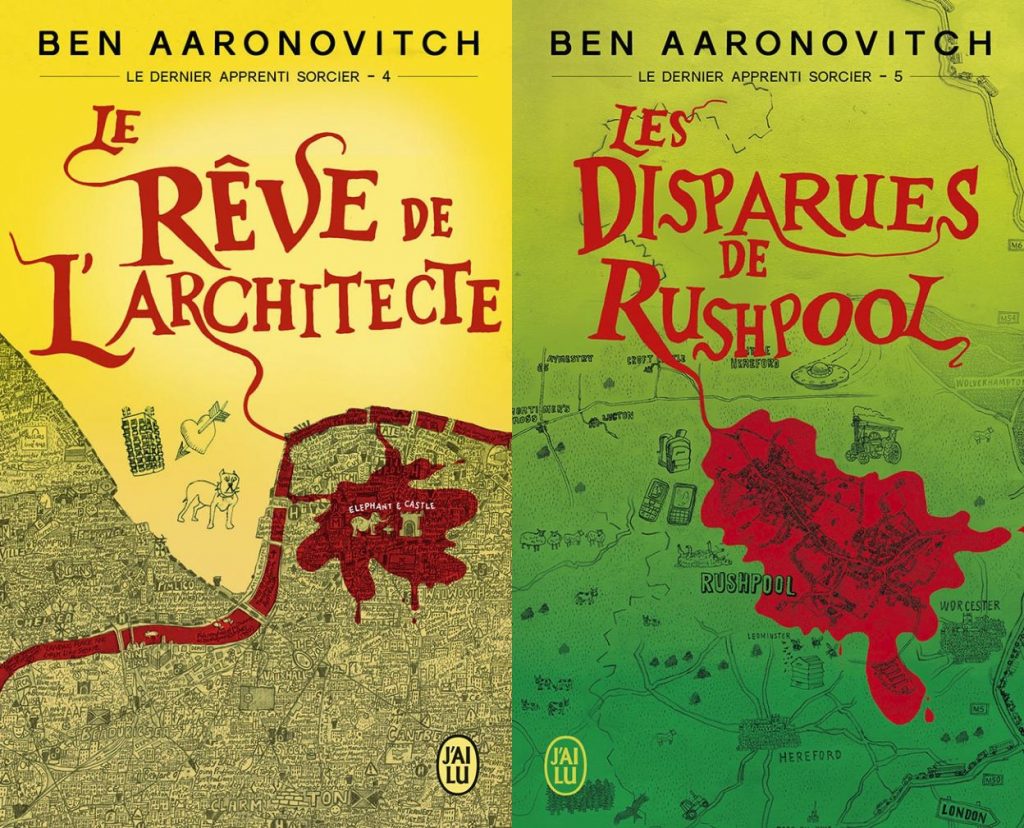 J'ai Lu recently re-jacketed the French editions of Ben Aaronovitch's Peter Grant series. We shared the first three new covers a little while ago, and today we have the new covers for BROKEN HOMES (above) and FOXGLOVE SUMMER. Published in France as LE RÊVE DE L'ARCHITECTE and LES DISPARUES DE RUSHPOOL, respectively. Here's the synopsis for the former…
La découverte d'un corps mutilé dans la banlieue de Londres fait monter d'un cran la paranoïa ambiante, d'autant que la méthode rappelle furieusement celle de l'Homme sans visage, ce magicien fou déjà connu des services de police. Enfin, pas de tous les services, juste de celui des affaires surnaturelles, dont le représentant le plus actif, l'agent Peter Grant, est aussi le dernier apprenti sorcier de Londres. À peine débutée, son enquête va s'enrichir de nouveaux éléments à première vue sans rapport avec le crime, mais qui tous mènent au quartier d'Elephant and Castle ; plus précisément à un ensemble d'immeubles conçu par un architecte dérangé et habité par tout ce que la capitale britannique compte de désespérés…
The Peter Grant series is published in the UK by Gollancz, and in the US by Del Rey (1-3) and DAW Books (4-7). Here's the English-language synopsis for BROKEN HOMES…
A mutilated body in Crawley. Another killer on the loose. The prime suspect is one Robert Weil – an associate of the twisted magician known as the Faceless Man? Or just a common garden serial killer?
Before PC Peter Grant can get his head round the case, a town planner going under a tube train and a stolen grimoire are adding to his case-load.
So far so London.
But then Peter gets word of something very odd happening in Elephant and Castle, on an housing estate designed by a nutter, built by charlatans and inhabited by the truly desperate.
Is there a connection?
And if there is, why oh why did it have to be South of the River?
The highly-anticipated seventh novel in the series, LIES SLEEPING, is due out in the UK and US in November 2018.
Here are the new UK covers…