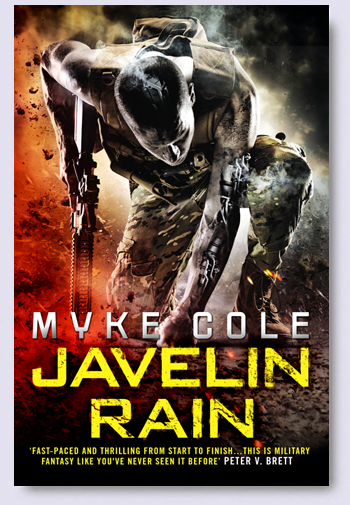 Myke Cole's fifth novel, JAVELIN RAIN, is due out in April 2016. Above you can see the stunning Sullivan cover for the novel. To be published by Headline in the UK, it is the fifth novel set in his Shadow Ops world, and the second in the Operator series. Here's the synopsis…
Javelin: A code denoting the loss of a national secu­rity asset with strategic impact.
Rain: A code indi­cating a crisis of exis­ten­tial proportions.
Javelin Rain inci­dents must be resolved imme­di­ately, by any and all means nec­es­sary, no matter what the cost…
Being a US Navy SEAL was Jim Schweitzer's life right up until the day he was killed. Now, his escape from the gov­ern­ment who raised him from the dead has been coded "Javelin Rain." Schweitzer and his family are on the run from his former unit, the Gemini Cell, and while he may be immortal, his wife and son are not.
Jim must use all of his strength to keep his family safe, while con­vincing his wife he's still the same man she once loved. Only what his former allies have planned to bring him down could mean dis­aster not only for Jim and his family, but for the entire nation…
Headline also publish Cole's other novels in the UK: CONTROL POINT, FORTRESS FRONTIER, BREACH ZONE and GEMINI CELL (the first novel in the Operator prequel series). Here are just a few of the great reviews Myke's novels have received…
'A debut by a former military officer that will attract readers who like their urban fantasies with more of a military edge.' — Library Journal on CONTROL POINT
'Cole's definitely got a hit on his hands.  He's found that perfect recipe, incorporating magic, military, and mayhem without sacrificing either realism or the sense of wonder.  I can't wait to see what comes next.' — Tor.com on CONTROL POINT
'A solid improvement from CONTROL POINT, with a fantastic set of new characters… [FORTRESS FRONTIER is] a superb sequel.' — SF Signal
'Cole wraps up the Shadow Ops trilogy with a magical battle royale… This action-filled, adrenalin-powered adventure, which enthusiastically embraces the tropes of tales about meta-powered minorities and the distrusting majorities who oppress them, provides a fitting end for the trilogy.' — Publishers Weekly on BREACH ZONE
'Cole has nailed the characters better than ever before, weaving together a heartbreaking story of a Navy SEAL and his wife as they're separated by death… Cole seems to delight in busting genre conventions… As the latest book in what's sure to be a longer-running series, Cole has resisted the temptation to spin out sequel after sequel featuring the same characters fighting many of the same battles. GEMINI CELL, like its siblings, demonstrates the complexity of the world in which Cole can tell numerous stories, each unique, thought-provoking and entertaining all at once.'  —  io9.com

Zeno represents Myke Cole in the UK and Commonwealth, on behalf of the JABberwocky Literary Agency in New York.