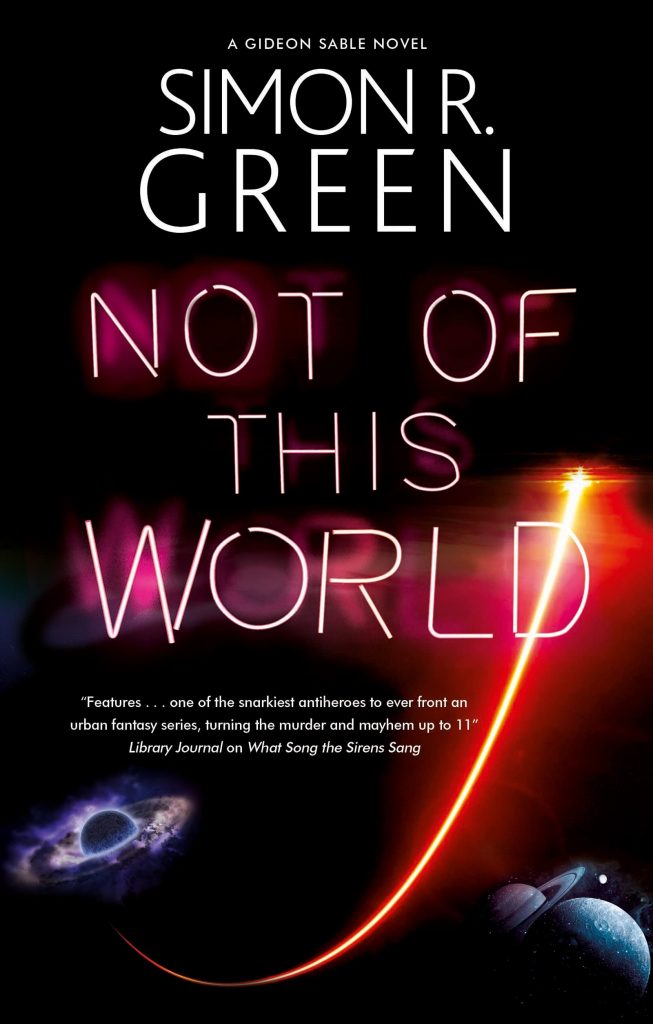 The fourth novel in Simon R. Green's Gideon Sable series, NOT OF THIS WORLD, is out now in North America and in the UK! Published by Severn House, here's the synopsis…
This might be his biggest coup yet! Legendary master thief Gideon Sable is on the hunt for the ghost of an alien-possessed man in this fast-paced supernatural heist thriller.
The Preserve in Bath – the British Area 51 – is the secret government dumping ground for all things supernatural and out of space. It is one of the most heavily-guarded places in the world. However, it's not what protects it that makes it so dangerous but the things that are inside . . .
Gideon Sable – master thief, con artist and self-proclaimed vigilante – faces a challenge he can't refuse. His client, the former Head of the British Rocketry Group, Professor Neil Sharpe, wants him to break into the Preserve. Once inside, Gideon and his crew of supernatural misfits can get any mystical artefact they desire out of the Preserve's collection. The catch? To reach it, they must go through the treacherous Box Tunnel complex and not only face trained guards and booby traps but steal something that can't normally be stolen – a ghost!
Sharpe's obscure motive leaves Gideon uncertain and suspicious. The only thing he knows for sure is that he can steal anything with just the right amount of preparation – but will he be prepared enough to face whatever the Preserve holds, or will he find himself a permanent part of the government's collection?
Severn House also publishes the first three novels in the series: THE BEST THING YOU CAN STEAL, A MATTER OF DEATH AND LIFE, and WHAT SONG THE SIRENS SANG.
'A blast for urban-fantasy readers looking for a broken fourth wall riddled with dry-witted commentary, evil getting its just deserts, and the good walking away to fight the good fight.' — Library Journal on NOT OF THIS WORLD
'Master thief and con man Gideon Sable has a plan. He intends to breach the private vault of Fredric Hammer, noted bad guy, and rob him blind. To do that, he needs to assemble a crack team of professionals. But this is no ordinary team, because this is no ordinary London. This is an alternate London, wherein ghosts and demons and people with special gifts coexist with regular human folk. And Gideon's team consists of former girlfriend Annie Anybody, whose gift is luck; a fellow known as the Damned (because he's, you know, damned); the Ghost, who retains the memory of what it is to be a man; and the Wild Card, who sees all the truths in the world. Each of them has a score to settle with Hammer, and each of them is willing to risk plenty to get revenge. This novel by the author of the terrific Ishmael Jones series is a treat for anyone who relishes the blending of alternate-world fantasy, urban fantasy, and the caper novel. Exciting, witty, and stuffed full of fun.' — Booklist on THE BEST THING YOU CAN STEAL
'[Green] gives an urban fantasy twist to Oceans 11.' — Publisher's Weekly on THE BEST THING YOU CAN STEAL
'This book is pure fun.' — Grimdark Magazine on THE BEST THING YOU CAN STEAL
'It's a wonderfully imagined setting, which will be no surprise for those familiar with Green's oeuvre. The Sable novels make perfect fare for fans of urban fantasy, thrillers, or caper novels (or, especially, blends of all three).' — Booklist on A MATTER OF DEATH AND LIFE
'[F]eatures a crew of criminals with hearts of gold and one of the snarkiest antiheroes to ever front an urban fantasy series, turning the murder and mayhem up to 11 while telling a story where disaster is always just on the other side of the door.' — Library Journal on WHAT SONG THE SIRENS SANG
Zeno represents Simon R. Green on behalf of the JABberwocky Literary Agency in New York.