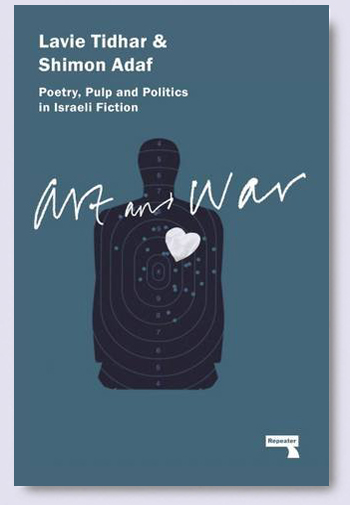 Above is the cover for Lavie Tidhar's upcoming collaboration with Shimon Adaf, ART AND WAR: POETRY, PULP AND POLITICS IN ISRAELI FICTION. Due to be published by Repeater Books in 2016, here's the synopsis…
Shimon Adaf and Lavie Tidhar are two of Israel's most subversive and politically outspoken writers. Growing up on opposite sides of the Israeli spectrum — Tidhar in the north of Israel in the Zionist, socialist Kibbutz; Adaf from a family of religious Mizrahi Jews living in Sderot — the two nevertheless shared a love of books, and were especially drawn to the strange visions and outrageous sensibilities of the science fiction that was available in Hebrew. Here, they engage in a dialogue that covers their approach to writing the fantastic, as they question how to write about Israel and Palestine, about Judaism, about the Holocaust, about childhoods and their end. Extending the conversation even into their fiction, the book contains two brand new short stories — "Tutim" by Tidhar, and "third attribute" by Adaf — in which each appears as a character in the other's tale; simultaneously political and fantastical, they burn with an angry, despairing intensity.
In related news, Lavie has also been selected as one of seven 'Israeli expat writers to watch in the new year' by the Jewish Telegraphic Agency.
Few writers have the chutzpah to write fiction about Osama bin Laden or create an alternate history of Auschwitz, yet the prolific Tidhar has done both… Raised on a kibbutz but now a resident of London, Tidhar also edited the recently published anthologies "Jews Vs. Zombies" and "Jews Vs. Aliens." Tidhar writes at the intersection of speculative fiction, noir, thriller and fantasy. His newest novel, "Central Station," about Tel Aviv's bus station, was written in English, like the majority of his work, and is forthcoming in March 2016.
Lavie Tidhar's latest novel, A MAN LIES DREAMING, is published in the UK by Hodder. It is due to be published early 2016 by Melville House (details to come). Earlier this year, the novel won the Jerwood Fiction Undercover Prize. He is also the author of the critically-acclaimed THE VIOLENT CENTURY, published in the UK by Hodder and in the US by Thomas Dunne Books. His 2011 novel OSAMA won the World Fantasy Award — it is available from PS Publishing.