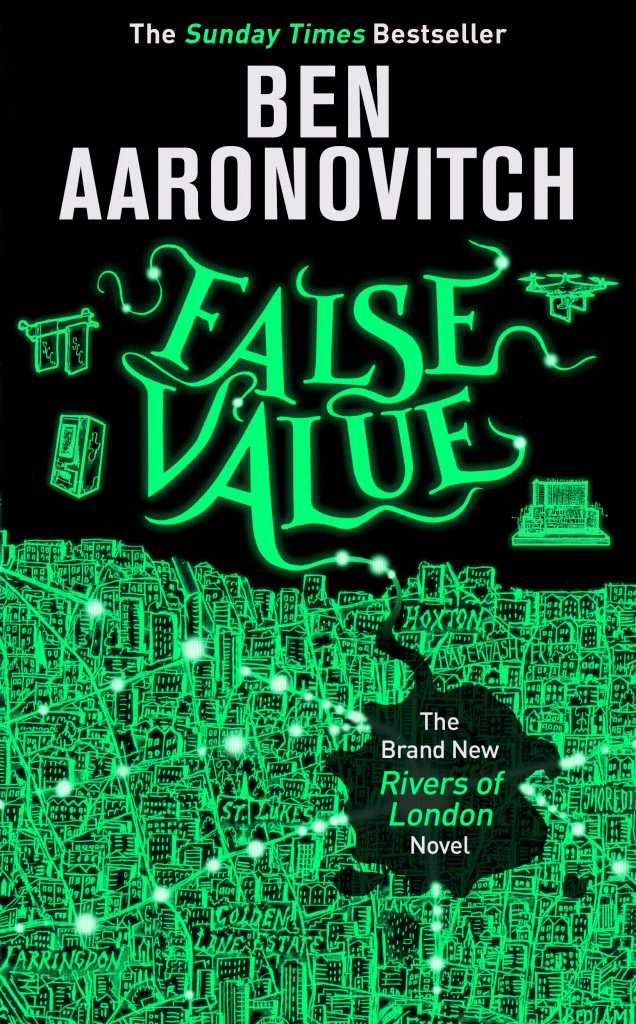 In case you missed the reveal at the end of last week, we wanted to take this opportunity to share the stunning cover for FALSE VALUE! The highly-anticipated upcoming, eighth novel in Ben Aaronovitch's Peter Grant series, FALSE VALUE is due to be published by Gollancz (UK) and DAW Books (North America) in mid-November 2019. Here's the synopsis…
Peter Grant is facing fatherhood, and an uncertain future, with equal amounts of panic and enthusiasm. Rather than sit around, he takes a job with émigré Silicon Valley tech genius Terrence Skinner's brand new London start up – the Serious Cybernetics Company.
Drawn into the orbit of Old Street's famous 'silicon roundabout', Peter must learn how to blend in with people who are both civilians and geekier than he is. Compared to his last job, Peter thinks it should be a doddle. But magic is not finished with Mama Grant's favourite son.
Because Terrence Skinner has a secret hidden in the bowels of the SCC. A technology that stretches back to Ada Lovelace and Charles Babbage, and forward to the future of artificial intelligence. A secret that is just as magical as it technological – and just as dangerous.
Gollancz has published all of the Peter Grant books in the UK. The series is published in North America by Del Rey (1-3) and DAW Books (4-). The most recent book, THE OCTOBER MAN, is set in the same universe but has a new protagonist (Tobias Winter) and a new location (Germany) — it is published in the UK by Gollancz, and in North America by Subterranean Press.
Here's a snazzy animated cover reveal that Gollancz has made for the book…
Here are just a few of the great reviews the series has received so far…
'It is smart, funny and filled with oddness.' — Terry Brooks on RIVERS OF LONDON
'… witty, fun, and full of vivid characters, and the plot twists will keep even seasoned mystery fans guessing.' — Publishers Weekly on RIVERS OF LONDON
'… enormous storytelling gusto… exhilarating and emotionally affecting…' — SF Reviews on MOON OVER SOHO
'… a relentlessly entertaining, fast-moving and enjoyable urban fantasy with intriguing hints of greater depth waiting to be explored.' — Wertzone on MOON OVER SOHO
'One of the most refreshing things about former Doctor Who writer Aaronvitch's Rivers of London series of magical procedurals is that they are blessedly free of manufactured rivalries… This fast, engrossing novel is enjoyable, cheerful, and accessible to new readers.' — Publishers Weekly on WHISPERS UNDERGROUND
'… the Peter Grant novels by Ben Aaronovitch are a great way to feel like you're actually visiting the city by the Thames… Ben Aaronovitch writes some of the funniest prose in current fantasy. These books are extremely entertaining, mainly because narrator Peter Grant has a hilarious voice and a sly sense of humor… quirkily effective prose and dry humor, making it a pure pleasure to read… I'm usually not a big fan of urban fantasy, but this series is so much fun that I always look forward to the next installment. If you're looking for a fast-moving, entertaining urban fantasy that'll make you feel like you're visiting London vicariously this summer, pick up series opener MIDNIGHT RIOT / RIVERS OF LONDON. And if you've already read the first two books, you'll probably be glad to hear that the newest installment WHISPERS UNDER GROUND is just as good.' — Tor.com
'PC Peter Grant and his co-worker Lesley, two of the few policemen in London who can practice magic, are still working under Nightingale, who must be the oldest police officer in England… not that he looks it. A low-income housing tower gone awry, an old enemy with a bone to pick… and a shocker of an ending – BROKEN HOMES is a delight.' — Charlaine Harris
'Smart, edgy and dramatic, BROKEN HOMES is a fine addition to a fascinating series.' — Locus
'When it comes to the genre of urban fantasy, connoisseurs tend to rate Ben Aaronovitch's RIVERS OF LONDON and its sequels quite highly. The adventures of Metropolitan policeman and apprentice wizard Peter Grant have thus far all been based around the city of London (it is, after all, where he works), and the author has drawn from the capital's rich geography and occult history to create a profound and engaging world filled with the grit and stench of the city, though at the same time celebrating its warmth and wealth of choice.  The very setup of the books is both urban and fantastic… The main story functions as an interesting thriller, and the additional commentary on the way the UK handles major incidents like the disappearance of children is both thought-provoking and carefully handled… FOXGLOVE SUMMER is evocative, mysterious, engaging, and, mostly, enormous amounts of fun. Fans of the Peter Grant series will not be disappointed, and those new to the books should start with Rivers in London, safe in the knowledge that the sequels are just as good.' — Starburst
'Aaronvitch guarantees a thrilling read; his style and approach to world building are simply too tight and too accomplished not to. THE FURTHEST STATION is a strong example of compact and intense storytelling… We get some nice character development, especially via Peter's cousin. She's beginning to dabble in magic herself, which is a little like learning to juggle hand live hand grenades, and this provides a decent B-plot. THE FURTHEST STATION is short, but perfectly formed.' — Starburst
'[H]ijinks, explosions, property destruction on the million-pound scale, a rival tradition of British wizardry (or rather witchery) that isn't too happy with Nightingale's old boys' club tradition, and interfering American military contractors. And yes, the Faceless Man. Narrated with Aaronovitch's trademark blend of wit, sarcasm, and police acronyms, THE HANGING TREE is a breeze of a supernatural detective thriller.' — Tor.com
'… recounted with deadpan British wit and irony… packed with fascinating historical detail… Lively and amusing and different.' — Kirkus on LIES SLEEPING
'In this enjoyable spin-off from the Rivers of London urban fantasy series, Aaronovitch successfully transfers his blend of the supernatural and humor from England to the Continent as he introduces Tobias Winter, a German police officer who practices magic… Supernatural mystery fans who enjoy more whimsical takes on the paranormal will hope for more of Winter and Sommer.' — Publishers Weekly on THE OCTOBER MAN