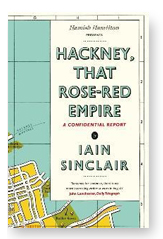 Reviews are starting to come in for Iain Sinclair's new book Hackney, That Rose-Red Empire and we'll be posting news of them here as they come in. For starters, here's a four star write-up from today's London Metro paper.
Check our previous post for details of specific Hackney related events that are coming up and don't forget to listen to BBC Radio 4 next week, when Hackney, That Rose-Red Empire will be being featured as Book of the Week.
The Observer carried a wonderful interview with author Iain Sinclair on February 8th , 2009. 'The brilliant chronicler of uncharted, often unloved, parts of Britain has stayed close to home for his latest epic – a bittersweet love letter to the London borough of Hackney. He takes Rachel Cooke for a stroll round his patch – no ordinary walk, as the visionary author beautifully evokes the area's rich history while reflecting on his own memories of the urban landscape.' The piece is available here online.
And if all this coverage is wetting your appetite for the book (and how can it not?) the publisher Hamish Hamilton has made an except of the book's opening chapter available online. Click this link for the pdf.