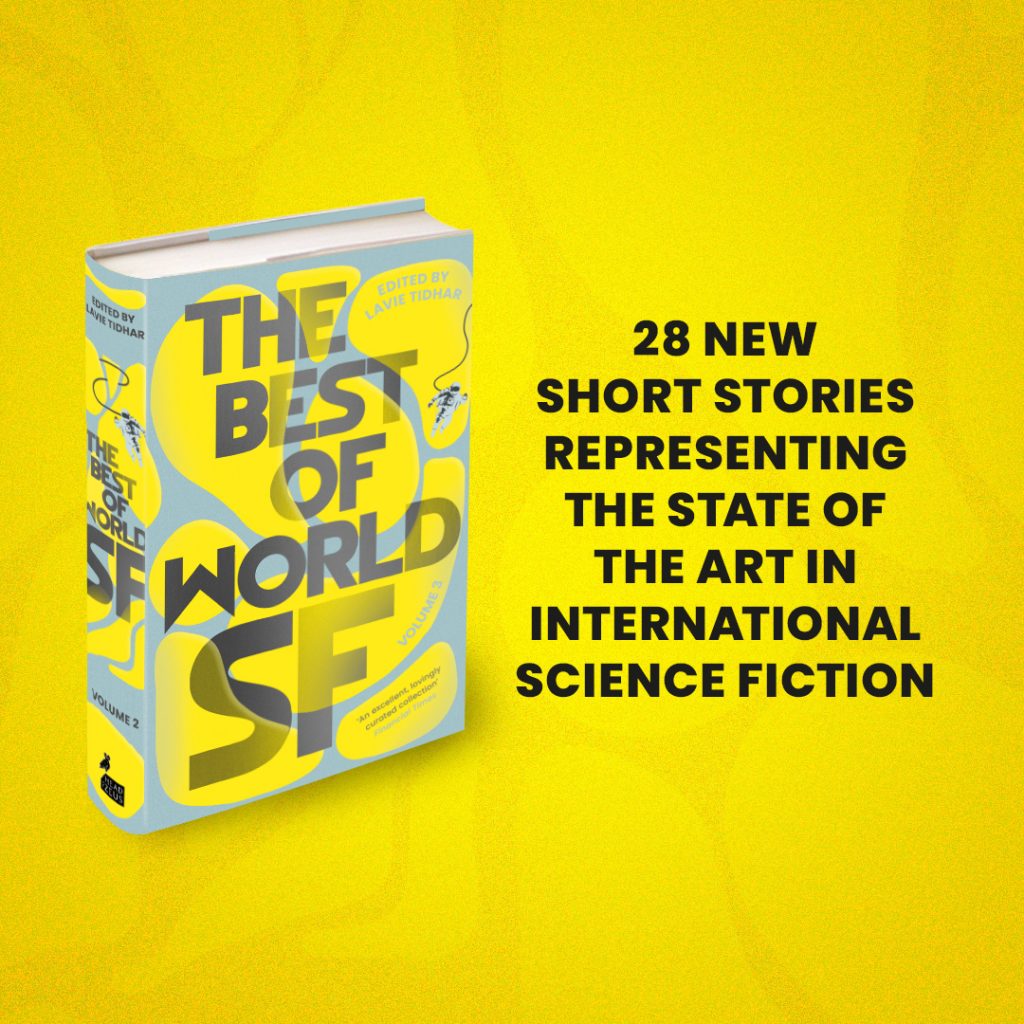 The third volume in the acclaimed, Lavie Tidhar-edited BEST OF WORLD SF series is out in just three weeks! Due to be published by AdAstra/Head of Zeus, on October 12th, here's the synopsis…
The Best of World SF series is a fixture on the global science fiction scene. If you want to find the most exciting SF authors writing today, look no further.
In this third instalment, you'll discover alien artists, rioting dinosaurs, shape-shifting rabbits, heartbreak-harvesting cafes and one robot on a quest for meaning. You will be transported to the stars and back down to Earth and sideways, with the order of the world turned upside down.
Featuring authors from Austria, Bulgaria, China, Finland, Ghana, Greece, India, Korea, Malaysia, Mexico, the Netherlands, Nigeria, Pakistan, Palestine, the Philippines, Portugal, Russia, Singapore and South Africa, this collection's stories have been selected by award-winning writer, editor and World SF expert Lavie Tidhar.
The most exciting science fiction on the planet comes from all corners of the globe. And it's all in the Best of World SF series.
AdAstra/Head of Zeus also publish the first two volumes in the series; both are out now in paperback.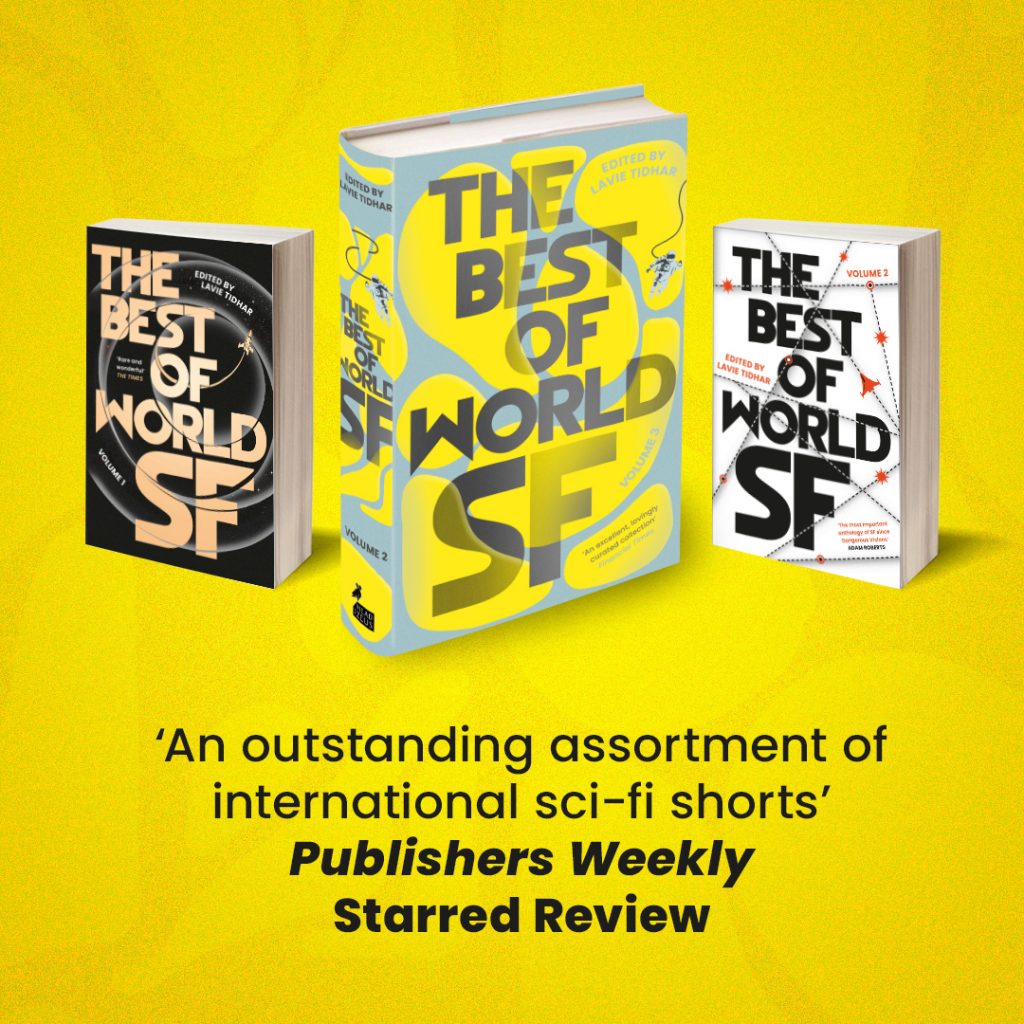 Here is the full table of contents for the third anthology:
"A Minor Kalahari" by Diana Rahim (Singapore)
"Behind Her, Trailing Like Butterfly Wings" by Daniela Tomova (Bulgaria)
"Cloudgazer" by Timi Odueso (Nigeria)
"The EMO Hunter" by Mandisi Nkomo (South Africa)
"Tloque Nahuaque" by Nelly Geraldine García-Rosas (Mexico) — translated by Silvia Moreno-Garcia
"The Walls of Benin City" by M.H. Ayinde (UK)
"The Foodie Federation's Dinosaur Farm" by Luo Longxiang (China) — translated by Andy Dudak
"The Day The World Turned Upside Down" by Thomas Olde Heuvelt (The Netherlands) — translated by Lia Belt
"The Worldless" by Indrapramit Das (India)
"Now You Feel It" by Andrea Chapela (Mexico) — translated by Emma Törzs
"Act of Faith" by Fadzlishah Johanabas (Malaysia)
"Godmother" by Cheryl S. Ntumy (Ghana)
"I Call Upon the Night as Witness" by Zahra Mukhi (Pakistan)
"Sulfur" by Dmitry Glukhovsky (Russia) — translated by Marian Schwartz
"Proposition 23" by Efe Okogu (Nigeria)
"Root Rot" by Fargo Tbakhi (US)
"Catching the K-Beast" by Chen Qian (China) — translated by Carmen Yiling Yan
"Two Moons" by Elena Pavlova (Bulgaria) — translated by Kalin M. Nenov and Elena Pavlova
"Symbiosis Theory" by Choyeop Kim (Korea) — translated by Joungmin Lee Comfort
"My Country is a Ghost" by Eugenia Triantafyllou (Greece)
"Old People's Folly" by Nora Schinnerl (Austria)
"Echoes of a Broken Mind" by Christine Lucas (Greece)
"Have Your #Hugot Harvested at This Diwata-Owned Café" by Vida Cruz (Philippines)
"Order C345" by Sheikha Helawy (Palestine) — translated by Raphael Cohen
"Dark Star" by Vraiux Dorós (Mexico) — translated by Toshiya Kamei
"An excerpt from 'A Door Opens: The Beginning of the Fall of the Ispancialo-in-Hinirang (Emprensa Press: 2007)' by Salahuddin Alonto, Annotated by Omar Jamad Maududi, MLS, HOL, JMS." by Dean Francis Alfar (Philippines)
"Ootheca" by Mário de Seabra Coelho (Portugal)
"Where The Trains Turn" by Pasi Ilmari Jääskeläinen (Finland) — translated by Liisa Rantalaiho
Here are just a few of the many great reviews the series has received so far…
There is not a poor story here… nice balance between light and harder stories… IMMERSION by Aliette de Bodard reads like hard Sci Fi but digs a little deeper… As a group, the stories on offer within THE BEST OF WORLD SF Volume 1 are so strong… This is a great introduction to what the rest of the world has to offer.' — SF Book Reviews
'Rare and wonderful' — The Times (UK)
'In addition to being an award-winning sci-fi writer, Israeli-born UK-based Lavie Tidhar is also a tireless champion of international sci-fi… an excellent, lovingly curated collection that is also uniformly well translated.' — Financial Times
'Tidhar has assembled a weighty and impressive collection of 26 stories by authors from around the world, several of them appearing in English for the first time. The variety and diversity of the material on offer is refreshing, the quality does not waver, and the translations are top-notch.' — Financial Times (Summer Books of 2021: Science Fiction)
'Stories like these are the ones you sometimes want to foist upon readers who claim not to like SF, and The Best of World SF: Volume 1 reminds us that such stories can come from anywhere these days, if only we get to see them. I look forward to future volumes.' — Locus (Gary K. Wolfe)
'Now this book exists, it feels absurd it didn't exist sooner… hefty, beautifully presented collection… an excellent samples and delight in itself… fizzes with great ideas and wonderful writing.' — SFX (5*)
'[Tidhar] is really a pioneer… He was looking at writers from Malaysia, from Africa, from China, from Japan when no one was really doing that. You might get some stories here and there from other parts of the world. But the way that he constructed this global structure of science fiction and looked at science fiction not as a monoculture but as a vibrant sphere for people to speak from all over the world, and the promotion he gave that over the long term and pushing it on and on in an independent space, is exciting to see and inspiring.' — Silvia Moreno-Garcia
'… offers robots, spaceships, time travel, and a few weird stories, showcasing authors from five continents and over twenty countries. On top of that is plenty of optimism, plenty of stories that start as one thing and then become something completely different, and plenty of envelope pushing… Once you read one story by some of these folks, you'll be itching for more. A truly enjoyable anthology with something for everyone…' — Apex Magazine
'Tidhar brings together another outstanding assortment of international sci-fi shorts, showcasing 29 thought-provoking stories… This sweeping survey rewards the time it demands of its readers with a bold and powerful argument for non-Anglophone SF's potential to push the genre's boundaries.' — Publishers Weekly (Starred Review)
'"Fresh" is an overused word in book reviews, but Lavie Tidhar's second trawl of recent science fiction from around the world earns the compliment… For my money, this volume is stronger than the last. It is certainly creepier… The few comic tales here sparkle against a dark ground… We need this anthology, and we need editors like Tidhar.' — The Times (Book of the Month, November 2022)