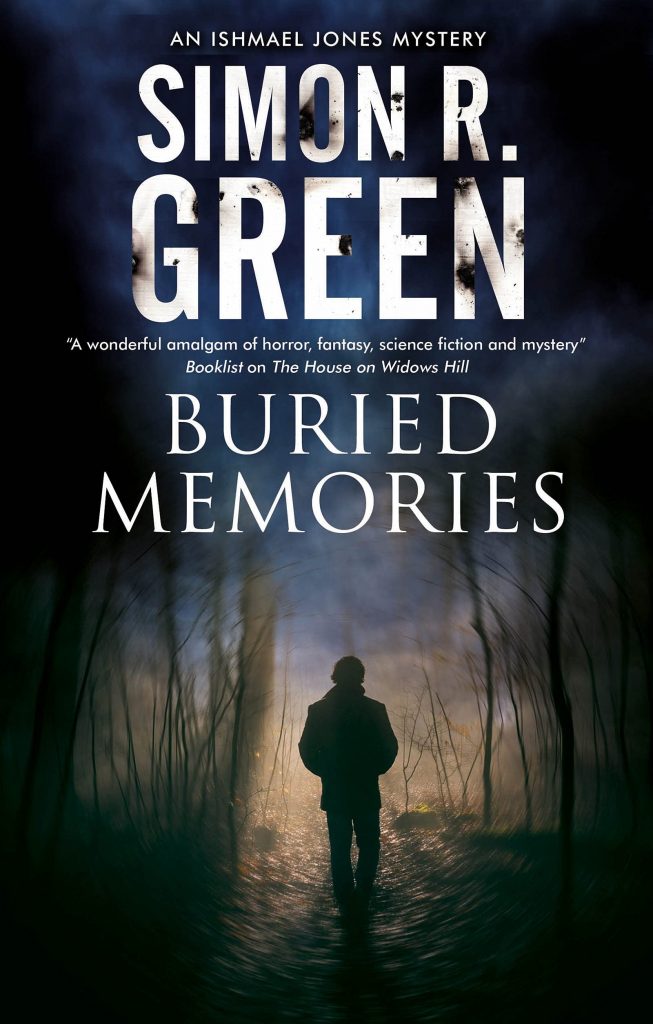 North American fans of Simon R. Green's Ishmael Jones series: the tenth novel, BURIED MEMORIES is out next week in hardcover! To be published by Severn House, here's the synopsis…
Returning to the small town where he crash-landed in 1963, Ishmael Jones is in search of answers. But his investigation is de-railed by a brutal murder.
"I think something very bad and very dangerous has come to your little town, Inspector…"
As long-buried memories from his hidden past begin to resurface, Ishmael Jones and his partner Penny feel compelled to return to the small country town where Ishmael crash-landed in 1963; the place where his memories began.
Norton Hedley is no ordinary town. Apparitions, sudden disappearances, sightings of unusual beasts: for centuries, the place has been plagued by a series of inexplicable events. Ishmael's first task is to track down local author Vincent Smith, the one man he believes may have some answers.
Ishmael and Penny aren't the only ones seeking the mysterious Mr Smith. When their search unearths a newly-dead body in the local mortuary — a body that's definitely not supposed to be there — Ishmael becomes the prime suspect in the ensuing murder investigation. His only hope of discovering the truth about his origins lies in exposing a ruthless killer.
BURIED MEMORIES is already available in the UK in hardcover; and is also available as an eBook, in both the UK and North America.
Severn House has published all of the Ishmael Jones novels to date, in the UK and North America.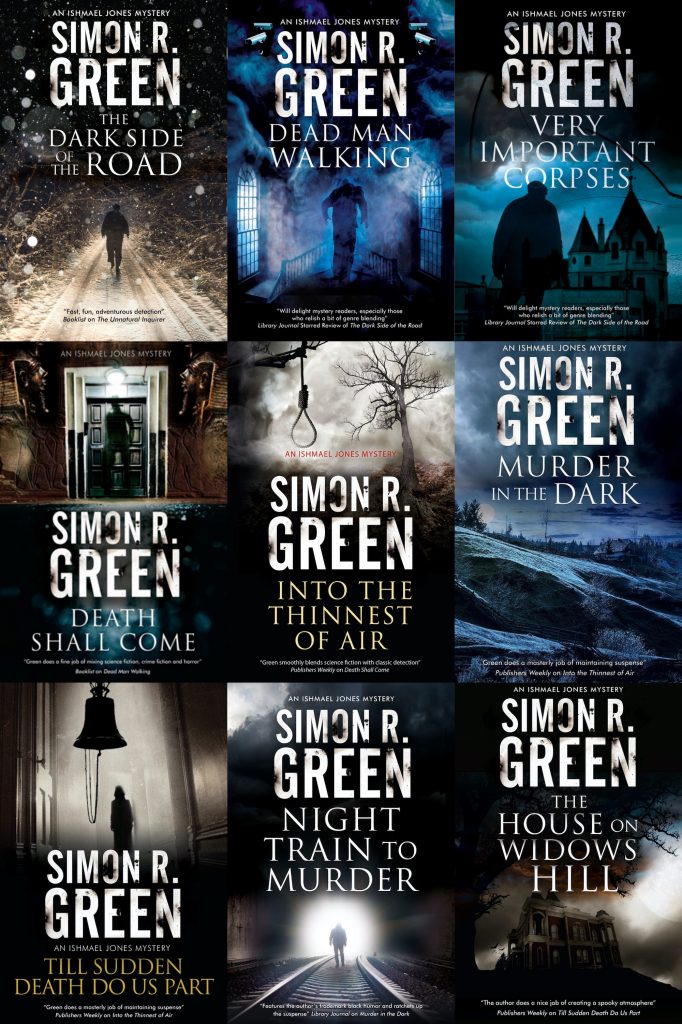 Earlier this year, they also published Green's first Gideon Sable novel, THE BEST THING YOU CAN STEAL.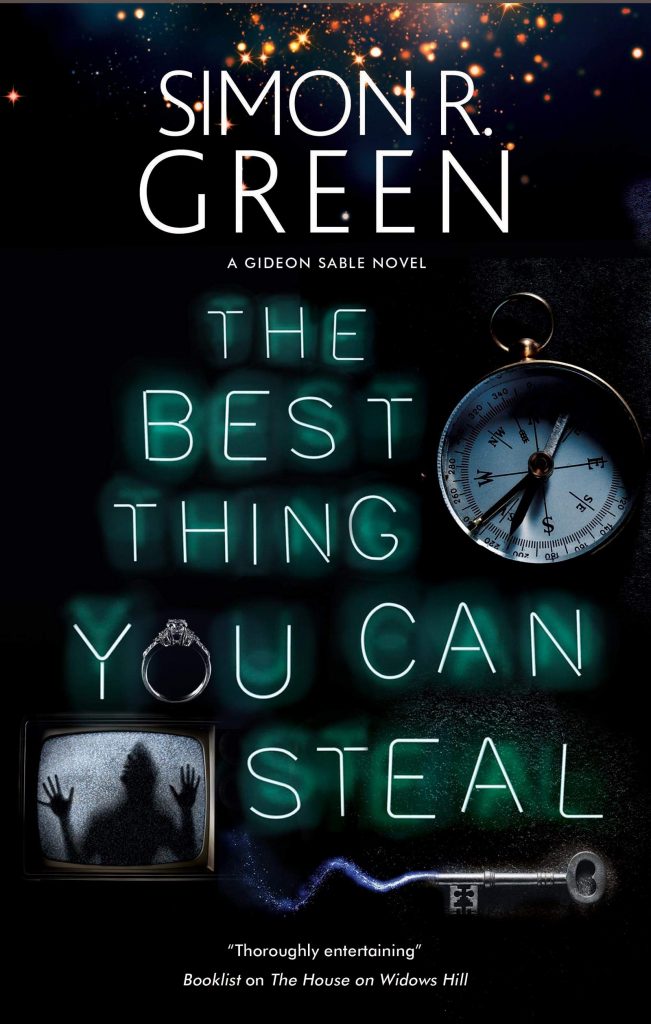 Here are just a few of the great reviews the Ishmael Jones Mysteries have received so far…
'[A] brisk, breezy first in a new mystery series […] With convincing supernatural twists [and] witty chapter titles […] readers will be anxious for a sequel.' — Publishers Weekly on THE DARK SIDE OF THE ROAD
'Genre-blending author Green introduces another wisecracking protagonist, Ishmael Jones […] Fans of the British TV series Torchwood will enjoy the irreverent, otherworldly protagonist.' — Booklist on THE DARK SIDE OF THE ROAD
'A new book from Green is always a treat for SF and urban fantasy fans, because they know that in his fictional worlds things are never quite what they seem until it's too late. His first foray into more traditional crime fiction (albeit with an otherworldy flavor) will delight mystery readers, especially those who relish a bit of genre blending.' — Library Journal on THE DARK SIDE OF THE ROAD
'Not to be taken too seriously, this meld of SF and traditional hard-boiled spy fiction hints at plenty of further adventures.' — Publishers Weekly on DEAD MAN WALKING
'This sequel to the wonderful THE DARK SIDE OF THE ROAD takes the basic structure of a traditional English country house mystery and mixes it with a bit of supernatural horror and suspense. Richard Kadrey and E.E. Knight fans will particularly relish Green's genre-blending novel.' — Library Journal on DEAD MAN WALKING
'Ishmael is a wonderful character, an extraterrestrial living among humans, and the series (this is the third installment) is a clever mixture of thriller and SF-horror genres. Green is best known for the Deathstalker space operas, but give this one a few more installments to develop, and it could well become Green's masterwork.' — Booklist, Starred Review on VERY IMPORTANT CORPSES
'Entertaining […] Green once again smoothly blends science fiction with classic detection.' — Publishers Weekly on DEATH SHALL COME
'Lovers of high-quality fantasy and science fiction should make it a point to seek this guy out, if they haven't already.' — Booklist on DEATH SHALL COME
'This fourth series adventure (after Very Important Corpses) is fast-paced, entertaining, and genre-bending.' — Library Journal on DEATH SHALL COME
'Green follows up INTO THE THINNEST OF AIR with this latest blend of SF, mystery, and horror that features the author's trademark black humor and ratchets up the suspense with a compelling story line reminiscent of Agatha Christie's And Then There Were None.' — Library Journal on MURDER IN THE DARK
'When some researchers discover what appears to be a black hole that has suddenly manifested itself in Somerset, of all places, secret agent Ishmael Jones is on the case. […] Jones is a very interesting character, a man (?) of many layers, and readers who have been following his adventures will find much to enjoy in this latest escapade. Readers who have not yet made Jones' acquaintance need to get with the program now.' — Booklist on MURDER IN THE DARK
'Fans of the series will be delighted to reconnect with the quick-witted detective and to learn a little bit more about his early days on the planet.' — Booklist on TILL SUDDEN DEATH DO US PART
'Fun, fast-paced, light fare that passes almost as quickly as that fatal train ride.' — Kirkus on NIGHT TRAIN TO MURDER
'Energetically written, with larger-than-life characters, stories that gleefully push the boundaries of plausibility, and plenty of neck-wrenching plot twists […] SF/fantasy fans who haven't yet discovered the Jones novels are in for a real treat.' — Booklist on NIGHT TRAIN TO MURDER
'A fast, fun supernatural thriller that never takes itself too seriously.' — Kirkus on THE HOUSE ON WIDOWS HILL
'This thoroughly entertaining adventure works equally well with series followers and with newbies to the world of Ishmael Jones.' — Booklist on THE HOUSE ON WIDOWS HILL
Zeno represents Simon R. Green in the UK and Commonwealth, on behalf of the JABberwocky Literary Agency in New York.