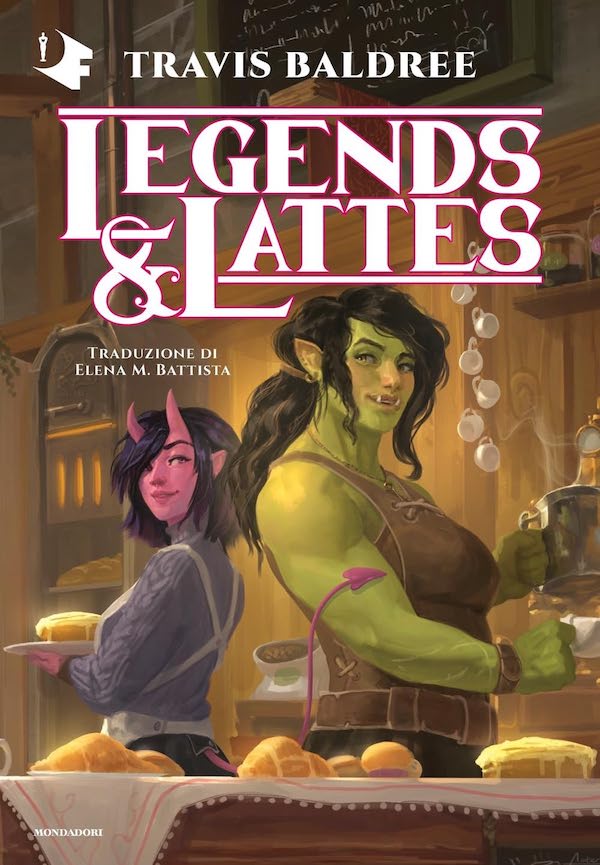 Travis Baldree's widely acclaimed, best-selling debut, LEGENDS & LATTES continues its conquest of the world tomorrow, when the Italian edition is due to hit shelves! To be published by Mondadori, here's the synopsis…
Viv è un'Orchessa e fa quello che fanno le orchesse: per tutto il giorno spacca crani, sparge sangue, semina morte e distruzione. Giunta a una certa età, però, si è stufata della routine della guerriera e così – complici una leggenda dimenticata, un manufatto magico e un'irragionevole dose di belle speranze –, quando si ritrova per le strade di Thune, decide di aprire lì un caffè. Il primo caffè della città, per essere precisi. Ma il suo sogno di un nuovo inizio e di giornate passate a servire bevande aromatiche anziché a roteare lame deve attendere. Già: da un lato ci sono vecchi nemici che non hanno alcuna intenzione di abbandonare la lotta; dall'altro gli abitanti di Thune, che non hanno mai assaggiato un latte macchiato e quindi non sanno di averne bisogno.
Viv vuole a tutti i costi appendere la spada al chiodo, ma non può farcela da sola. Per fortuna incontrerà un gruppo di amici con i quali costruire una nuova famiglia e una nuova vita. Perché il bello dei viaggi su sentieri sconosciuti sono i compagni di strada che incontri lungo il cammino. Che ad attirarli siano antichi incantesimi, pasticcini fragranti o tazze fumanti, possono comunque diventare alleati, famiglia, o qualcosa che Viv non avrebbe mai nemmeno sognato.
Il volume include anche il racconto "Pagine da riempire" e un'intervista con l'autore.
LEGENDS & LATTES is out now in the UK and North America, published by Tor Books. Here's the English-language synopsis…
After a lifetime of bounties and bloodshed, Viv is hanging up her sword for the last time.
The battle-weary orc aims to start fresh, opening the first ever coffee shop in the city of Thune. But old and new rivals stand in the way of success — not to mention the fact that no one has the faintest idea what coffee actually is.
If Viv wants to put the blade behind her and make her plans a reality, she won't be able to go it alone.
But the true rewards of the uncharted path are the travelers you meet along the way. And whether drawn together by ancient magic, flaky pastry, or a freshly brewed cup, they may become partners, family, and something deeper than she ever could have dreamed.
The North American edition includes a new short story, "Pages to Fill", which is also included in the Italian edition.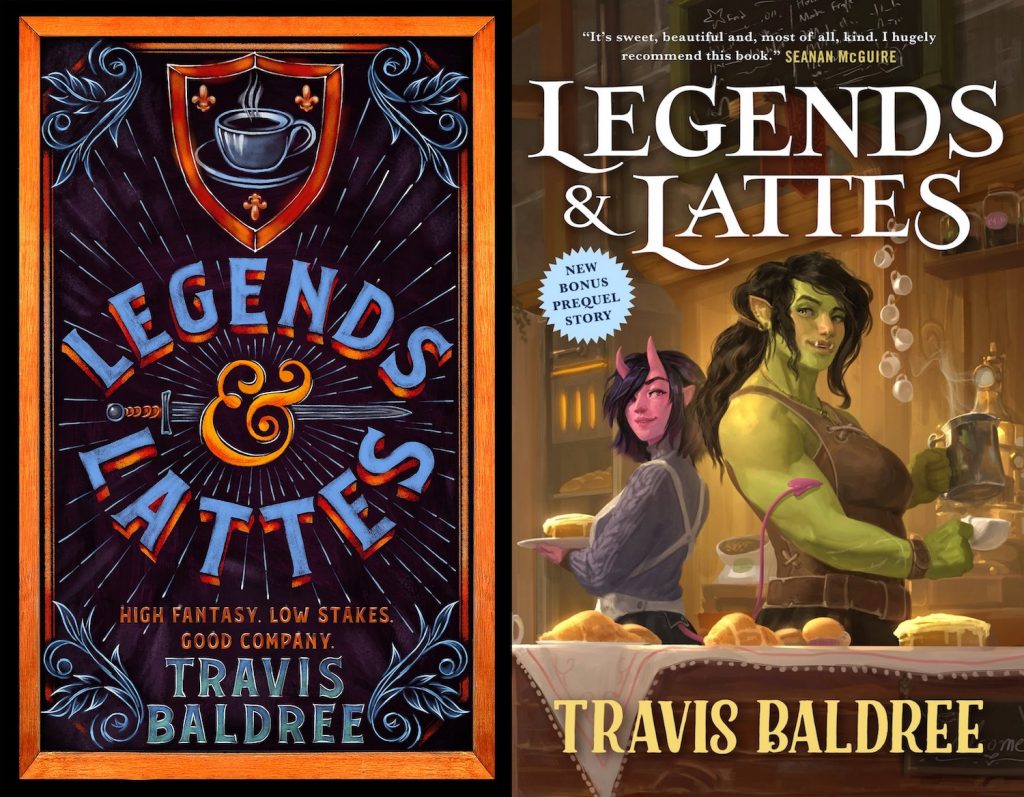 The next novel in the series, which is actually a prequel, is BOOKSHOPS & BONEDUST — due out in November, also published by Tor Books in the UK and North America.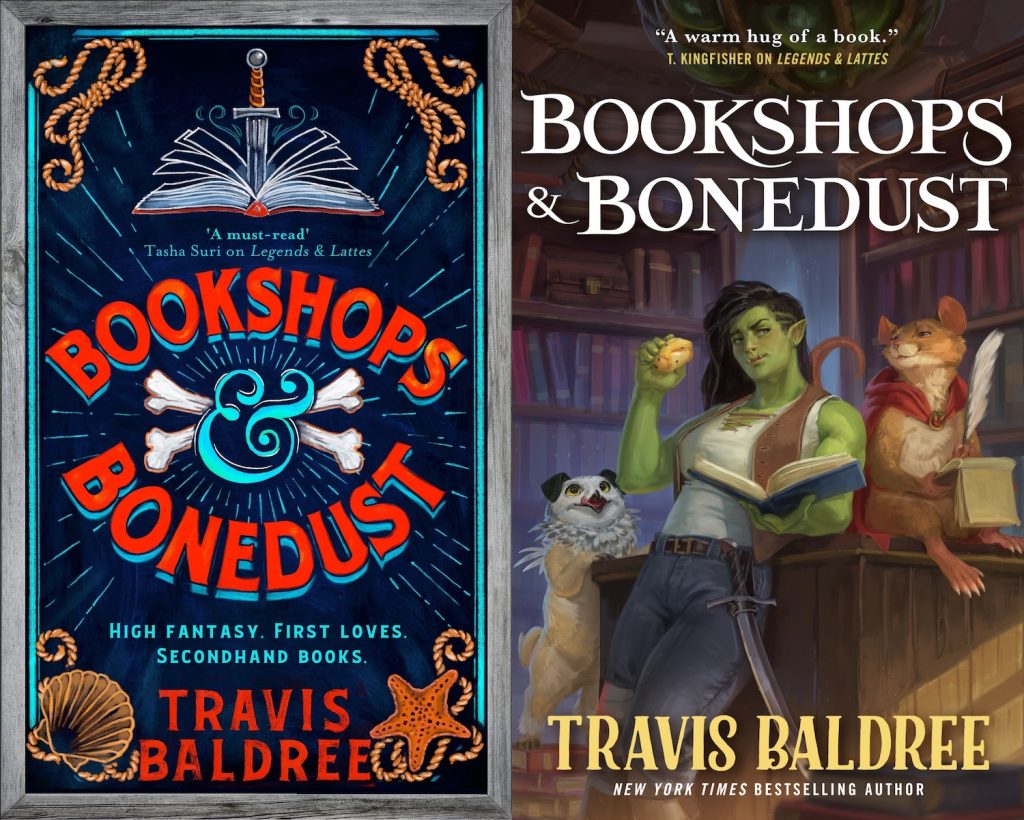 Here are just a few examples of the great reviews LEGENDS & LATTES has received…
'This is a story about following your dreams, even when they take you away from who you thought you had to be. It's sweet, beautiful and, most of all, kind. I hugely recommend this book.' — Seanan McGuire, New York Times bestselling author of Every Heart A Doorway
'The most fun I've ever had in a coffee shop.' — Ben Aaronovitch, bestselling author of Rivers of London
'A gentle little cozy set against an epic fantasy backdrop… This charming outing will please anyone who's ever wished to spend time in a fantasy world without all the quests and battles.' — Publishers Weekly
'This slice-of-life cozy fantasy novel has everything you've been searching for.' — Buzzfeed
'An orc retires from adventuring to start a fantasy city's very first coffee shop. This setup combined with the positive messages of defying societal stereotypes, letting go of violence to build peace, and trusting in your friends feels like a premise from Terry Pratchett's Discworld… LEGENDS & LATTES is a novel, and shop, that will delight anyone who enjoys coffee-shop alternate universes, slow-burn romances, and the vindication of friendship.' — Booklist, starred review
'A stunningly-well done story at every level' — Fantasy Faction
'If you like fantasy but you're tired of reading about wars and general intensity, this is the book for you… Cozy fantasy at its best.' — Literary Hub
'LEGENDS & LATTES isn't just a cosy, slice-of-life fantasy, it is a hug after a long day, it's that first bite of chocolate you've been desperately craving or that first sip of coffee, it's pyjamas and blankets and everything else which brings comfort and warmth. This is a tale so simple yet so wholesome and adorable, it has made me see just how versatile the fantasy genre can be… Believe the hype… this book deserves all the praise… Baldree delivers a tale to soothe the soul, a tale which had me smiling and crying with happiness from beginning to end.' — Fantasy Hive