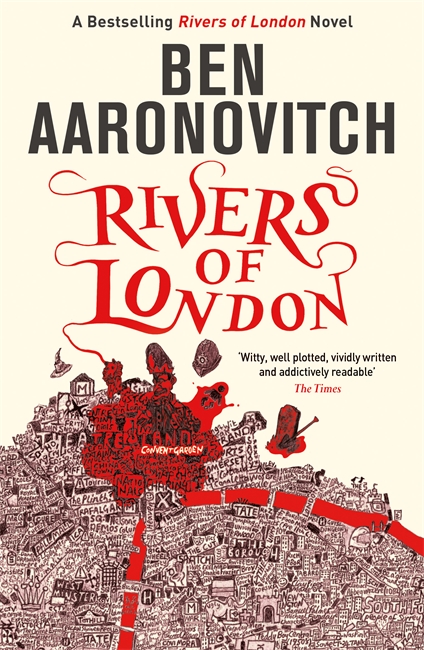 Today marks the ten-year anniversary of Ben Aaronovitch's RIVERS OF LONDON! Published by Gollancz in the UK, it is the first novel in the internationally best-selling and critically-acclaimed Peter Grant series, we wanted to take this opportunity to congratulate Ben and cheer this milestone.
In case you haven't yet read the series, here's the synopsis for the novel…
My name is Peter Grant and until January I was just probationary constable in that mighty army for justice known to all right-thinking people as the Metropolitan Police Service (and as the Filth to everybody else). My only concerns in life were how to avoid a transfer to the Case Progression Unit – we do paperwork so real coppers don't have to – and finding a way to climb into the panties of the outrageously perky WPC Leslie May. Then one night, in pursuance of a murder inquiry, I tried to take a witness statement from someone who was dead but disturbingly voluble, and that brought me to the attention of Inspector Nightingale, the last wizard in England.
Now I'm a Detective Constable and a trainee wizard, the first apprentice in fifty years, and my world has become somewhat more complicated: nests of vampires in Purley, negotiating a truce between the warring god and goddess of the Thames, and digging up graves in Covent Garden … and there's something festering at the heart of the city I love, a malicious vengeful spirit that takes ordinary Londoners and twists them into grotesque mannequins to act out its drama of violence and despair.
The spirit of riot and rebellion has awakened in the city, and it's falling to me to bring order out of chaos – or die trying.
The novel (and series) has been published widely in other territories and in translation since 2010. Here is a selection of the various covers…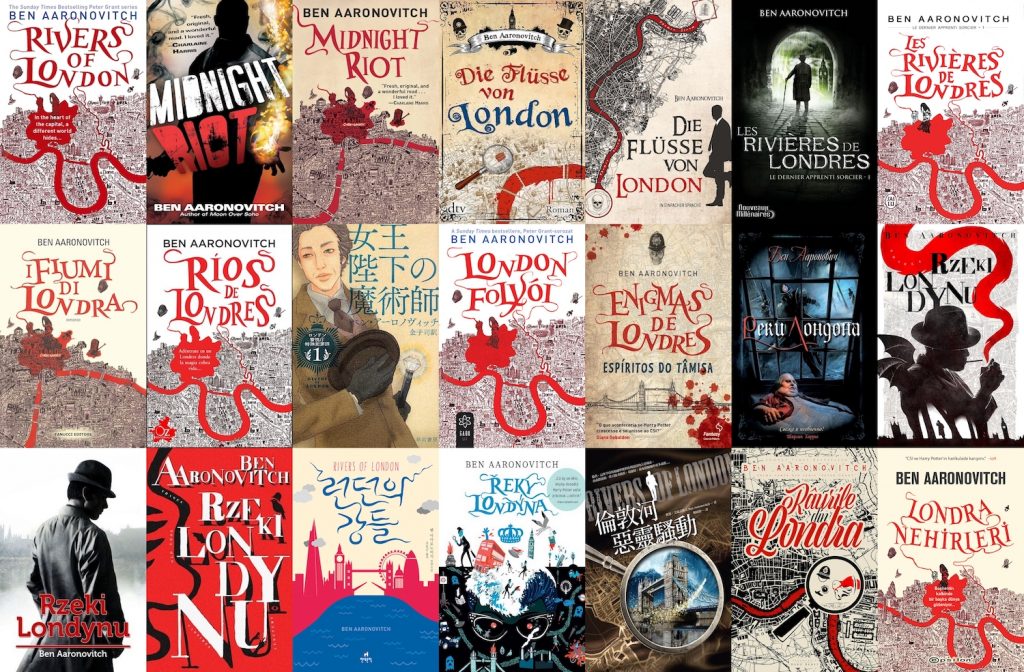 And finally, here are just a few of the great reviews the novel has received since it was published…
'It is smart, funny and filled with oddness.' — Terry Brooks
'It turns out that the series hits so many of my favorite things that I read the extant three novels… in three days, one a day. It was like I fell into the world and couldn't (and didn't want to) climb out… I love this series because it works for me on every level.' — Kate Elliott
'… fresh and original and a wonderful read. I loved it.' — Charlaine Harris
'1. It's witty. 2. It's not cliché. 3. It's smart. 4. It's set in London, and written by someone who obviously knows London. 5. The main character has a great voice. 6. The language is great…  I don't think I've ever read anything else published in the US that has as much legitimate British slang in it. It was lovely… For the rest of you who realize that one of the main joys of reading (if not life itself) is learning and broadening your experience of the world… well… this book is for you. Congrats. You win.' — Patrick Rothfuss
'A hilarious, keenly imagined caper.' — Diana Gabaldon
'Filled with detail and imagination, the quality of this achievement stands out…' — Peter F. Hamilton
'In this fast-paced paranormal police procedural, Aaronovitch introduces Peter Grant, a rookie cop who can see ghosts. This unusual talent saves him from a potential life of office work when Chief Insp. Thomas Nightingale sends him for wizard training. Britain's police force has long known of the supernatural, and Grant is to assist Nightingale in solving many of London's magical problems—most notably, the mysterious string of violent attacks that tend to end with the perpetrator's face falling off. As the brutal epidemic spreads, Grant must race to finish his magic lessons and solve an ages-long dispute between the rivers of Britain. Though the novel sometimes feels just a little too jam-packed with plot points and adventures, it's witty, fun, and full of vivid characters, and the plot twists will keep even seasoned mystery fans guessing.' — Publishers Weekly
'… thoroughly entertaining… An engaging (if occasionally violent) mix of magic and police procedural, this is a great kick-off to a very promising series, as well as the most satisfying fantasy thriller to hit bookshelves in quite some time.' — SFX
'… sweet relief for readers allergic to cliché.' — Locus
'RIVERS OF LONDON is a classic British police procedural blended with a unique twist of urban fantasy in so far as it replaces the expected testosterone with intelligence and the angst with wit… Deep down, amidst the murder and the mayhem, the anarchy and the supernatural, Aaronovitch has written a love letter to the wonder of London, reminding us of the magic that lives there, all the while warning us to keep an eye out for its nasty side.' — Fantasy Faction
'Highly recommended… Very nicely done. The books are police procedurals set in a London where magical creatures exist and are known to the police but hidden from the public, with a wisecracking, apprentice magician police officer as the hero. But, of course, the trick in all these things is in the execution, and I found these to have been executed very well… I gave it a try, and I'm glad I did.' — Washington Post
'The quality of the prose is incredible and there is a very light, dry humour running throughout with makes the novel a joy to read, it's delightfully clever and leaves the reader in a "feel good" mood, even in the darker moments of the story. The characters are also just spot on, from the enigmatic Nightingale to the imprudent Beverley everyone lives and breathes within the pages.' — SF Book Reviews
'… we can't fault the pace, ingenuity and creativity of RIVERS OF LONDON.' — Londonist
'… an impressive book… If you have not read MIDNIGHT RIOT, I recommend you do. Great characters, pacing and mystery. Even if you were to take the fantasy out of the book it would make for a great read. Highly recommended.' — Speculative Book Review
'From the very first page, Aaronovitch captures your imagination… This is one of the few books I have ever read that gripped me in the first two pages and would not let me go… MIDNIGHT RIOT is a superb paranormal fantasy that will charm both genre fans and mystery readers alike… He will be the next great paranormal urban fantasist, standing alongside such greats as Patricia Briggs, Carrie Vaughn or Harry Connolly and superb British mystery writers like Elizabeth George or Caroline Graham.' — Grasping for the Wind
'[Aaronovitch] can really write, with a light touch to his humour and characters that really stand out. This novel is a pure delight and I can't wait for the next in the series.' — Morning Star
'What makes this tale so engaging is that he's taken a London that many are familiar with, added a secretive branch of the London Met and backed it up with a cracking paced, action packed story arc with some magic, some ghosts and of course a villain of huge proportions. Back that up with a fairly unique voice as well as some great characters that you can't help but care about and its going to be interesting to see what arrives from Ben's imagination… All in a great start to a very promising series and one that will be popular with fans of Mike Carey's Felix Castor alongside Suzanne McLeod's Spellcracker series which makes this a British Institution in the making.' — Falcata Times
'This fast-paced debut has elements of urban fantasy overlaid on the more pedestrian police procedural. Peter is a likable protagonist and a somewhat unreliable narrator, and his slow, magical progress is a refreshing change from the usual mastery seen in books like this. It's a tremendously fun read, in part due to its undeniably British flavor and also thanks to the unique narrative voice.' — RT Book Reviews