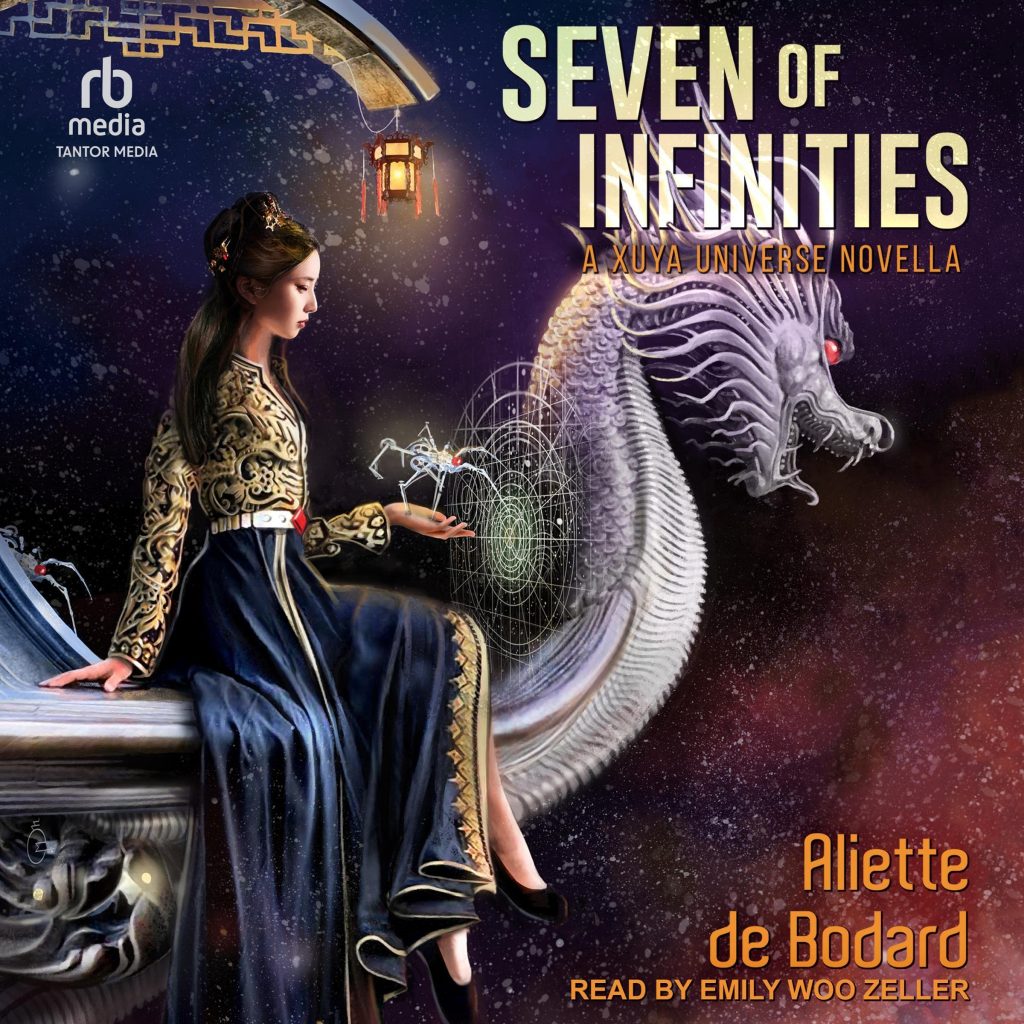 We're very happy to report that the audiobook edition of Aliette de Bodard's acclaimed SEVEN OF INFINITIES is out now! Published by Tantor, and narrated by Emily Woo Zeller, here's the synopsis…
Vân is a scholar from a poor background, eking out a living in the orbitals of the Scattered Pearls Belt as a tutor to a rich family, while hiding the illegal artificial mem-implant she manufactured as a student.
Sunless Woods is a mindship — and not just any mindship, but a notorious thief and a master of disguise. She's come to the Belt to retire, but is drawn to Vân's resolute integrity.
When a mysterious corpse is found in the quarters of Vân's student, Vân and Sunless Woods find themselves following a trail of greed and murder that will lead them from teahouses and ascetic havens to the wreck of a mindship — and to the devastating secrets they've kept from each other.
The novella is also available in North America from Subterranean Press (hardcover and eBook) and also more widely via JABberwocky (eBook and print).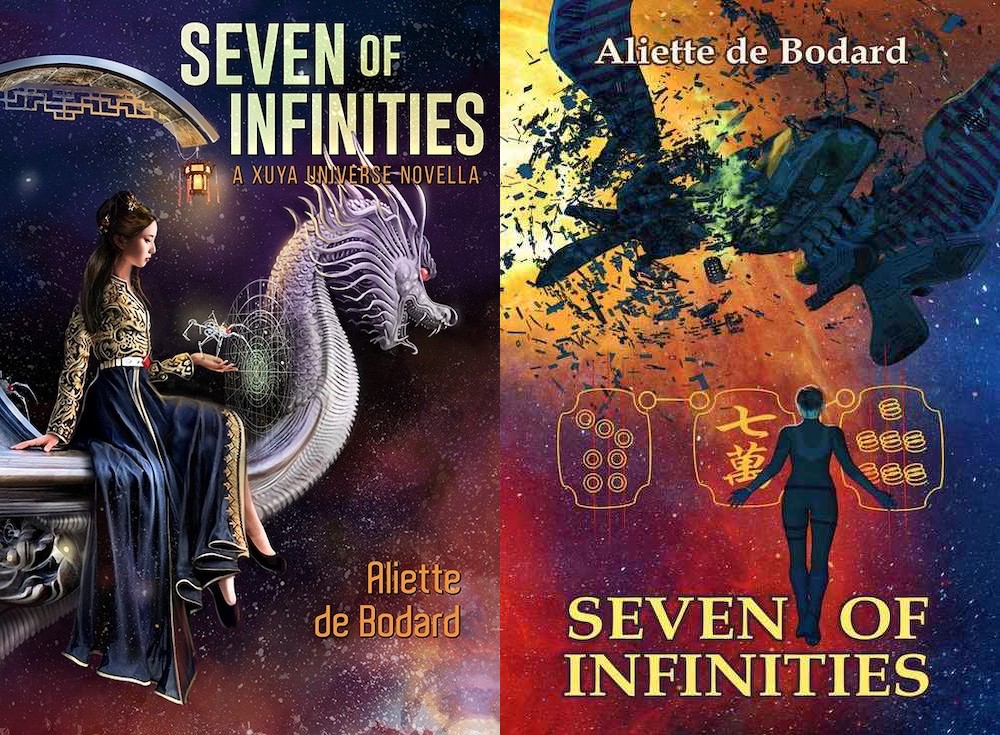 Here are just a few of the great reviews the book has received…
'With this lush, immersive sci-fi tale, de Bodard (The House of Sundering Flames) delves into a world as gritty as it is ethereal… De Bodard hints at a vast, fully realized world… readers will be swept away by the vivid prose, intrigue, and romance of this intricate tale. This fascinating, unusual story is sure to entrance.' — Publishers Weekly
'A magnificent sf mystery, nuanced, intense, and romantic, with a complex, clever plot nested inside de Bodard's rich, evocative, and vivid Xuya universe.' — Kate Elliott
'Aliette de Bodard is an author whose works I both like (in several cases, the word adore may be more appropriate) and admire… De Bodard's work is marked by precision and delicacy of prose, by a concern with ethics and relationships, and by the presence of uncaring systems that violently resist critique from without – and even from within… SEVEN OF INFINITIES is a novella concerned with forgiveness, deserved or not, about cages, self-made or otherwise. It concerns itself with growth, with grace, with ruthlessness and its costs and consequences. It's a tightly written jewel of a story, intense and full of feeling, and I recommend it highly.' — Locus (Liz Bourke)
'While SEVEN OF INFINITIES is a perfectly satisfactory mystery, with ingratiating characters and clever puzzles, its main appeal comes from de Bodard's seamless weaving together of three wildly diverse frames of reference: the structure of a romantic mystery, the far-future space opera-like setting, and the culture of formality and tradition derived from its Vietnamese and Chinese ancestry (the title, for example, refers to a tile from an ancient gaming tradition). In SF terms, de Bodard's Xuya Universe – a far future descended from an alternate past – is a pretty impressive imaginative construct by itself, but as she demonstrates with stories like this, it's also a way of rethinking and sometimes reinventing familiar formulas, of defamiliarizing the familiar through the lens of different cultures and histories. But mostly, it's a lot of fun.' — Locus (Gary K. Wolfe)
'… the intricate plot is really the star of this tale… a completely engrossing tale that stretches my imagination. It's one of the best stories she's written yet.' — Fantasy Literature
Aliette's latest novel is the highly-acclaimed THE RED SCHOLAR'S WAKE — published by Gollancz in the UK and JABberwocky in North America.