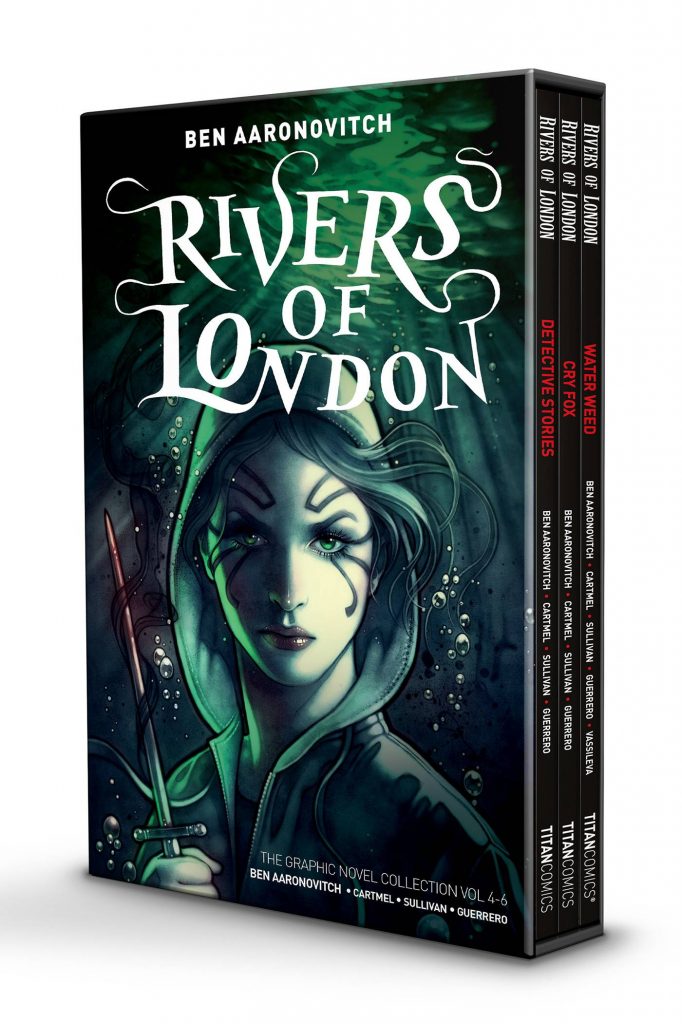 A new Rivers of London comics boxset is out now! Written by Ben Aaronovitch and Andrew Cartmel, and collecting volumes 4-6 — DETECTIVE STORIES, CRY FOX, and WATER WEED — it is published by Titan Comics in comic stores today! (It'll be released in other bookstores more widely on December 14th.) Here's the synopsis…
CSI meets Harry Potter in this graphic novel from Ben Aaronovitch, writer of the bestselling Rivers of London supernatural police procedural crime novel series, and Andrew Cartmel author of The Vinyl Detective.
A stunning box set edition of three of the bestselling graphic novels in the Rivers of London sequence, starring Ben Aaronovitch's laconic trainee wizard and budding detective, Peter Grant.
Volume 4: DETECTIVE STORIES — From foiling an aspiring god to confronting a virtual flasher, Peter Grant's police history has been anything but conventional; whether that's chasing down 'Falcon' crimes with the aid of modern technology, or confronting timeless villainy with his magical skill-set. Now he faces what might be his biggest challenge as he faces an internal investigation at the hands of the Met's best internal investigation officer, DI Chopra and all that's at stake is his badge.
Volume 5: CRY FOX — Vengeful Russian mobsters are looking to hire members of London's own more-then-natural underworld to bring bloody retribution down on the witch Varvara. However, the ex-Soviet sorcerer is under the protective wing of London's own wizarding cop, Peter Grant (now a proper detective and everything), and to get the attention of Grant and his colleagues, the daughter of a prominent Russian oligarch is kidnapped by parties unknown but possibly fox-like. What makes it worse is that Peter is going to have to leave his beloved London and gasp go out into the countryside! And when there's trees and fields and wildlife involved, things never end well…
Volume 6: WATER WEED — An anthology series of stories featuring Police Constable Peter Grant, his partner, Sahra Guleed, and their associates, as they tackle supernatural crime on the streets of London! When two of the less well-behaved River goddesses, Chelsea and Olympia, decide to earn a few quid on the side, Peter and Bev find themselves drawn into a sordid cannabis-smuggling operation, controlled by London's new queenpin of crime – the brutal and beautiful Hoodette!
The perfect gift for the Rivers of London novel fan who hasn't discovered these amazing graphic novels yet! Includes Art Cards featuring the cover art from the individual graphic novels.
The first three story arcs have also been collected in a boxset, published by Titan Comics. Titan has also published the seventh and eighth collections, and are currently publishing the ninth story arc: ACTION AT A DISTANCE, THE FEY AND THE FURIOUS, and MONDAY, MONDAY.