On Friday evening, Locus Magazine released their lists of awards finalists for this year, and we're very happy to report that four Zeno clients are featured! There are three client titles in the Science Fiction Novel category, a First Novel finalist, and a couple of others.
Congratulations to Aliette de Bodard, Lavie Tidhar, Travis Baldree, and Silvia Moreno-Garcia! Read on for more details…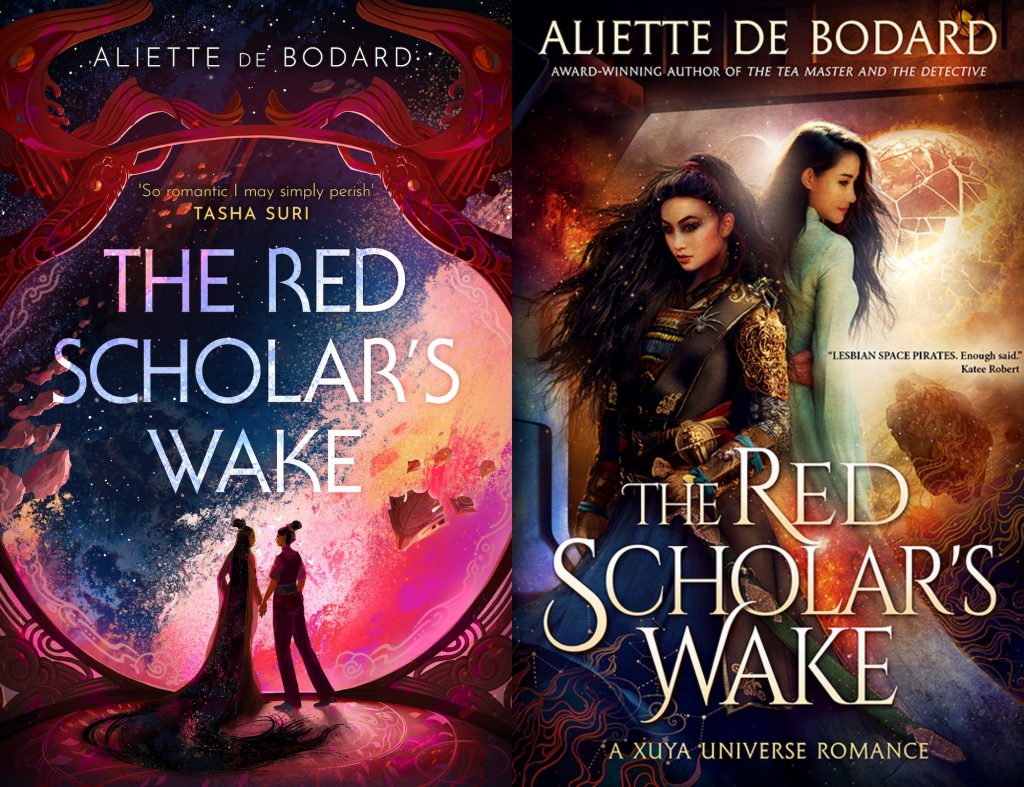 Aliette de Bodard has two nominations! Published by Gollancz (UK) and JABberwocky (North America), the highly-acclaimed THE RED SCHOLAR'S WAKE is a finalist for the Best Science Fiction novel! Here's the synopsis…
Xích Si: bot maker, data analyst, mother, scavenger. But those days are over now-her ship has just been captured by the Red Banner pirate fleet, famous for their double-dealing and cruelty. Xích Si expects to be tortured to death-only for the pirates' enigmatic leader, Rice Fish, to arrive with a different and shocking proposition: an arranged marriage between Xích Si and herself.
Rice Fish: sentient ship, leader of the infamous Red Banner pirate fleet, wife of the Red Scholar. Or at least, she was the latter before her wife died under suspicious circumstances. Now isolated and alone, Rice Fish wants Xích Si's help to find out who struck against them and why. Marrying Xích Si means Rice Fish can offer Xích Si protection, in exchange for Xích Si's technical fluency: a business arrangement with nothing more to it.
But as the investigation goes on, Rice Fish and Xích Si find themselves falling for each other. As the interstellar war against piracy intensifies and the five fleets start fighting each other, they will have to make a stand-and to decide what kind of future they have together…
An exciting space opera and a beautiful romance, from an exceptional SF author.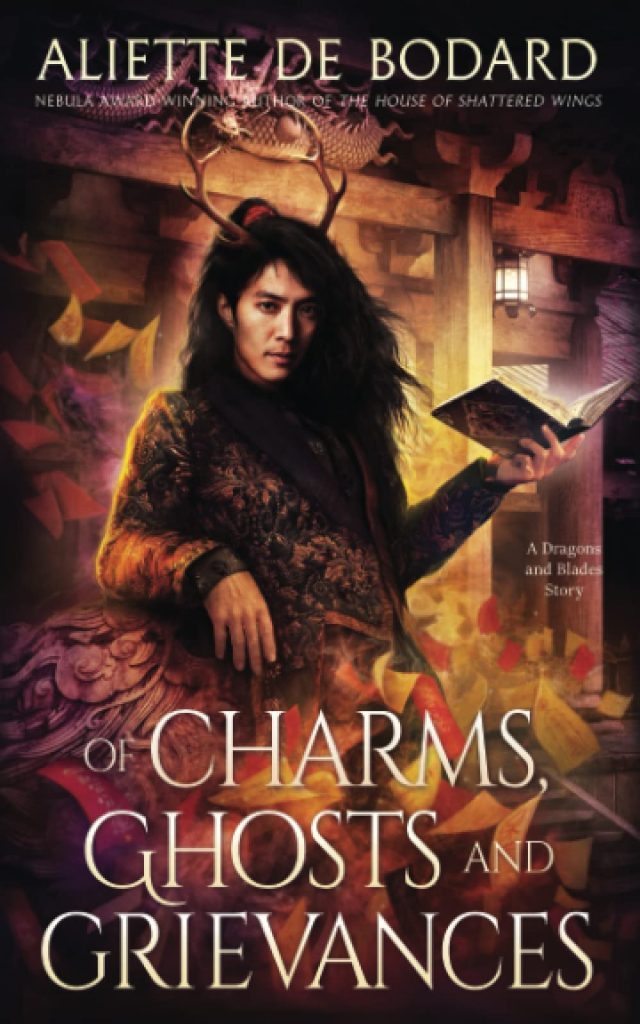 OF CHARMS, GHOSTS AND GRIEVANCES, the second novel in Aliette's Dragons & Blades series (a spin-off from the Dominion of the Fallen series) is a finalist for Best Novella. Published by JABberwocky, here's the synopsis…
It was supposed to be a holiday, with nothing more challenging than babysitting, navigating familial politics and arguing about the proper way to brew tea.
But when dragon prince Thuan and his ruthless husband Asmodeus find a corpse in a ruined shrine and a hungry ghost who is the only witness to the crime, their holiday goes from restful to high-pressure. Someone is trying to silence the ghost and everyone involved. Asmodeus wants revenge for the murder; Thuan would like everyone, including Asmodeus, to stay alive.
Chased by bloodthirsty paper charms and struggling to protect their family, Thuan and Asmodeus are going to need all the allies they can—and, as the cracks in their relationship widen, they'll have to face the scariest challenge of all: how to bring together their two vastly different ideas of their future…
A heartwarming standalone book set in a world of dark intrigue.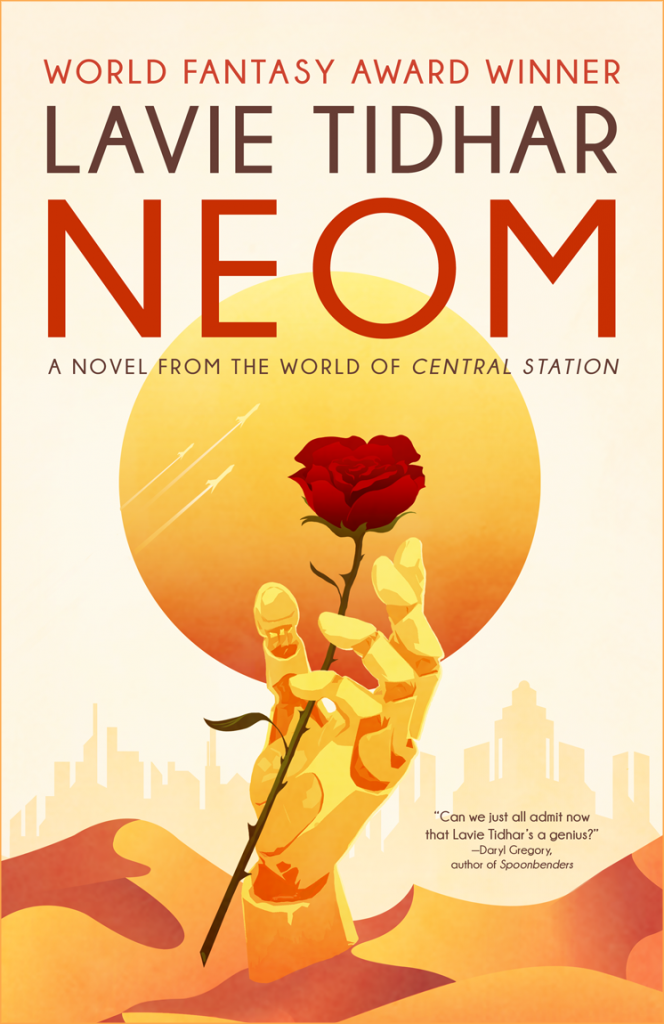 Lavie Tidhar's NEOM, the second novel set in the Central Station universe, is also a Best Science Fiction Novel finalist. Published by Tachyon Publications, here's the synopsis…
Today, Neom is a utopian dream — a megacity of the future yet to be built in the Saudi desert. In this deeply imaginative novel from the award-winning universe of Central Station, far-future Neom is already old. Sentient machines roam the desert searching for purpose, works of art can be more deadly than weapons, and the spark of a long-overdue revolution is in the wind. Only the rekindling of an impossible love affair may slow the inevitable sands of time.
The city known as Neom is many things to many beings, human or otherwise. It is a tech wonderland for the rich and beautiful, an urban sprawl along the Red Sea, and a port of call between Earth and the stars.
In the desert, young orphan Elias has joined a caravan, hoping to earn his passage off-world. But the desert is full of mechanical artefacts, some unexplained and some unexploded. Recently, a wry, unnamed robot has unearthed one of the region's biggest mysteries: the vestiges of a golden man.
In Neom, childhood affection is rekindling between loyal shurta-officer Nasir and hardworking flower-seller Mariam. But Nasu, a deadly terrorartist, has come to the city with missing memories and unfinished business. Just one robot can change a city's destiny with a single rose — especially when that robot is in search of lost love.
Lavie Tidhar's (Unholy Land, The Escapement) newest lushly immersive novel, Neom, which includes a guide to the Central Station universe, is at turns gritty, comedic, transportive, and fascinatingly plausible.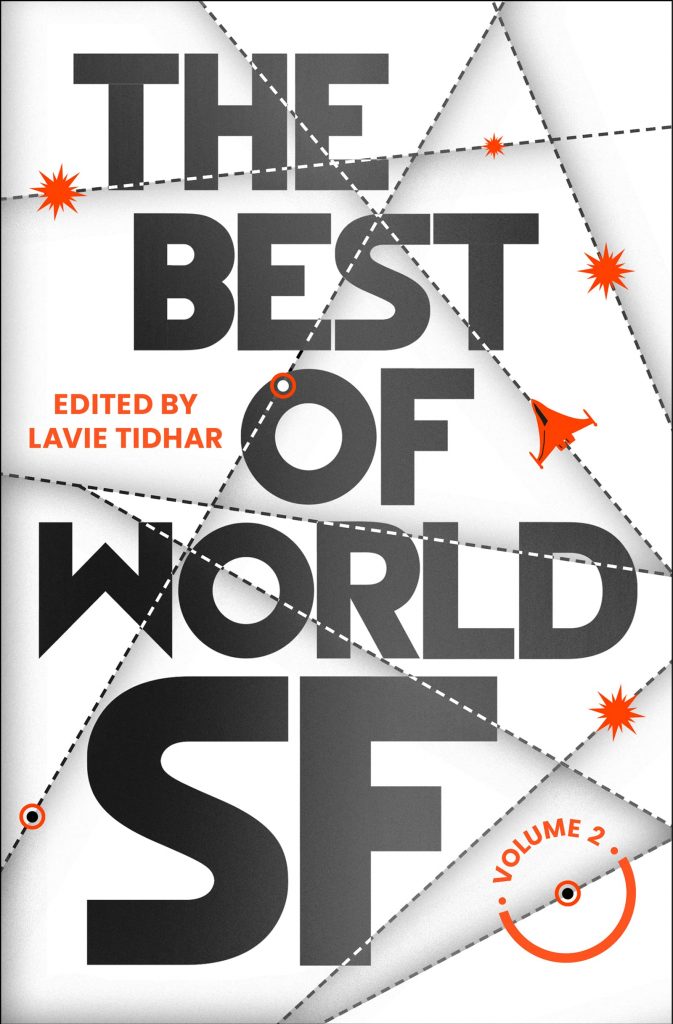 The Tidhar-edited THE BEST OF WORLD SF, Volume 2 is also a finalist for Best Anthology. Published by Head of Zeus, here's the synopsis…
Twenty-nine new short stories representing the state of the art in international science fiction.
The second annual instalment to the 'rare and wonderful' (The Times) The Best of World SF Volume 1, this collection of twenty-nine stories, including eight original and exclusive additions, represents the state of the art in international science fiction.
Navigating around the globe, The Best of World SF Volume 2 features writers from Bahrain, Bangladesh, Barbados, Bolivia, Brazil, China, Czech Republic, Greece, Grenada, India, Iraq, Italy, Jamaica, Japan, Korea, Malaysia, Mexico, Nigeria, Pakistan, The Philippines, Poland, Russia, Singapore, Uganda and Zimbabwe.
Each story has been selected by World SF expert and award-winning author Lavie Tidhar. Taking us into space — Mars at first, then the stars — and then back to a strange, transformed Earth via AI, gods, aliens and the undead, the collection traces the ever-changing meaning of the genre from some of the most exciting voices writing today.
This is not a retrospective of what science fiction around the world used to look like. This is a snapshot of what some of it looks like now. And it's never been more exciting.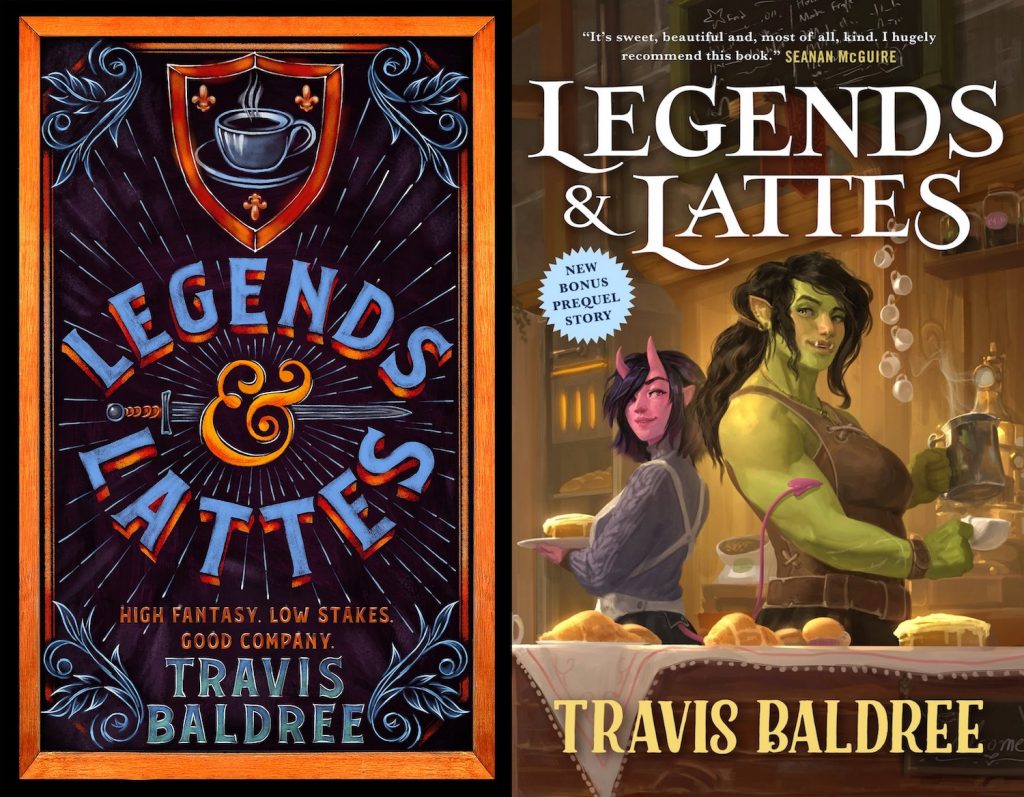 Travis Baldree's best-selling, widely-acclaimed debut novel, LEGENDS & LATTES is a finalist for Best Debut Novel! Published by Tor Books in North America and in the UK,
High fantasy, low stakes – with a double-shot of coffee.
After decades of adventuring, Viv the orc barbarian is finally hanging up her sword for good. Now she sets her sights on a new dream – for she plans to open the first coffee shop in the city of Thune. Even though no one there knows what coffee actually is.
If Viv wants to put the past behind her, she can't go it alone. And help might arrive from unexpected quarters. Yet old rivals and new stand in the way of success. And Thune's shady underbelly could make it all too easy for Viv to take up the blade once more.
But the true reward of the uncharted path is the travellers you meet along the way. Whether bound by ancient magic, delicious pastries or a freshly brewed cup, they may become something deeper than Viv ever could have imagined.
Legends & Lattes by Travis Baldree is a cosy, heartwarming slice-of-life fantasy about found families and fresh starts…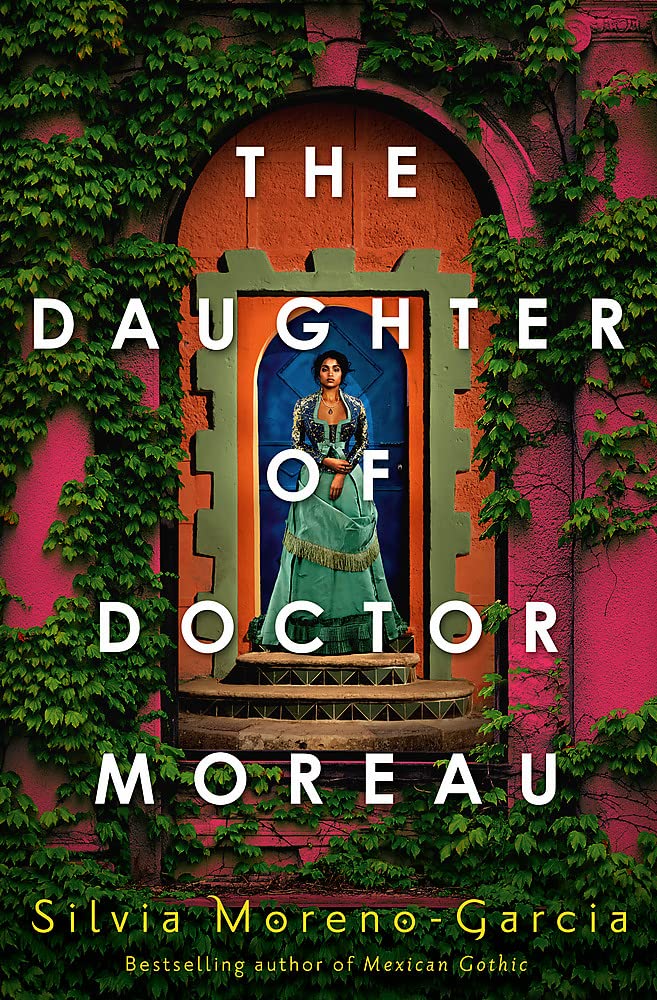 And last, but by no means least, Silvia Moreno-Garcia's acclaimed and best-selling THE DAUGHTER OF DOCTOR MOREAU is also a finalist for Best Science Fiction Novel! Published in the UK by Jo Fletcher Books, here's the synopsis…
Carlota Moreau: A young woman, growing up in a distant and luxuriant estate, safe from the conflict and strife of the Yucatán peninsula, the only daughter of a genius – or a madman.
Montgomery Laughton: A melancholic overseer with a tragic past and a propensity for alcohol, an outcast who assists Dr Moreau with his scientific experiments, which are financed by the Lizaldes, owners of magnificent haciendas with plentiful coffers.
The hybrids: The fruits of the Doctor's labour, destined to blindly obey their creator while they remain in the shadows, are a motley group of part-human, part-animal monstrosities.
All of them are living in a perfectly balanced and static world which is jolted by the abrupt arrival of Eduardo Lizalde, the charming and careless son of Doctor Moreau's patron – who will, unwittingly, begin a dangerous chain-reaction.
For Moreau keeps secrets, Carlota has questions, and in the sweltering heat of the jungle passions may ignite.
Zeno represents Silvia Moreno-Garcia in the UK and Commonwealth, on behalf of the JABberwocky Literary Agency in New York.