The British Science Fiction Association published their BSFA Awards longlist last week, and we're very happy to report that four Zeno clients have work that appear! Read on for details!
Ben Aaronovitch's latest Peter Grant/Rivers of London novel, the best-selling and acclaimed AMONGST OUR WEAPONS is on the Best Novel long-list! Published in the UK by Orion Books and in North America by DAW Books, here's the synopsis…
There is a world hidden underneath this great city…
The London Silver Vaults – for well over a century, the largest collection of silver for sale in the world. It has more locks than the Bank of England and more cameras than a celebrity punch-up. Not somewhere you can murder someone and vanish without a trace – only that's what happened.
The disappearing act, the reports of a blinding flash of light and memory loss amongst the witnesses all make this a case for Detective Constable Peter Grant and the Special Assessment Unit.
Alongside their boss DCI Thomas Nightingale, the SAU find themselves embroiled in a mystery that encompasses London's tangled history, foreign lands and, most terrifying of all, the North!
And Peter must solve this case soon because back home his partner Beverley is expecting twins any day now. But what he doesn't know is that he's about to encounter something – and somebody – that nobody ever expects…
Effortlessly original, endlessly inventive and hugely entertaining – step into the world of the much-loved, Number One bestselling Rivers of London series.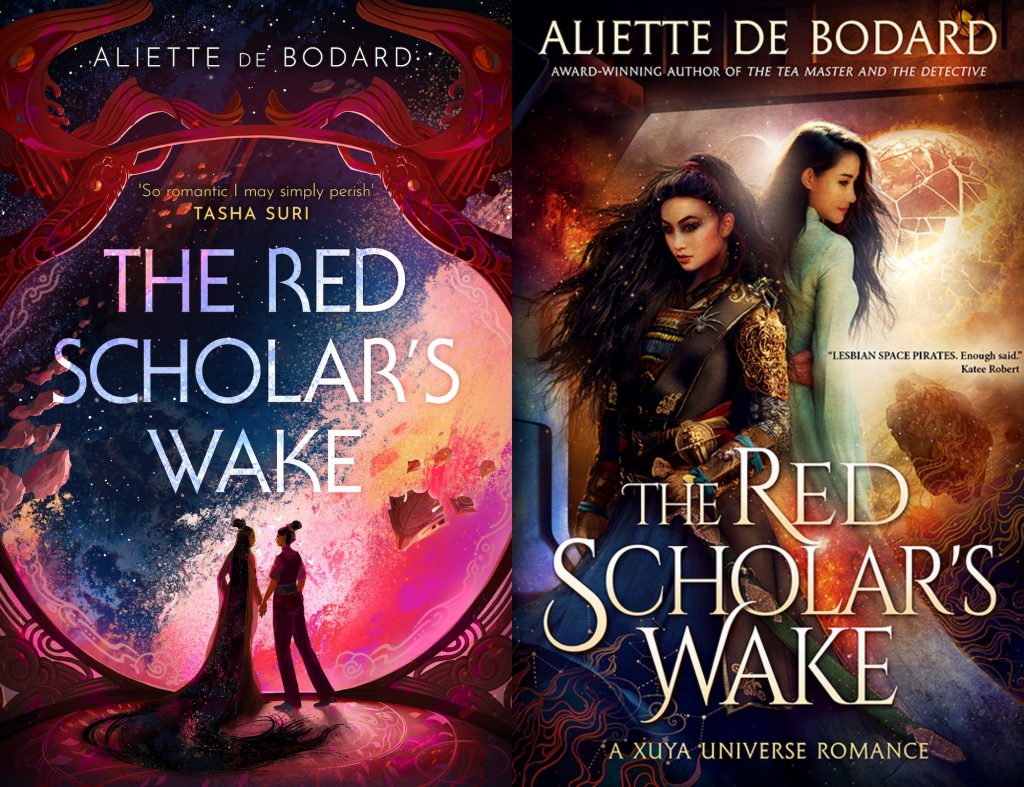 Aliette de Bodard's acclaimed new Xuya novel, THE RED SCHOLAR'S WAKE is on the long-list for Best Novel, and its UK cover by Alyssa Winans is on the long-list for Best Cover. The novel is published by Gollancz in the UK (left) and JABberwocky in North America. Here's the synopsis…
Xích Si: bot maker, data analyst, mother, scavenger. But those days are over now-her ship has just been captured by the Red Banner pirate fleet, famous for their double-dealing and cruelty. Xích Si expects to be tortured to death-only for the pirates' enigmatic leader, Rice Fish, to arrive with a different and shocking proposition: an arranged marriage between Xích Si and herself.
Rice Fish: sentient ship, leader of the infamous Red Banner pirate fleet, wife of the Red Scholar. Or at least, she was the latter before her wife died under suspicious circumstances. Now isolated and alone, Rice Fish wants Xích Si's help to find out who struck against them and why. Marrying Xích Si means Rice Fish can offer Xích Si protection, in exchange for Xích Si's technical fluency: a business arrangement with nothing more to it.
But as the investigation goes on, Rice Fish and Xích Si find themselves falling for each other. As the interstellar war against piracy intensifies and the five fleets start fighting each other, they will have to make a stand-and to decide what kind of future they have together…
An exciting space opera and a beautiful romance, from an exceptional SF author.
Also, the latest novella in Aliette's Dragons & Blades series (set in the same world as the acclaimed Dominion of the Fallen series), OF CHARMS, GHOSTS AND GRIEVANCES is on the long-list for Best Short Fiction. It is published by JABberwocky. Here's the synopsis…
It was supposed to be a holiday, with nothing more challenging than babysitting, navigating familial politics and arguing about the proper way to brew tea.
But when dragon prince Thuan and his ruthless husband Asmodeus find a corpse in a ruined shrine and a hungry ghost who is the only witness to the crime, their holiday goes from restful to high-pressure. Someone is trying to silence the ghost and everyone involved. Asmodeus wants revenge for the murder; Thuan would like everyone, including Asmodeus, to stay alive.
Chased by bloodthirsty paper charms and struggling to protect their family, Thuan and Asmodeus are going to need all the allies they can — and, as the cracks in their relationship widen, they'll have to face the scariest challenge of all: how to bring together their two vastly different ideas of their future…
A heartwarming standalone book set in a world of dark intrigue.
Lavie Tidhar has three short stories on the long-list in that category, all three of which an be read online: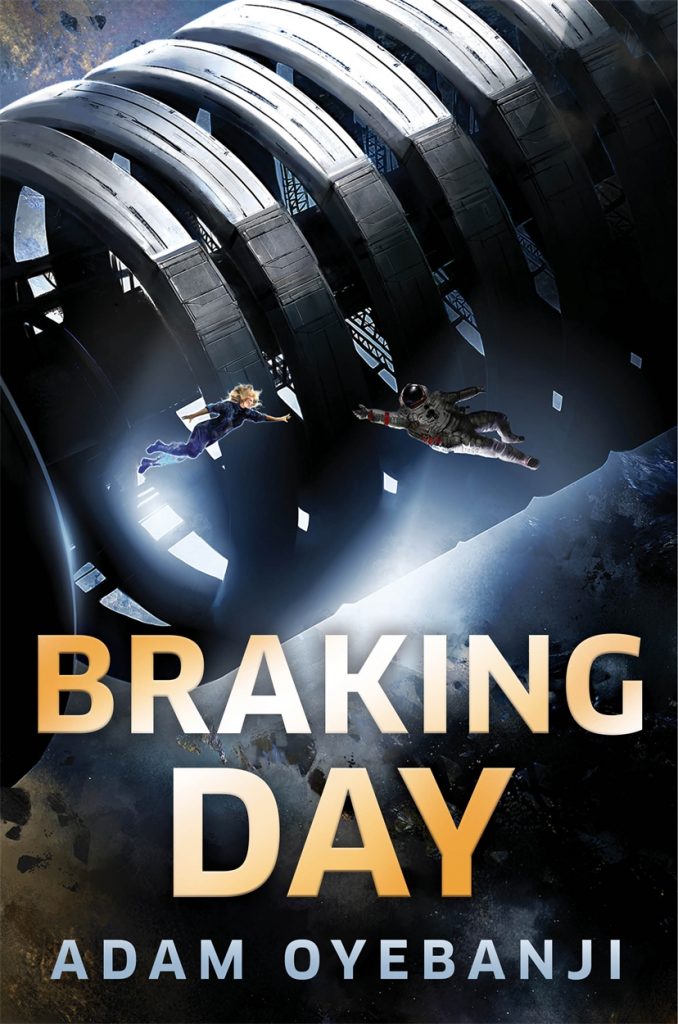 Finally, Adam Oyebanji's debut science fiction novel, BRAKING DAY is nominated in the Best Novel category! Published in the UK by Jo Fletcher Books, here's the synopsis…
Interstellar Vehicle Archimedes has been hurtling through space for more than five generations, an oasis of heat and light in the middle of absolutely nowhere. But now the ageing starship is preparing to brake, for it is arriving at Destination Star: Tau Ceti, the new home for the space-born descendants of the First Crew.
For trainee engineer Ravinder MacLeod, the world he knows is coming to an end. Once Archimedes succumbs to the gravitational pull of the Destination Star and its (hopefully) habitable planet, there will be no going back – or anywhere else. As Braking Day approaches, Ravi finds himself caught between the rigid requirements of the officer class to which he aspires and his blue-collar, ne'er-do-well family. Unfortunately for Ravi, Boz, his brilliant ex-con cousin, seems determined to make his life difficult – not least by her experiments with forbidden technology.
Then Ravi is assigned to routine maintenance deep in the massive engines of the Archimedes, where, alone and out of contact, he comes face to face with something impossible – mind-breakingly impossible.
Plagued by nightmares and visions and worried that his grip on reality is slipping, Ravi turns to Boz for help. Their search for answers takes them to the jagged place where the ship's future intersects with its long past. For not everyone is excited to be reaching journey's end, and the ghosts of the First Crew may not have been fully laid to rest.
Zeno represents Adam Oyebanji in the UK and Commonwealth, on behalf of the JABberwocky Literary Agency in New York.