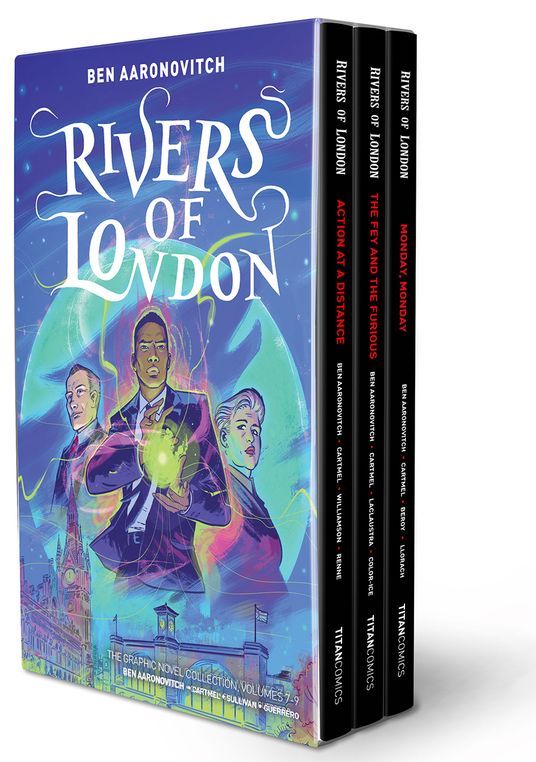 Tomorrow, Titan Comics are due to release a third Rivers of London graphic novel boxset, including the seventh, eighth, and ninth books! Written by Ben Aaronovitch and Andrew Cartmel, and based on Ben's series of novels and novellas in the same world, here's the synopsis…
A stunning box set edition of the bestselling graphic novels in the Rivers of London series, starring Ben Aaronovitch's laconic trainee wizard and budding detective, Peter Grant.
Vol 7: ACTION AT A DISTANCE — Thomas Nightingale is a man of immense power, one of the most highly revered magicians in Europe, but with a guarded past. Hidden within the archives of London Metropolitan Police's Special Assessment Unit, Detective Constable Peter Grant is about to uncover a brief glimpse into his mentor's history.
Vol 8: THE FEY AND THE FURIOUS — When a Mitsubishi Eclipse washes up on the shores of the Netherlands,
officers are surprised to find some unusual cargo in its boot. Fortunately, unusual cargo just so happens to be wizarding-cop Peter Grant's speciality. Infiltrating illegal street races, Peter hopes to find the supplier, but instead quickly finds himself speeding into a whole new world of trouble, where old enemies await.
Vol 9: MONDAY, MONDAY — What starts as a routine undercover operation to break up an organised teenage pickpocket gang turns into something far more dangerous when the Metropolitan police are confronted by a Swedish werewolf who'll stop at nothing to avoid capture. Now it's up to full-time cop and part-time wizard Peter Grant and his cohort of chums to hunt the deadly lycanthrope and bring him to heel!
Series artwork is by Brian Williamson (Vol.7), Stefani Renne (Vol.7), Lee Sullivan (Vol.8), and José María Beroy (Vol.9).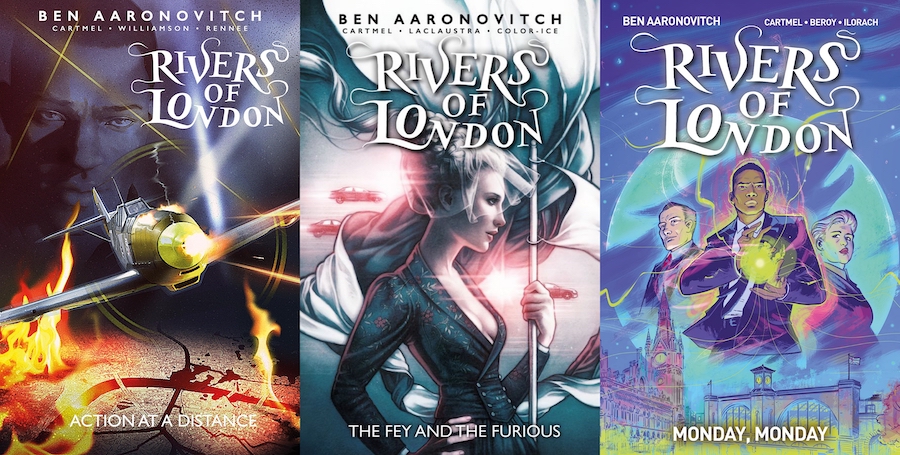 The latest story-arc in the Rivers of London comic series, HERE BE DRAGONS, is currently ongoing — it is co-authored by Ben, Andrew, and James Swallow.